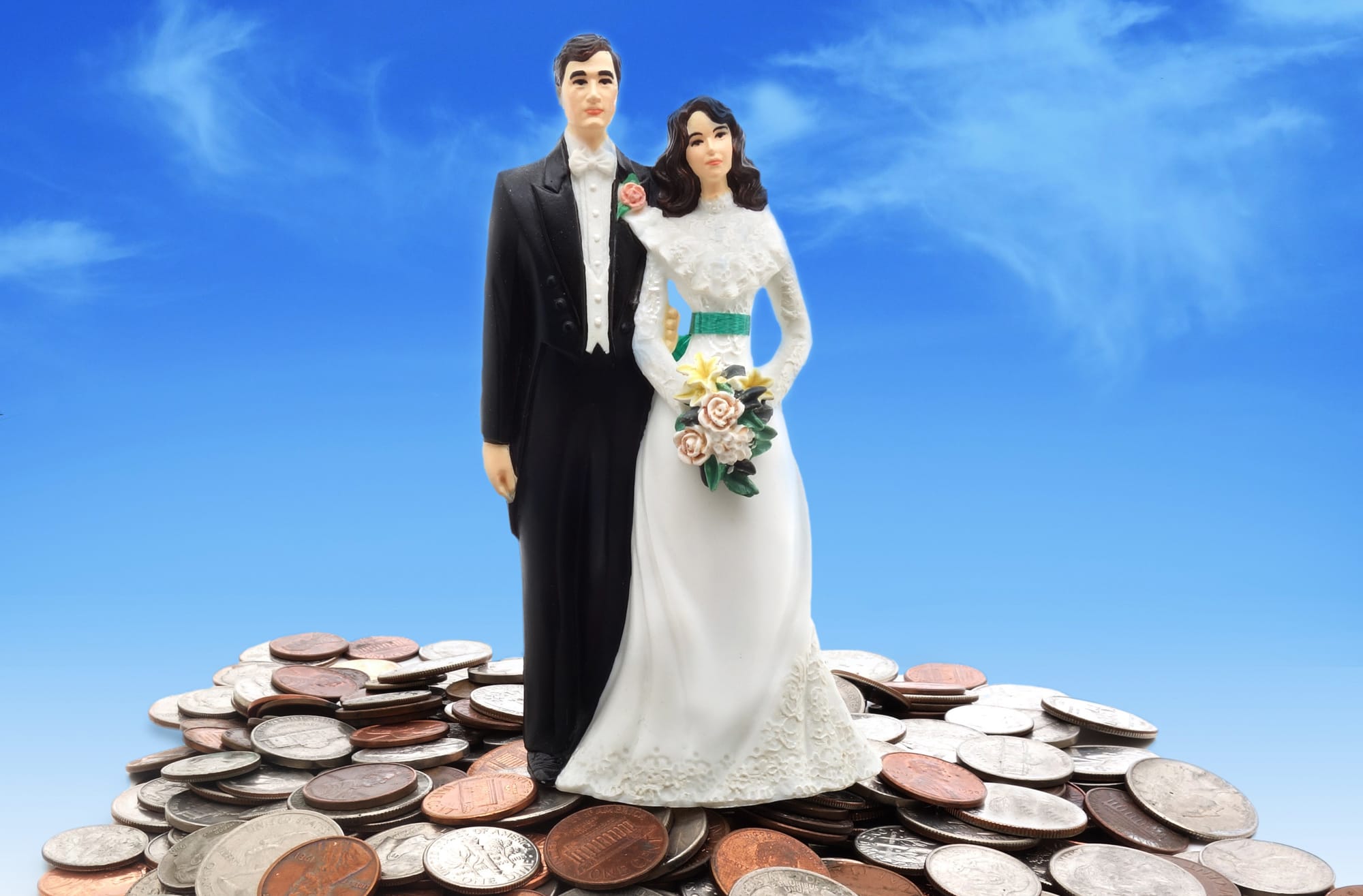 The wedding of your dreams can get pricey, fast. According to a survey conducted by The Knot, couples spend $32,641 on average to say "I do." And unexpected wedding costs like gratuities, taxes, and pre-wedding treatments can sideswipe even the most prepared of planners.
We break down these hidden wedding costs, so you'll know what to anticipate before your big day.
Your Wedding Budget
Alan Fields, co-author of the book Bridal Bargains, says you should set aside a safety net of 20% of your budget for unexpected costs. The Knot advises couples to allot an additional 5% of a wedding budget for a "just-in-case" fund. That means up to a quarter of your budget should be dedicated to costs you didn't anticipate.
Up to a quarter of your budget should be dedicated to costs you didn't anticipate.
But what exactly might you spend that additional money on?
Pre-Wedding Expenses
Alterations
It isn't often that a dress fits perfectly off the rack. Bridal stores do alterations, but these services are often done for flat fees that can amount to half the cost of the dress itself. Fields says you can take your dress to an independent seamstress, but they should be vetted to determine whether or not they're skilled enough to do the job.
For those skittish about the risk involved in taking the dress elsewhere, factoring in this unanticipated cost from the get-go may be the simplest way to put your "does it fit" fears to rest. For more tips on alterations, check out this advice from TLC's Say Yes to the Dress Alterations Manager Vera Skenderis.
Gifts
Looking to treat your bridal party to something nice for all their hard work? Gifts can also add up quickly — especially when you have to consider parents, groomsmen, bridesmaids, ring-bearers, flower girls, welcome goodies, favors, and that special brunch for out-of-towners the day after the wedding.
Keep costs low by filling welcome baskets with homemade treats or small keepsakes that won't put a huge dent in your wallet.
SEE ALSO: 5 Ideas for Bridesmaid Gifts That Don't Suck
Trials and Treatments
Hair and makeup trials are often an additional fee and can sometimes cost as much as the actual service on your wedding day. Top it off with pre-wedding treatments like facials and manicures, and you could rack up a number of additional expenses well before the actual day.
Party Attire
The bridal shower. The rehearsal dinner. The brunch the day after. Remember to allot some cash for party wear for days other than your nuptials. Prioritize the days you know you'll want to wear something new and bring out old favorites for those you consider less important.
Wedding Day Expenses
Guest Transportation
For out-of-town guests, you might need to look into group transportation from the hotel to the ceremony and/or reception. Whether that's a limo, a shuttle, or a party bus, you'll need to account for the cost each way — not to mention a tip for the driver.
Getting a cake from an outside bakery may amplify your reception costs — up to $5 per guest for cutting and serving fees.
Venue Fees
You already expect to pay for the décor and floral arrangements, not to mention things like sound equipment, projectors, and microphones. But all these items may require setup and delivery, which could also mean additional fees, depending on your venue contract.
Similarly, cake-cutting fees can be embedded into your contract if you go with an in-house vendor at your reception site. Getting a cake from an outside bakery may amplify your costs, as in-house staff will still need to cut and serve the cake to your guests. These fees can be anywhere from $1.50 per piece to $5 per guest to slice, serve, and clean up afterwards.
All the Extras
Taxes
It's easy to forget taxes when making estimates, but you do so at your budget's peril. Make sure you know the local sales tax rates where you're getting married; they can be as much as 10% in some areas! When combined with sneaky fees like those mentioned above, your final bill may be downright shocking.
Fields says to stick with trusted vendors that'll be mindful of your budget and transparent about these additional costs, so you aren't blindsided when the day arrives.
SEE ALSO: What You Do (and Don't) Have to Pay for When You Attend a Wedding
Gratuities
Standard tipping etiquette dictates that you shell out a pretty penny for wedding day gratuities. Mandatory gratuities at venues usually range from 18% to 20%. Generally, you'll also need to factor in tips for everyone: the ceremony officiant, wedding delivery or setup staff, stylists and makeup artists, valet attendants, and the band, just to name a few.
For more on tipping vendors, check out The Knot's wedding vendor tip cheat sheet.
Overtime Hours
Not sure how long the ceremony will take, or how late your guests will stay to dance the night away? Overtime hours for vendors like the makeup artist, photographer, and band will involve additional fees. Definitely find out in advance how much they charge per hour, and decide whether you'll need them for the entire event. Don't forget that you'll also need to provide these folks with some type of food, depending on how long they stay.
Readers, what do you think? Did we miss any unexpected costs? Share your wedding budget tips in the comments below!
---