Valentine's Day is just so expensive. As if the flowers, chocolates, fancy dinners, and jewelry weren't enough, we're expected to also buy a greeting card ($5.99 value)?! It's too much!
Therefore, we've tied on our Thrift Hat™ (yes, "tied"... it's more like a bonnet than a hat, really) and scrunched up our brain-wrinkles to come up with ways to save money on Valentine's Day effluvia and what-nots. We hope you fall in love with the savings, ladies (and dudes)!
Teleflora
Flowers
In the past, we've proven that growing your own roses is a way to save money; however, it's not easy and requires you have the patience of a saint. (Saint Valentine, possibly?) But there are also other, even cheaper and faster ways to get flowers.
Did you know that people leave free flowers just lying around? It's true! Wander into any funeral home or graveyard and there they are. Pre-cut and pre-bundled into bouquets and everything. Too ghoulish for you? Several varieties of flowers — including roses, sometimes — are also freely available on the lawns of your neighbors (as long as you have the strength and sharp scissors to yank or cut them out of the ground). A quick rinse to get the dirt off, and they're presentation-ready.
If either of those methods are too shifty for you, then we're beginning to question your dedication to saving money. But, fine, there's still another alternative: Get yourself cast as the lead in a theatrical production or opera and people will literally shower you with roses during curtain call. Scoop them up, take one last bow, and leave the stage forever with your score.
GifBoom
A Fancy Dinner Out
Sure, you can save a couple bucks with the old "Oh, I'm not that hungry, why don't we share an appetizer?" ploy, but the truly thrifty desire deeper discounts; how does 100% off your meal sound? It's easier than you think, as long as you know where to source a live cockroach. As you might have already guessed, yes, at some point during the meal, you'll whip that disgusting thing out and make a fuss to the wait staff. Just remember to time it right; if you pull that bug out during appetizers, they're not going to let you order mains. Plus your beau will still be hungry and suggest heading to another (possibly more expensive) restaurant.
And speaking of your date, you might not want to tell her your plans ahead of time. We don't usually condone lying to a loved one, but in this instance, her genuine reaction of surprise will help "sell it." It's hard enough for one person to fake outrage and disgust, but when she gets totally grossed out at the revelation of a buggy meal, it'll be authentic. After the meal, you can decide whether or not to tell her. We will say this though: Someone who will stay with you after knowing you've done the old "bug meal" trick is someone you marry!
Too grossed out by bugs to attempt this? There's another classic alternative: RUN! Not sure your date is going to run when you shout "RUN!?" Then tell them, "Why don't you wait in the car while I settle up?" But don't make things suspicious by adding, "And start the engine, too. Just in case I'm being chased."
Chocolates
Around this time of year, stores start charging a premium for dumb ole regular chocolates just because they're in a red, heart-shaped box. The best way to get a real bargain is to have held on to last year's box and then just refill the cups with broken up pieces of a Snickers or Butterfinger or Chunky.
If you didn't plan ahead, you could always just use red spray-paint on a normal box of candy. No, it won't have the distinctive heart-shape, but once your true love gets a whiff of the spray paint fumes coming off of that thing, he'll be so giddy he won't even notice the chocolates. Oh, and don't forget to sock away this year's box for money-saving next year. (Provided this cheap-skatery doesn't end things between you two love birds, natch!)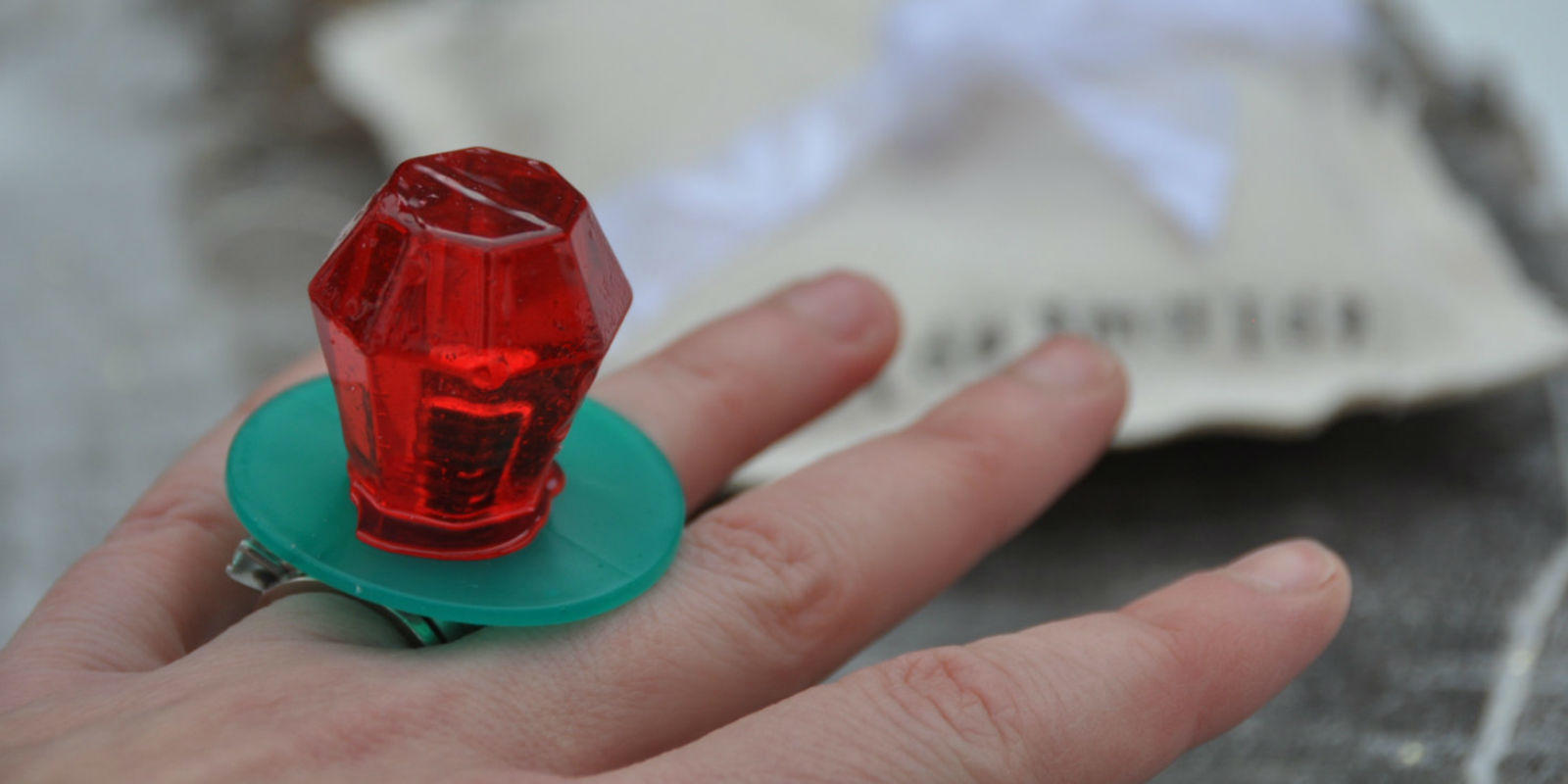 Etsy
Jewelry
Unless you're dating a jeweler, there's a slim chance that your Valentine owns a jeweler's loupe and/or has a degree in gemology. For all they know, that $15 pair of earrings are the real deal, and that $9 cubic zirconia-encrusted flip-flop necklace is actually a diamond encrusted flip-flop (though that's pushing it).

And if you are dating a jeweler? Well, then she should be buying you the jewelry anyway! Wholesale prices of true love.



Greeting Cards
Does your heart runneth o'er with yearning to write odes of love to your lady fair, but your words... not, um, good with? Then your only course of action is to pay some greeting card company hack to jot down a few words that may or may not exactly express your emotions. But a $5.99 price tag? For something that'll just be thrown away? Ah-ha! There's your mistake! If you don't throw the cards away, you can simply erase last year's message and write a new one this year.
Better still, if you're with the same valentine as last year, then the contents of the entire card should still apply, so you won't even need to erase it (saving you money on erasers). Now, if you're the type who writes the date inside your cards, too, don't panic! It's super easy to turn a "2015" into a "2016." (And, even if your Valentine notices, just be all, "Whoops! Heh. I'm still writing 2015 on my checks, too!"
Now, if you're a lover who, *cough*, "moves on" fairly often, just remember to write your Valentine's greetings in pencil to facilitate easier resetting of the canvas for your next Valentine, especially the name! (It ain't easy turning "I love you, Shirley" into "I love you, Mingo".)
No matter how you choose to reuse your card, the important part is to reuse it, because that's being "green" and good for the environment. And, according to a button we saw a hippie wearing once, "recycling is sexy," so you'll have that going for you too!
BodyOfArt.com
The Broken Heart
Just break up. It's the ultimate money saver. Even better, if you wait until the last minute, you can then pick up the box of chocolates that your once-beloved threw upon the ground in anger and eat them. (It's not gross, chocolates come in sealed boxes, so there's no five-second rule! NOM NOM NOM.)
Are some of these solutions criminal? Yes. Are some of them morally dubious? Possibly! Will all of them reveal you to be a human monster, incapable of love? You bet! But isn't all fair in love and war? (And will that fly as a legal defense in court, we wonder?)
---
Related DealNews Features: