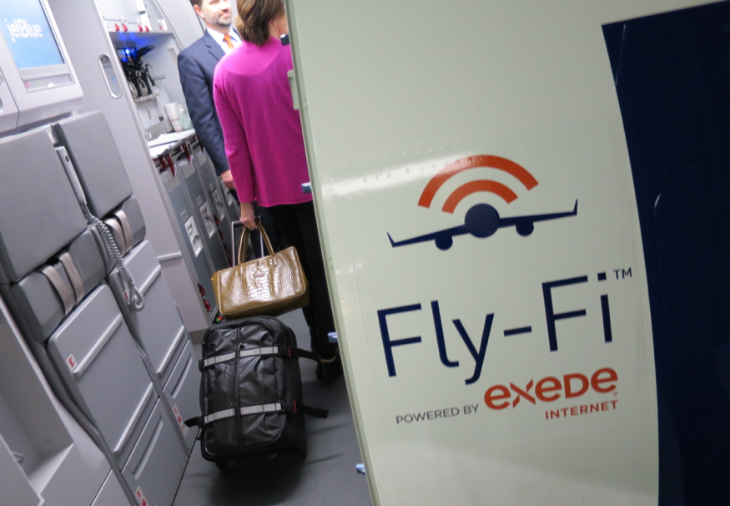 Among the many indignities of modern travel, long flights (or impossibly long waits on the tarmac) can be outright boring, and even a drain on your wallet. Who wants to pay $10 for a glossy magazine that's mostly ads, or shell out extra for those inflight headphones?
But help is on the way. JetBlue is partnering with Amazon to allow travelers to stream movies and music from Amazon's library. That service will be available to Amazon Prime members at no added cost. (Other customers will still be able to rent or purchase Amazon titles.) Even better, it sounds like JetBlue passengers will get faster complimentary WiFi for all purposes — not just Prime streaming.
Amazon's press release suggests though the entire Prime streaming library will be available to travelers. It cites the availability of tens of thousands of movies and TV episodes, including Amazon's exclusive original series, as well as over one million songs.
SEE ALSO: More Than Free Shipping: 8 Perks to Amazon Prime
The streaming will be powered through "Fly-Fi," JetBlue's in-flight internet, a service which is still in beta as JetBlue rolls it out through the whole fleet. Although it's satellite-powered, JetBlue describes the service as broadband and says it's capable of providing each passenger with 12Mbps download speeds. (Gizmodo ranked Fly-Fi as the fastest airplane WiFi there is.) It's currently available on all of JetBlue's Airbus A321 aircraft and most of JetBlue Airbus A320 aircraft. It should be available on all A320s by the end of the year, but passengers on the JetBlue Embraer E190 may have to wait until 2016.
Plus, Broadband Speed for Everyone... Soon
Fly-Fi currently offers complimentary "basic" internet to passengers, but charges $9/hour for high-bandwidth applications like movie streaming. However, the company plans to change this in the near future, upgrading the bandwidth available on its complimentary plan as it offers Amazon Prime streaming.
Plus, JetBlue has said it won't block other sites, meaning all passengers will benefit from the increased internet power. (Ars Technica speculates that passengers may be able to stream Netflix in-flight at no extra charge, although JetBlue has cautioned that it can't guarantee how other services will stream. Time will tell!)
Passengers will be able to access the in-flight WiFi from laptops, tablets, and phones, and Prime's video service will be built into JetBlue's entertainment interface. The press release touts that no pre-flight download of movies will be needed. While 12Mbps is right on the edge of what you need for reliable HD streaming, the companies have said that they have worked to optimize the connection to provide a "top-notch" experience, so there are certainly reasons to be hopeful.
JetBlue's initiative is the first of its kind, but it's not the only airline with robust WiFi. It will be interesting to see how other WiFi front-runners, like Virgin and Delta, respond to this partnership.
How important is in-flight entertainment to you? Would (potentially free) HD movie streaming sway you to choose JetBlue over its competitors? Let us know in the comments below.
---