Wedding registries used to be a way to ensure you had everything you needed to start a new life in a new home with a new spouse. Plus, it was a good way to not get 20 toasters from 20 different people.
But times they are a changin', and today, there are tons of retailers with online and offline registry options, honeymoon and charity registries, and tons of ways to organize multiple gift lists. Some even offer ways for you to save on the things you need!
Here, we rounded up all of the information you need to get started, including where you'll find the best perks.
Retailer Registries
Create a wedding registry with most retailers — online or off — and you'll likely get the following just for signing up:
Completion discount: For a period after your wedding day, you'll get discounts on anything left on your registry. On the low end, expect 10% off in the 90 days after the big day. These discounts are great for big-ticket items that you don't expect anyone to actually buy, but that you don't want to pay full price for either.
Perks for gift-givers: This can be anything from free shipping on orders above a certain dollar threshold to generous discounts.
Bonus gifts with qualifying purchases: Certain brands, like All-Clad, Cuisinart, and KitchenAid, offer free merchandise for items purchased over a certain amount. Generally speaking, you'll need to fill out forms to receive the bonus gifts and either mail them in or present them in-store to receive your freebies.
That's not where the perks end, though. Here's a rundown of some additional benefits offered by specific retailers:
Macy's
Macy's is the top name in wedding registries, and with good reason: so many perks! You can set up a registry online or in-store. The completion discount is good for six months after the wedding day, and includes 15% off any home items left on your registry and anything new you add during that time. Furniture, mattresses, and floor coverings are only eligible for a 10% discount. If you have a Macy's Rewards Card, you'll receive an additional 10% back on all eligible purchases you make and 5% back on all eligible gifts purchased for you. And with the Give a Gift, Get a Gift program, when guests purchase a gift worth $50 or more, they'll receive an online coupon code for $20 off their next purchase of $50 or more.
If you set up your registry in-store, you'll receive a Perks & Privileges packet for discounts on items you'll need to get ready for the big day and beyond, like invitations, wedding party apparel, and luggage. Most discounts are 20% to 25% off. You can also set up a Dream Fund gift card in-store, which guests can contribute to in lieu of a gift, and attend Sip & Scan events, where you can drink mocktails, eat hors d'oeuvres, and meet with Registry Advisors and Brand Experts, all while adding items to your registry.
Kohl's
Signing up for a Kohl's registry comes with some nice perks, a 15% completion discount good for three months, and 10% in rewards on all items purchased from your registry. For the latter, you're automatically enrolled when you create a registry, and you don't need a Kohl's store card to take advantage of the offer. Gift givers receive 20% off on in-store registry purchases over $100 as well.
Amazon
No one beats Amazon for selection, and their universal registry includes everything on the site, and when you install the universal button, everything on every site. You'll also get 20% off wedding invitations from WeddingPaperDivas, a 10% completion discount, and gift givers will get free shipping on orders over $35. The only downside to using Amazon is that those who prefer to shop brick and mortar won't want to use it.
Target
You can set up your Target registry online or in-store. The completion discount is 15%, and you'll receive two coupons to be used online or in-store: one within the week of your wedding and one approximately six weeks after. Additional benefits include a 1-year return and exchange policy, a free Target registry app for iOS and Android to manage your registry anywhere, and an "add from anywhere" bookmark that you can use online to add items from any website to your Target registry. Gift givers can get free shipping on online orders over $25 and, if they're REDcard holders, free shipping on any order plus 5% off.
Williams-Sonoma
Set up a Williams-Sonoma registry online or in-store and you'll have access to a 10% completion discount, a Thank You Note Manager on the website, discounts on personalized gifts for your wedding party from Mark & Graham and a free registry app. You can also add wine from the Williams-Sonoma Wine Club to your registry. Gift givers are entitled to expedited pickup service in-store and free gift wrap. All gift cards purchased for the registry can be used at Williams-Sonoma, West Elm, or Pottery Barn.
Crate & Barrel
Crate & Barrel offers a 10% off completion discount for creating a registry, but it's not just for registry items. You can use it for all in-store and online purchases during the 6-month period, including furniture. You'll also get free online Save the Dates from Paperless Post, a free app, and all gift cards purchased are valid at Crate and Barrel, CB2, and The Land of Nod. Gift givers receive free shipping on orders over $99.
If you register in-store, you'll receive a set of stemless wine glasses in an embroidered linen bag, as well as complimentary announcement cards. You can also sign up for private Wedding Parties Events, where you can meet one-on-one with registry experts and browse merchandise.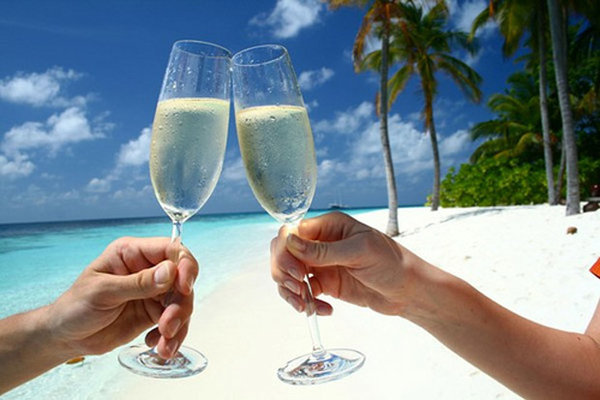 Honeymoon Registries
Honeymoon registries are a way for guests to contribute to your first big trip as a married couple, by contributing to their choice of airfare, hotel rooms, and travel experiences, either by mailing a check or paying online with a credit card. Credit card transaction fees apply. Honeyfund has the lowest of all the honeymoon registry sites we looked at, with 2.8% + .30 for each transaction. If you'd rather your gift givers pay the transaction fees, Traveler's Joy offers that option. If you set up a honeymoon registry, it's a good idea to set up a traditional retailer registry as well, because your older relatives will likely deem it a tacky way to request cash.
Charity Registries
If you have everything you need and want guests to contribute to the greater good instead, you can set up a fund for the charity or charities of your choice through websites like Crowdrise, Changing the Present, and the I Do Foundation. You can even offer charitable wedding favors in lieu of personalized trinkets.
Organizing Registries
If you have more than one wedding registry, or want to blend gifts, experiences, charitable donations, and/or cash all in one place, you have a lot of options:
The Knot: Most major retailers are already integrated into The Knot's site, making it easy to add multiple registries to your account for easy management. Also, if you choose to include a charity option, The Knot will make a donation for each gift purchased through the registry. If you're hosting your wedding website with The Knot, you can easily add your registry information to it as well.
WeddingWire: Similar to The Knot with retail partners and wedding website integration, WeddingWire also partners with several honeymoon and cash gift registry companies.
MyRegistry.com: Not only can you sync up multiple retailer registries, you can also register for cash gifts, add items from any store on the internet, and even use an app to add items from brick and mortar stores with MyRegistry. It will then be displayed in one place, with one URL, making it easy for you to manage, and easy for your guests to shop. If choosing from everything out there seems overwhelming, they also have their own stores where you can browse for items from top brands.
Zola: Zola is similar to myregistry.com in that it's an everything-in-one-place management tool, but they differ in that their gifts are curated. In addition to standard wedding gifts, they also offer experiences, like cooking classes, and the ability to set up cash funds for your honeymoon or dream house. If they don't have something you're looking for, you can add it from anywhere online.
Have you used any of these registries, readers? What did you think of the experience? Let us know in the comments below.
---