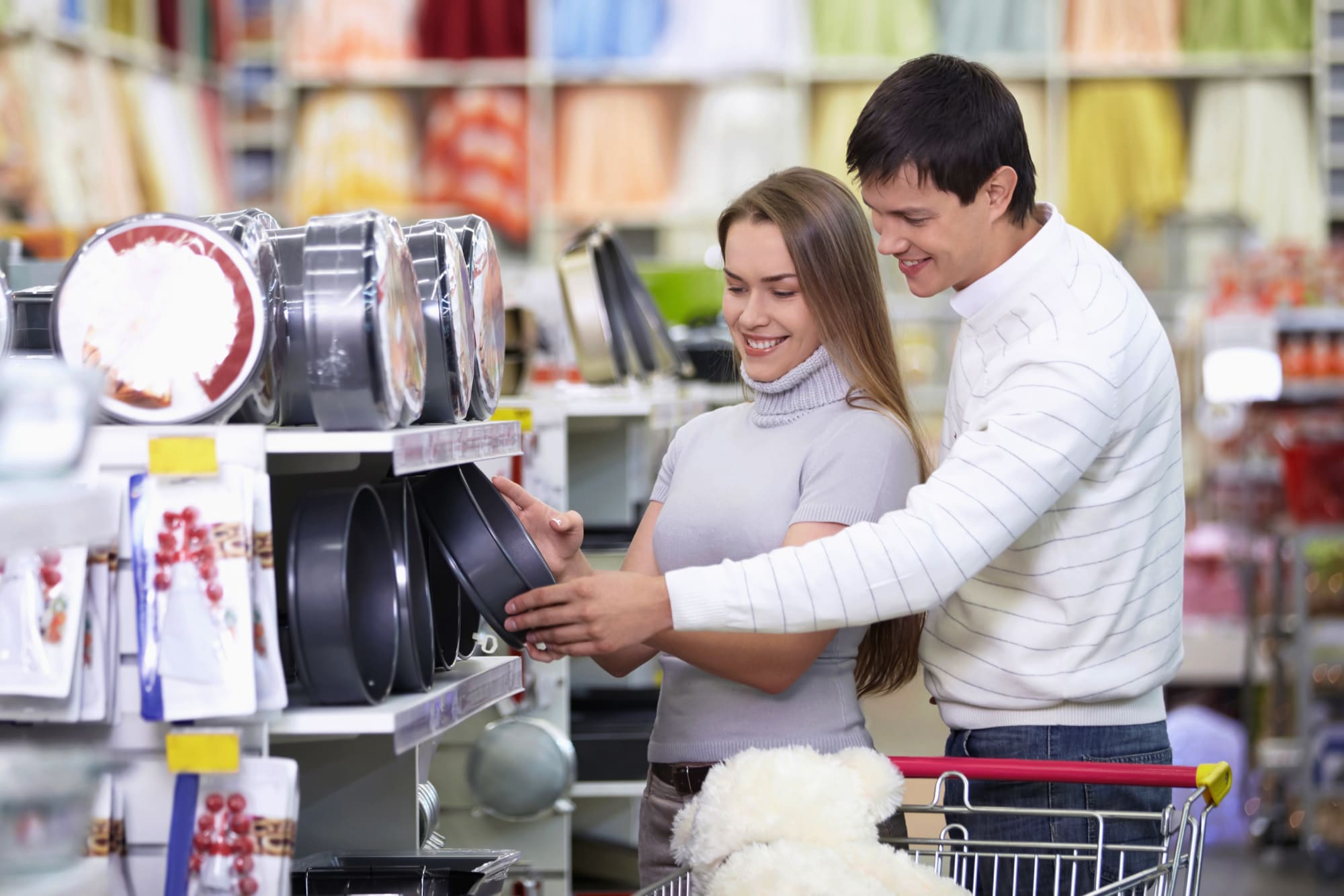 Wedding registries used to be a way to ensure you had everything you needed to start a new life in a new home with a new spouse. You could score good china and linens, and of course the ubiquitous KitchenAid stand mixer. Plus, a registry was a practical way to avoid getting 20 toasters from 20 different people.
But times they are a-changin', and today, couples are waiting longer to tie the knot. The average age of first marriage in the Unites States is now about 27 for women and 29 for men. Most couples already have a home stocked with most of what they need by that age, rendering the traditional registry as archaic a groom's powder blue ruffled tuxedo shirt. And with the trend of millennials preferring to spend money on experiences, rather than material goods, registry options have expanded to cater to them.
Here, we round up the various types of wedding registries available, so you can choose the best option for your lifestyle and future.
Honeymoon Registries
Honeymoon registries let guests contribute to your first big trip as a married couple, by choosing to cover all or a portion of airfare, hotel rooms, and travel experiences. With a few exceptions, the payments aren't directly applied to those items; you'll receive a lump sum to spend how you wish. A ton of honeymoon registries are out there, but these are the most popular.
With registries through Honeyfund, guests can contribute to charities and down payments on houses, in addition to honeymoons. People can give gifts via cash, check, or credit card. Credit card gifts are processed through either WePay or PayPal, with fees of 2.8% plus 30 cents for each transaction. Links to registries on other sites can also be added to your Honeyfund page.
This registry has similar functionality to Honeyfund, with a couple of major differences: The fees for credit card payments are higher (2.95% plus 99 cents at checkout); however, you can choose to charge that fee to gift-givers, rather than deducting it from your gift total.
If you're planning a cruise or resort stay for your honeymoon, look into Honeymoon Wishes. It has partnerships with major players like Sandals and Carnival. This allows guests to actually pay for things like meals and activities. There's a 7% service and handling fee added at checkout, which you can choose to deduct from your gift or charge to the gift-giver. Credit card payments are also subjected to a 2.65% processing fee. Honeymoon Wishes is unique in that it also offers full-service wedding websites with registries.
SEE ALSO: Don't Let These 9 Unexpected Costs Blow Your Wedding Budget
Charity Registries
If you have everything you need, and want guests to contribute to the greater good instead, set up a fund for the charity or charities of your choice through websites like CrowdRise and The Good Beginning. There are many options — both online and off — for charitable registries, so you can get creative. One couple even set up a bone marrow registry in lieu of a gift one.
Experience Registries
If you'd rather share fun eating, adventure, and fitness activities with your new spouse, an experience registry is for you. Here are a few options.
Zola is more of an all-in-one registry than an experience registry, but it's been getting buzz recently about the latter. Guests can purchase items like Blue Apron subscriptions, Airbnb stays, and SoulCycle classes as gifts through Zola, along with more traditional home goods and honeymoon contributions. Zola also offers a 10% completion discount for any unpurchased items on your registry.
This registry service allows guests to gift local experiences like cooking classes, hot air balloon rides, and skydiving. It's currently available in Colorado, Oregon, and Washington, with plans to expand into California later this year. VEBO also donates 5% from each couple's registry to the charity of their choice.
If you and your fiancé love Domino's Pizza, then this is the registry for you. Guests can purchase pizza for your low-key date nights, thank you card-writing nights, and even your wedding night.
Retailer Registries
Even if you're doing an alternate registry, it's still a good idea to set up a registry with a traditional retailer for a few reasons: 1) Older wedding guests who aren't computer-savvy will be able to easily purchase something for you; 2) your Aunt Beatrice will be less vocal about how tacky your honeymoon registry is; and 3) retailer registries offer a lot of perks.
Create a wedding registry with most retailers — online or off — and you'll likely get the following just for signing up.
Completion discount: For a period after your wedding day, you'll get discounts on anything left on your registry. On the low end, expect 10% off in the 90 days after the big day. These discounts are great for big-ticket items that you don't expect anyone to actually buy, but that you don't want to pay full price for either.
Perks for gift-givers: These can be anything from generous discounts to free shipping on orders above a certain dollar threshold.
Bonus gifts with qualifying purchases: Certain brands, like All-Clad, Cuisinart, and Le Creuset, offer free merchandise with items purchased over a certain amount. Generally, you'll need to fill out forms to receive the bonus gifts, and either mail them in or present them in-store to get your freebies.
That's not where the perks end, though. Here's a rundown of additional benefits offered by specific retailers.
Macy's
Macy's is the top name in wedding registries, and with good reason: so many perks! You can set up a registry online or in-store. Then, you'll have access to these benefits:
Appointment with a Registry Advisor, who will guide you through the process
A Perks & Privileges packet, with exclusive savings and offers
5-10% rewards back on gifts received and purchases made
20% off completion discount
In-store Sip & Scan events, where you can drink cocktails and get registry tips and advice
Kohl's
Signing up for a Kohl's registry comes with nice perks, a 15% completion discount good for three months, and 10% in rewards on all items purchased from your registry. For the latter, you're automatically enrolled when you create a registry, and you don't need a Kohl's store card to take advantage of the offer. Gift-givers receive 20% off on in-store registry purchases over $100 as well.
SEE ALSO: What You Do (and Don't) Have to Pay for When You Attend a Wedding
Williams-Sonoma
Set up a Williams-Sonoma registry online or in-store, and you'll have access to a 10% completion discount, a thank-you note manager on the website, and entry into a monthly sweepstakes. All gift cards purchased for the registry can be used at Williams-Sonoma, West Elm, or Pottery Barn.
Crate & Barrel
Crate & Barrel offers a 10% completion discount for creating a registry, but it's not just for registry items. You can use it for all in-store and online purchases during the six-month period, including furniture. You'll also get free online save the dates from Paperless Post and a free app, and all gift cards purchased are valid at Crate & Barrel, CB2, and The Land of Nod. Gift-givers receive free shipping on orders over $99.
If you register in-store, you'll receive a set of stemless wine glasses in an embroidered linen bag, as well as complimentary announcement cards. You can also sign up for private registry events, where you can meet one-on-one with registry experts and browse merchandise.
All-in-One Registries
If you have more than one wedding registry, or want to blend gifts, experiences, charitable donations, and/or cash all in one place, you have a lot of options.
Most major retailers are already integrated into The Knot's site, making it easy to add multiple registries to your account for easy management. Also, if you choose to include a charity option, The Knot will make a donation for each gift purchased through the registry. If you're hosting your wedding website with The Knot, you can easily add your registry information to it as well.
No one beats Amazon for selection, and its wedding registry includes everything on the site — and when you install the universal button, everything on every site. Prime members get a 20% completion discount, and non-Prime members get 10%. Buyers score free shipping on any purchase of $35 or more, and recipients have a generous 180-day free return policy.
Favoring indie retailers and high-end boutiques, NewlyWish allows you to curate a one-of-a-kind registry. Plus, crowdfunding options are included, so you can collect charitable donations, fund your honeymoon, or collect money for a down payment on a house.
Blueprint offers honeymoon and cash registries, but the focus is on the home. Couples can shop room-by-room visual blueprints and create their perfect living space.
Readers, have you used any of these registries? What did you think of the experience? Let us know in the comments below.
---