Pop culture moves so quickly, doesn't it? Pokémon Go seems like a distant memory, and that was popular in July.
It's been quite a year in pop culture. Remember "Becky with the good hair," #PhelpsFace, and power posing? These cultural moments are prime inspiration for a clever Halloween costume, but such outfits can sometimes require a bit of DIY effort.
Below we've rounded up some of our favorite DIY pop culture costumes you can put together pretty easily on a budget. You may already own several of the items you'll need to make many of them work, but we've included links to affordable options in case you don't.
While some of these costumes can get pricey if you fully commit, some cost less than $20!
TV Costumes: Stranger Things Reigns Supreme
UK fashion site Lyst had some pretty convincing evidence that Eleven is set to be one of the most popular costumes this Halloween — and the other characters of Stranger Things aren't far behind. Here are a few ideas to help with your '80s sci-fi costumes and some other popular TV characters.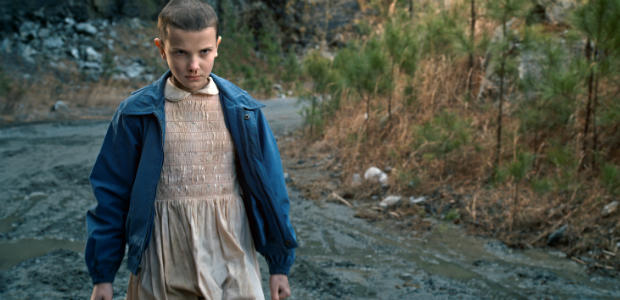 Stranger Things: Eleven
The Look: If you're not up for cropping your hair, go as Eleven in disguise, with the blond wig.
What You'll Need: To get Eleven's look, you'll need a pink frock like this ASOS collared dress ($32) mentioned by Lyst or a long-sleeved version ($57), high-top Converse sneakers (about $35), and a blue jacket, like this H&M jacket ($17.99). Get some knee-high tube socks ($4.99), or if your heart is set on those green and gold stripes at the top, try these ($12). Alternatively, buy regular tube socks ($7.99 for 6) and some fabric markers in green and yellow. If you're not a blond, you'll also need a wig (like this one for $14.99 or this one for $19.99).
Go Beyond: Get a buzzcut like Eleven! (Then you won't have to buy a wig.) Plus, some blood ($1.99) to trickle from your nose. Don't forget to draw on an 011 tattoo, and to procure a box of Eggos (about $3) to keep in the freezer before your fellow Elevens buy them all up for their costumes. A lot of people are going to be eating frozen waffles on November 1.
Total Cost: About $90 without the wig, up to $147 for the works and higher-priced options.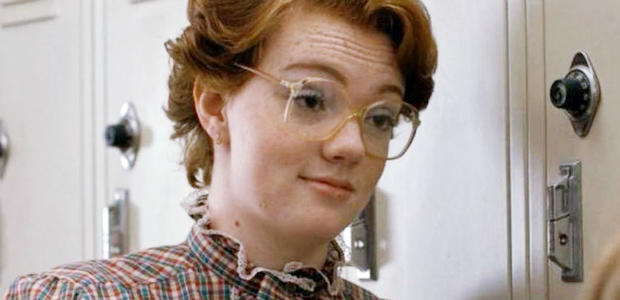 Stranger Things: Barb
The Look: Glasses and ruffles.
What You'll Need: Barb is really into ruffles, and H&M fortuitously has a lot of ruffles this season. Try this ruffled sweater ($34.99), ruffled top ($24.99), blouse with large ruffles ($49.99), blouse with small ruffles ($12.99), wide-cut ruffled blouse ($49.99), blouse with a ruffled collar ($29.99), or printed blouse ($39.99). Find some Barb-like eyeglasses ($9.99). You can probably get away with wearing your own jeans if you have enough ruffles on top, but Barb likes a classic relaxed fit ($48). If you're not a redhead, it's tough to find a Halloween wig that isn't bright red, so try this wig ($16.99) or refashion this Annie wig ($26.99) into Barb's 'do.
Go Beyond: Accessorize with a blue puffy jacket (about $70). If you want to really go for it, then [SPOILER ALERT] watch this Freakmo makeup tutorial.
Total Cost: At least $40 for the blouse, wig, and glasses ensemble, up to $205 for the full works (or more if you spring for special FX makeup!).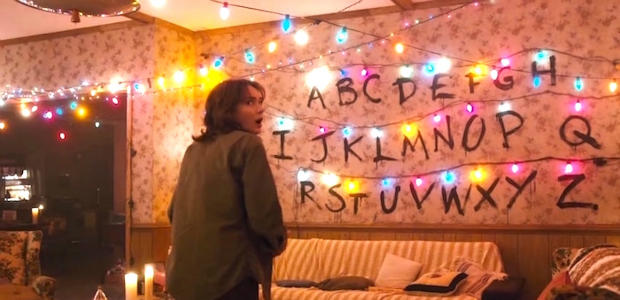 Stranger Things: The Wall
The Look: Be the wall that Will uses to communicate to Joyce.
What You'll Need: Naturally, start with holiday lights ($3.49) and a fabric marker ($8.31) to write the alphabet on a shirt. Bonus points if you arrange it on a floral print, like this patterned men's shirt ($22 to $25) or this women's T-shirt ($3.99).
Go Beyond: Buddy up! This Cosplay couple nailed the look with a frantic Joyce — in her striped T-shirt ($4.50) and green jacket ($39.99) — on the phone. Plug yourself in at the party.
Total Cost: From $16 to $37 to be the wall, plus $44 to add Joyce.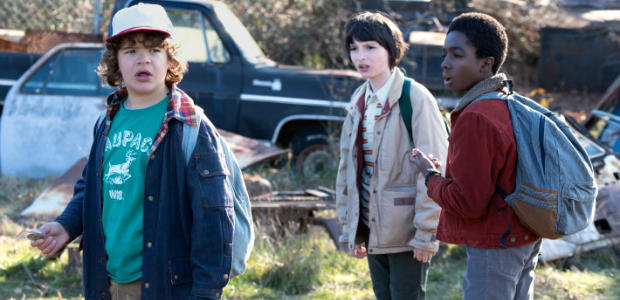 Stranger Things: The Boys
What You'll Need: The boys tend to wear plaid ($8) and striped T-shirts ($14.95), while Dustin has a lot of graphic tees. We can see him in a dinosaur T-shirt ($9). All of the boys have variations on a brown hooded jacket ($49.99), or get a puffy vest ($24.99) or denim jacket ($49.94). To be Dustin, get some tooth blackout ($2.99) and a red, white and blue trucker hat ($7.99). For Lucas, accessorize with an Army bandana ($1.79).
Go Beyond: Don't forget to bring a backpack ($19.99) for your walkie-talkies ($23.99).
Total Cost: Anywhere from $33 to $120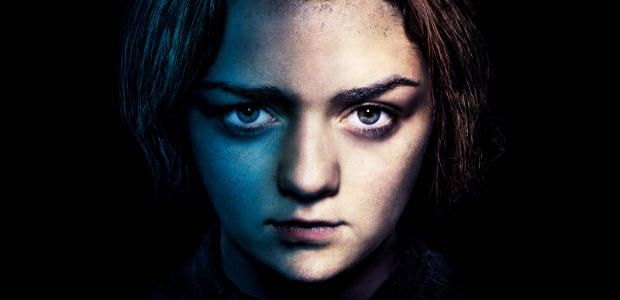 Game of Thrones: Arya Stark and the Faceless Men
The Look: Not-so-spoiler alert: Arya Stark hung out in Braavos this past season trying to become "no one," and borrowing from the Hall of Faces. This is perfect if you already have several old Halloween masks in your closet.
What You'll Need: You might have all or most of this one in your closet already. Wear a tan long-sleeved shirt ($12.98) underneath a mid-length black dress. (If you don't have one in your closet, ASOS has a few options, one for $33 and another for $46.) Or opt for a simple brown dress. Pick up some cheap Halloween masks.
Go Beyond: Keep changing your masks throughout the party. If anyone asks your name, say, "A girl has no name." Bring along a sword ($1.99) in case you see anyone from your list.
Total Cost: It could cost nothing to be no one. Otherwise, you'll pay up to $61, plus the price of "faces."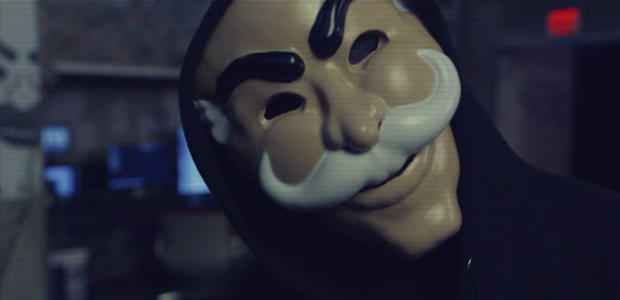 Mr. Robot: Elliot
The Look: Have jeans and a black hoodie? Be hacker Elliot Alderson for the ultimate easy, comfy costume.
What You'll Need: Just a black zip-up hoodie ($19.99), really.
Go Beyond: Spring for an Fsociety mask ($10.99), so fellow party guests don't think you're too lazy.
Total Cost: About $20 to $31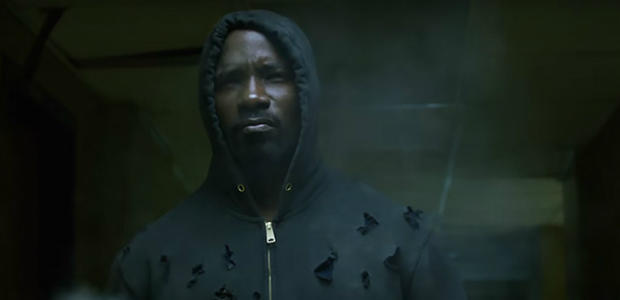 Luke Cage
The Look: Have a ripped hoodie or T-shirt? Put more holes in it and be the latest Netflix superhero show star, Luke Cage. This latest look for TV (updated from his comic book look) is basically just a hole-riddled hoodie or tee.
What You Need: Scissors and a cheap T-shirt ($3.99) or hoodie ($3.99).
Go Beyond: Luke Cage is really buff, so hopefully you've been working out. A lot.
Total Cost: Free (if you sacrifice an old hoodie or tee), otherwise about $4.
Pop Culture: Be a Meme or an App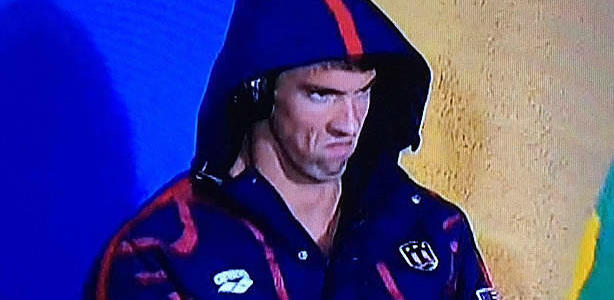 Olympics #PhelpsFace
Want another hoodie Halloween costume? Be angry Michael Phelps giving South African competitor Chad le Clos the stinkeye.
What You'll Need: Get a dark blue hoodie like this ($3.99) and embellish it with an Olympic patch ($6.99) and/or USA swimming pin ($5.99). Accessorize with headphones ($14.99).
Go beyond: Channel your inner rage for #PhelpsFace. Print out a photo of Chad le Clos at which to direct your glare.
Total Cost: From $25 to $32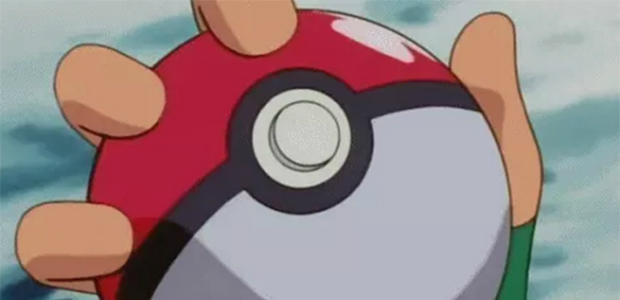 Pokémon Go Pokeball
The Look: It should be fairly simple to make your own Pokeball costume with red and white items. And yes, there is a "sexy" take on a Pokeball costume ($44.90).
What You'll Need: You may have some of this in your closet already! Men: A red shirt ($5.99) and white pants ($17.99) with a black belt ($14.99). Women: A red shirt ($4.99), white pants ($14.99) or a white skirt, ($14) with a black belt ($9.99). With a chenille stick or pipe cleaner, attach a white dimmer replacement knob ($3.88) to the belt.
Go Beyond: Accessorize with Pokémon, like a plush set of three ($8.44) or a Squirtle ($4.60).
Total Cost: Even if you don't have any of the basics, you'll spend about $33 to $51.
In the News: Bye Bye Britain, Hello Elena Ferrante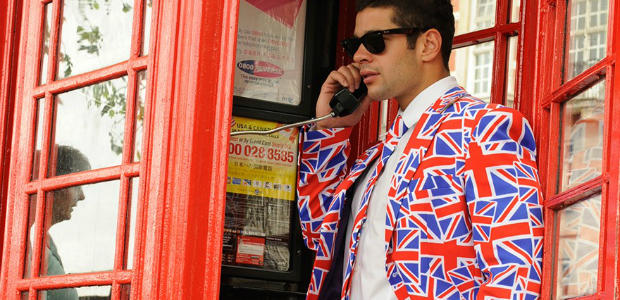 Brexit
The Look: In June, the UK voted for Brexit, in favor of leaving the European Union.
What You'll Need: Unless you're Joe Elliot of Def Leppard or Geri Halliwell, you'll probably need some Union Jack wear. Speaking of Ginger Spice, you can get a Union Jack dress for $21.99. Or opt for a Ben Sherman printed T-shirt ($24.99). Find a free printable Exit sign to pin to your outfit, or get the Brexit message across with a pin that says "Bye Felicia" or simply "Bye."
Go Beyond: This suit. These boots.
Total Cost: About $22 to $25, unless you splurge on the suit or boots.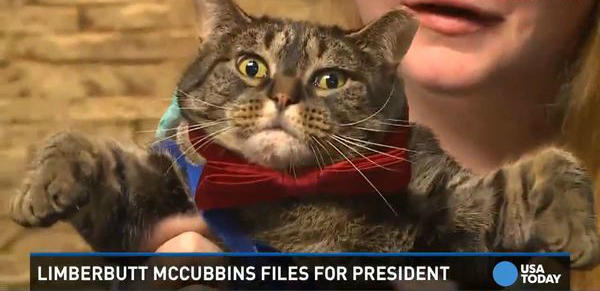 Limberbutt McCubbins
The Look: Limberbutt McCubbins is a "Demo-cat" that's running for president. The tabby's slogan is "Meow is the time."
What You'll Need: Just get cat ears ($6.99) and some campaign gear, whether you opt for a button ($3.59) or a T-shirt ($23.99).
Go Beyond: If your dog isn't embarrassed, get your canine into the act with a T-shirt ($16.99). Hand out dog and cat treats to appeal to the pet constituency.
Total Cost: About $11 to $52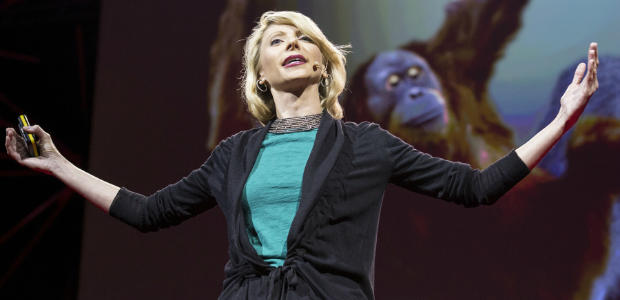 Power Poseur
People are really into power posing; adopting powerful body language is supposed to translate into being more confident. Social psychologist Amy Cuddy's "Your Body Language Shapes Who You Are" is the second-most popular TED Talk of all time with more than 36 million views. So many power posers slumped over their laptops and phones as they read that Cuddy's study co-author posted "I do not believe that 'power pose' effects are real." Cuddy has responded in defense of power posing.
What You'll Need: A faux headset is about $5. Most of Cuddy's outfit from the talk are things women already have in their closets: a black skirt (about $15), a cardigan (about $13), a green or purple top ($13), black tights ($8) and silver hoop earrings ($5).
Go Beyond: Bonus points for finding a necklace like the one she wears in her TED Talk. Make sure to adopt some power poses and see if it works. (And posing is free!)
Total Cost: If you can raid your closet for most of it, then just $5 for the headset, otherwise you'll spend closer to $59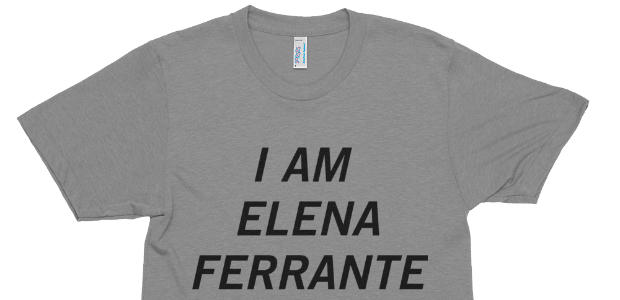 Elena Ferrante
The Look: The identity of the author behind the pen name Elena Ferrante has been speculated about since the Neapolitan novels, an Italian four-book series about two friends, became wildly popular. (Even if you haven't read them, the covers will likely look familiar.) Earlier this month, Ferrante's name was in the news when an investigative journalist's report uncovered her probable identity. In response, some of fans who didn't think it was fair to expose the author had an "I am Spartacus" moment.
What You'll Need: Consider an "I Am Elena Ferrante" T-shirt ($25).
Go Beyond: Get your entire book club to join you in a simple costume, and carry around your favorite Neapolitan novel ($10.38).
Total Cost: About $25 to $35.
Readers, what will you be wearing this Halloween? Will you go DIY, opt for a pre-made costume, or skip the holiday entirely? Share your plans in the comments below!