By Tom Barlow, dealnews contributor
With the change of seasons comes the most delightful time of year for family camping, the fall. Cooler temperatures make campfires, hay rides, and sleeping under a canopy of stars a treat.
Of course, none of this is much fun if you end up cold and miserable all night — and it all depends on the sleeping bag you choose. Get the right one, and you'll be snug and toasty; get the wrong one, and you'll be shivering all night, even if the temperatures are well above freezing. How do you make the right choice? Here are some factors to consider.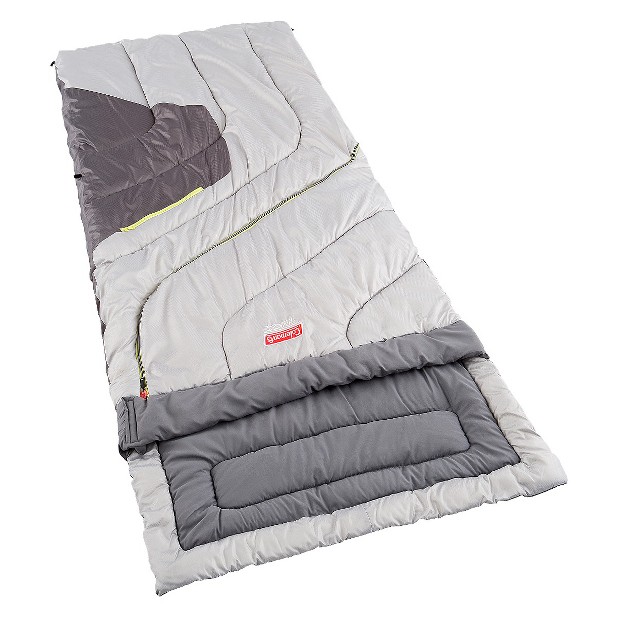 The Right Configuration
Sleeping bags for general camping (as opposed to backpacking bags, which are minimal in weight but maximal in price) come in a couple of basic shapes: rectangular, like this Coleman Comfort Control Sleeping Bag ($39.99 with $8.41 s&h; or, $39.99 at Sears with in-store pickup). Or try the semi-rectangular shape, like the Kelty Camp 30-Degree Sleeping Bag ($34.97 with $8.49 s&h, a low by $5).
The rectangular shape has the advantage of roominess. If you like to sprawl when you sleep, this would be a good choice. The semi-rectangular is cut a little more like the shape of your body, wider at the hips, tapering toward your feet. These bags are a bit warmer, as there is less dead air around your body that you need to warm. If heat is your primary concern, strongly consider this configuration. Some bags, like this Marmot Trestles +30 Women's Long Sleeping Bag ($69.93 with free shipping, a low by $10), also come with a hood that you can pull around your head, a great way to improve your heat retention on a cool night.
The Right Insulation
Most sleeping bags in this class are made of nylon or polyester, light-weight materials that will wear well. The more important material, however, is the insulation they contain. The cheapest bags will be insulated with several layers of cloth, and will feel like a really thick bedspread. But if it becomes wet, it feels like — a wet bedspread. Not a nice way to spend a night.
Most moderately-priced bags are stuffed with a fluffy form of polyester that doesn't absorb moisture, works even when wet, and stands up to abuse. Real goose down, a more expensive material, is used in pricier bags for backpacking because it's lighter and more compressible. But because it also loses its efficacy when wet, however, goose down isn't a good choice for general camping.
The Right Temperature Range
Bags are broken into several classes depending on the lowest temperatures at which they still work well. A summer bag is typically good to 40 degrees or so, like this Wenzel Mountain Trails Cascade 40-Degree Bag ($19 at with free shipping, a low by $8). A 3-season bag like the Big Agnes Women's Lulu +15 Sleeping Bag (from $111.99 with free shipping, a low by at least $30), should keep the sleeper warm in 15- or 10-degree weather, while a cold-weather bag functions down to a crazy -10 degrees. People have a range of temperature tolerances, but no matter your limits, always err on the side of caution. Buy a bag rated well below the lowest temperature you anticipate.
The Right Style for You
Sleeping bags are also available specially configured for women and children. According to REI, women typically need a warmer bag than men — up to 8 degrees warmer, says a recent test. Women's bags are also narrower at the shoulders, more generous at the hips, and feature more insulation for the upper body and feet.
Children's bags are smaller but sometimes have extra features such as a sleeve that can hold a sleeping pad in place while a restless child tosses and turns. Pockets inside or out can keep flashlights and Gameboys handy, and a built-in pillow pocket can be stuffed with extra clothes to cradle the child's head. If you're in the market, give this Eureka Lightning Bug Sleeping Bag ($24.99 with free shipping via Prime, a low by $5) a try.
Camping couples might look for bags that zip together, like the Slumberjack Bonnie & Clyde Double Sleeping Bag ($109.98 with free shipping, a low by $10), for double-wide room for cuddling at night.
Other Tips for Staying Warm at Night
The sleeping bag is only one element determining whether you have a cozy night or not. Wearing clean long underwear and socks will help warm you up while wicking sweat effectively. Wearing a stocking cap is also helpful if you don't have a bag with a hood. A sleeping bag liner— a sheet-like pocket that slips inside your sleeping bag, like the Campmor Mummy Sleeping Bag Liner ($21.99 with $6.99 s&h) — can stabilize the effective temperature of the bag by as much as 10 degrees. A tent will keep you warmer at night than being exposed to the elements. Eating something before going to bed will also help.
Sleeping out can be a great way to enjoy the autumn weather, and the right sleeping bag is a crucial part of a pleasurable experience. Stay dry and warm, and you'll wake up rested, ready to tear through that corn maze or dominate that game of flag football.

 Photo credit: Loimere via Flickr
---
Tom Barlow formerly wrote for Aol's WalletPop and DailyFinance, and in addition to his dealnews contributions, he currently writes about lifestyle topics for Forbes.com. You can follow him on twitter
@tombarlow
. You can also sign up for an
e-mail alert
for all
dealnews
features.