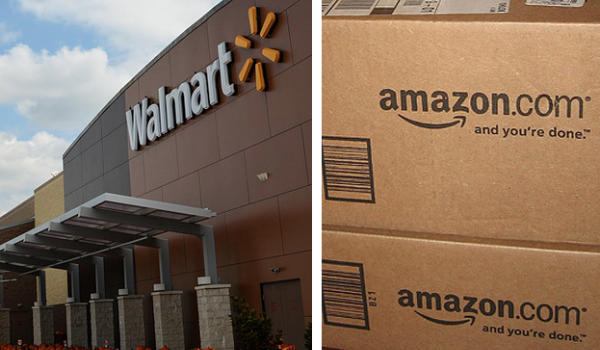 Update: We've started rounding up the Prime Day competitor sales here. And as always, you can see the best deals from all stores here.
While Amazon is gearing up for its second annual Prime Day on July 12, it won't be the only retailer to shop on Tuesday. We've heard rumblings from several of Amazon's biggest competitors, suggesting that there will be significant savings across the board from some notable stores.
So even if you fall into the camp of people who thought Prime Day last year was a #fail, you might want to at least keep your eyes open to the other sales that are happening this week, as the competition will be hot. Here's what you can expect.
Dare to Compare at Walmart
Last year, Walmart decided to compete with Amazon's Prime Day by launching its own campaign. It was called Dare to Compare, and it focused heavily on the fact that shoppers wouldn't have to purchase a $99 membership just to shop.
This week, everything at Walmart ships free. The store also claims that its prices are equal to or lower than those at Amazon.
Walmart is hosting the event again this year, with even more incentive; the store is offering free shipping with no minimum purchase from July 11 to July 15. Plus, prices are being advertised as equal to or lower than Amazon prices, although it remains to be seen how they compare come July 12.
Other Stores Rumored to Have Major Sales
Walmart isn't the only retailer trying to compete with Amazon for Prime Day. Newegg, Toys"R"Us, Kohl's, and JCPenney are all rumored to be hosting sales as well. Additionally, a spokesperson from eBay has hinted that eBay will release deals on July 12, from categories including tech, fashion, home, travel, and music items with "no membership required." Plus, all of these sales are supposedly slated to last longer than Amazon's Prime Day.
The Prime Day Effect Could Bring Unexpected Discounts
While the above stores will likely unveil promotions to directly compete with Amazon, we wouldn't be surprised to see less-expected retailers taking advantage of the highly-publicized event as a means of exposure.
Quite a few people were annoyed by last year's Prime Day sale, and we could easily see a variety of unrelated stores running "Skip Prime Day" promotions, to capitalize on the sentiment. Such an approach would be similar to how REI made a splash with its anti-Black Friday event last year, only in this case, shoppers would reap the benefits through savings.
We recommend that everyone check their inbox tomorrow for special coupons or discounts from your favorite brands, and of course to check back here at DealNews for a curated selection of the best deals from vendors other than Amazon.
Readers, will you be shopping stores other than Amazon on Prime Day? Sound off in the comments below!
---