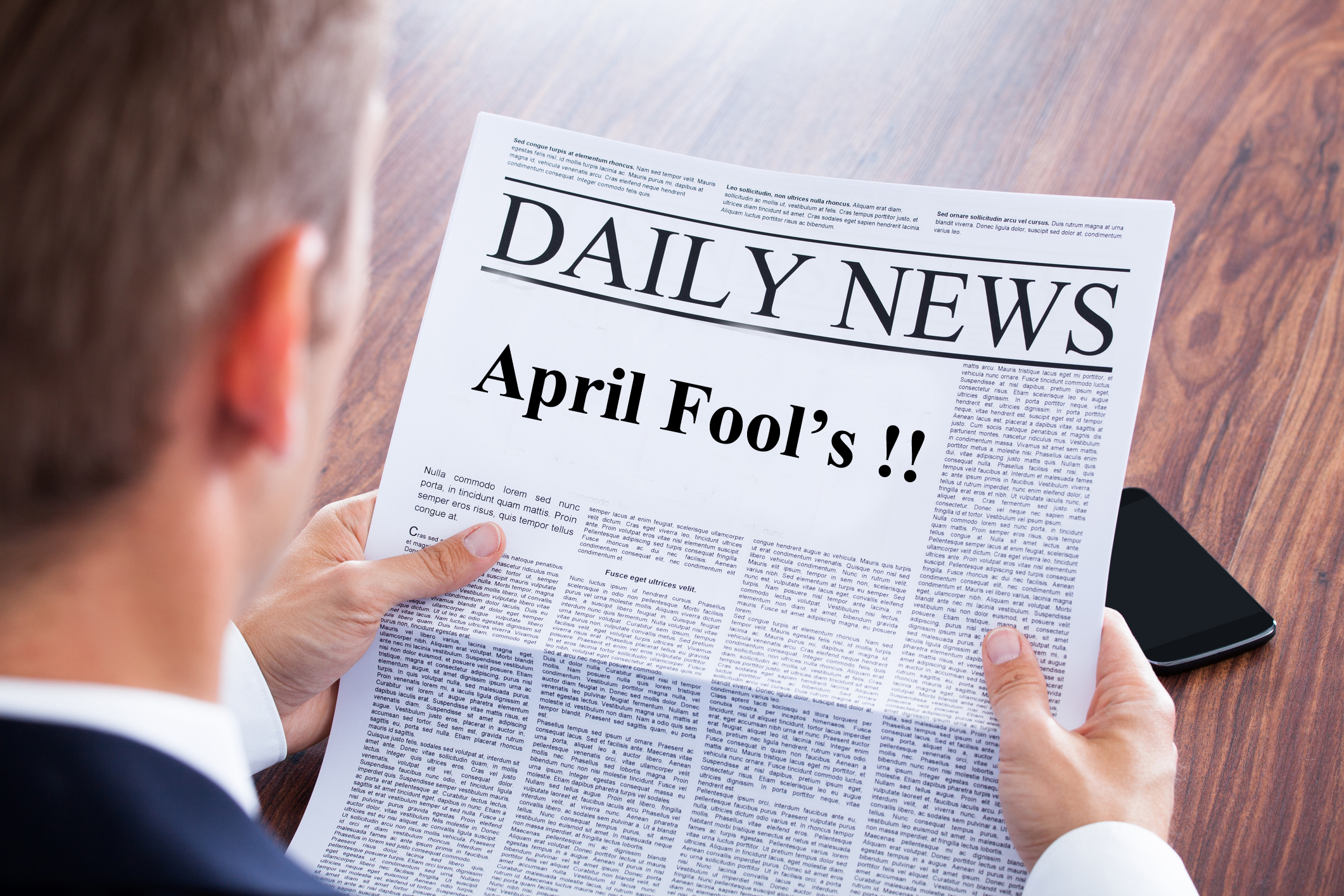 These days, April Fools' Day is practically the official holiday of the internet, with every site trying to make you believe increasingly crazy stories. But the April 1 holiday wasn't always digital. Pranking has been around for centuries, and in the pre-Snopes era, it was much harder to tell if you were falling for a gag. (Fortunately, there are still many gags people will fall for.)
In honor of this April Fools' Day, let's look back at 10 of the best pranks from days gone by.
The Washing of the Lions
Back when the Tower of London was home to the Royal Menagerie — replete with tigers, lions, and elephants — people were invited to view the annual washing of the lions. Even though the ceremony didn't exist, that didn't stop crowds from showing up to see these big cats.
SEE ALSO: 18 April Fools' Day Pranks That Won't Cost a Thing
This prank was first reported in a newspaper write-up in 1698; it apparently went on for years — even after the animals were no longer in the Tower — with pranksters printing out tickets to hand to tourists.
If you're ever in London on April 1, remember: there is no washing of the lions.
Wisconsin State Capitol Building Collapse
If you think fake photos all come from Photoshop, think again. A 1933 story in Madison, WI's The Capital Times managed to hoax plenty of people with an image of the capitol dome falling to the ground. Though "April Fool!" appeared in small text above the image, the dramatic photo and the story below made it easy to miss. "Officials say legislature generated too much hot air," the subhead explained.
A Bumper Crop of Spaghetti
Did you know spaghetti grows on trees? Probably not, because it doesn't. However, in 1957 a BBC current affairs program convinced a lot of people that it did. Today we would call this footage — showing women plucking strands of spaghetti from trees — a mockumentary and expect it to go viral on YouTube. But in this pre-YouTube era clip, viewers just weren't in on the joke. Because it was broadcast on a major news program, with a voiceover by respected British news anchor Richard Dimbleby, it took in a lot of viewers — many of whom called the BBC to ask how to grow their very own spaghetti tree.
An Iceberg in Sydney Harbor
With average temperatures ranging from 61 F to 79 F, Sydney is not known for chilly weather. So just how did an iceberg come to drift through the harbor? It was a fake, of course.
Australian entrepreneur Dick Smith had been talking — genuinely — about towing an iceberg from Antarctica to Sydney as a source of fresh water for areas prone to drought. By 1978, he hadn't yet managed the feat, but instead decided it would make a great prank.
When they started towing the creation toward the harbor, hundreds of Smith's employees called in to local radio stations and newspapers to report seeing the "iceberg."
Smith and his co-conspirators docked a barge outside the harbor, and covered it with firefighting foam and shaving cream to mimic an iceberg. When they started towing the creation toward the harbor, hundreds of Smith's employees called in to local radio stations and newspapers to report seeing the "iceberg," and the shoreline was packed with people.
The prank was going pretty well... until it rained, and the fake iceberg washed away.
The Great Blue Hill Eruption
Talk about a prank gone wrong! In 1980, a Boston news program aired a fake story about a local hill erupting, using footage from Mount St. Helens and an edited clip of President Jimmy Carter. Though the segment ended by telling viewers it was a joke, many people panicked well before that point. Residents prepared to flee their homes and the police were flooded with calls.
The show's producer was fired for "failure to exercise good news judgement." Oops.
Nixon's Run for a Third Term
NPR pulled out all the stops for a prank in 1992, when the news program Talk of the Nation announced that former President Richard Nixon was running for a third term. The segment included a clip of Nixon announcing his candidacy — "I never did anything wrong, and I won't do it again" — as well as commentary by Harvard professor Laurence Tribe, Newsweek reporter Howard Fineman, and Bush-Quayle campaign secretary Torie Clarke. How much more legitimate could you get?
Listeners were fooled... and angry. NPR has pulled a lot of pranks over the years, but this was one of its best.
The Taco Liberty Bell
Depending on who you ask, this was either a prank taken too far or a brilliant PR move. In 1996, Taco Bell ran full-page ads in The New York Times, Washington Post, Philadelphia Inquirer, Chicago Tribune, Dallas Morning News, and USA Today announcing that the company had agreed to purchase the Liberty Bell. The historic landmark would remain open to the American public, but be called the "Taco Liberty Bell."
SEE ALSO: The 5 Best April Fools' Day Pranks From Big Brands
Though an outraged public flooded the National Park Service with calls protesting the sale, Taco Bell declared it the best joke of the day. Then-White House Press Secretary Mike McCurry responded with a joke of his own, saying, "Ford Motor Co. is joining today in an effort to refurbish the Lincoln Memorial. ... It will be the Lincoln Mercury Memorial."
Gmail Just Can't Be Real
While Gmail now has more than 1 billion users, when the product was first announced on April 1, 2004, it seemed like a joke. Not only did Google have a history of April Fools' jokes, but Gmail offered a full gigabyte of email storage when other services just offered megabytes. The idea of a free webmail service like that was beyond belief.
The jokey tone of the press release didn't do much to sell the service, either: "Search is Number Two Online Activity — Email is Number One; 'Heck, Yeah,' Say Google Founders." But 13 years later, we're pretty sure Gmail is no joke.
Richard Branson Buys Pluto
Poor Pluto. After being demoted from planetary status, this dwarf planet needed some love. Enter Virgin Group founder Richard Branson. Virgin announced that he'd purchased Pluto on April 1, 2011. Sure, it sounded fishy, but with an eccentric businessman like Branson, anything could be possible.
Branson said he planned to launch a custom-built vehicle that would drag space debris to Pluto, increasing its mass until it qualified as a full planet once more.
Branson said he planned to launch a custom-built deep space vehicle that would drag space debris to Pluto, increasing its mass until it qualified as a full planet once more. Sadly, the whole thing was a joke, and Pluto remains just a dwarf planet.
Twitter or Twttr?
Dropping vowels from words is the ultimate in quick-typing convenience. In 2013, Twitter proposed going vowel-free full-time. The new "Twttr" service would only allow you to use consonants in your messages (though you could have the "sometimes y" for free), while a paid version would let you use the entire alphabet. Of course, Twitter remains Twitter — complete with unlimited vowels.
Readers, what are your favorite April Fools' pranks that we didn't mention? Let us know about them in the comments!
---