Have you been brushing your hair with any old brush you have laying around? You're probably doing it wrong! Each hairbrush is designed to fit a certain hair type, or to be used in certain circumstances. If you're using the wrong brush, you could be making your hair dull, frizzy, or even damaged.
Thankfully, you don't need a zillion hairbrushes to do everything — just one or two of the right brushes will do wonders for your hair.
Thin Hair
If you have thin hair, having a good quality hairbrush is key. Thin hair can break easily under the pressure of tough bristles or too much tension.
For Combing/Detangling: Boar Paddle Brush
Boar bristles aren't strong enough for thicker hair, but on thin hair the bristles distribute oils from the scalp, smoothing hair, easing tangles, and adding shine. When buying, look for a 100% boar brush or all-natural boar brush. The price is a bit higher than other brushes, but actual boar bristle styles will last longer than plastic.
Try: Denman Medium Cushion Natural Boar Grooming Brush, $35 at Ulta.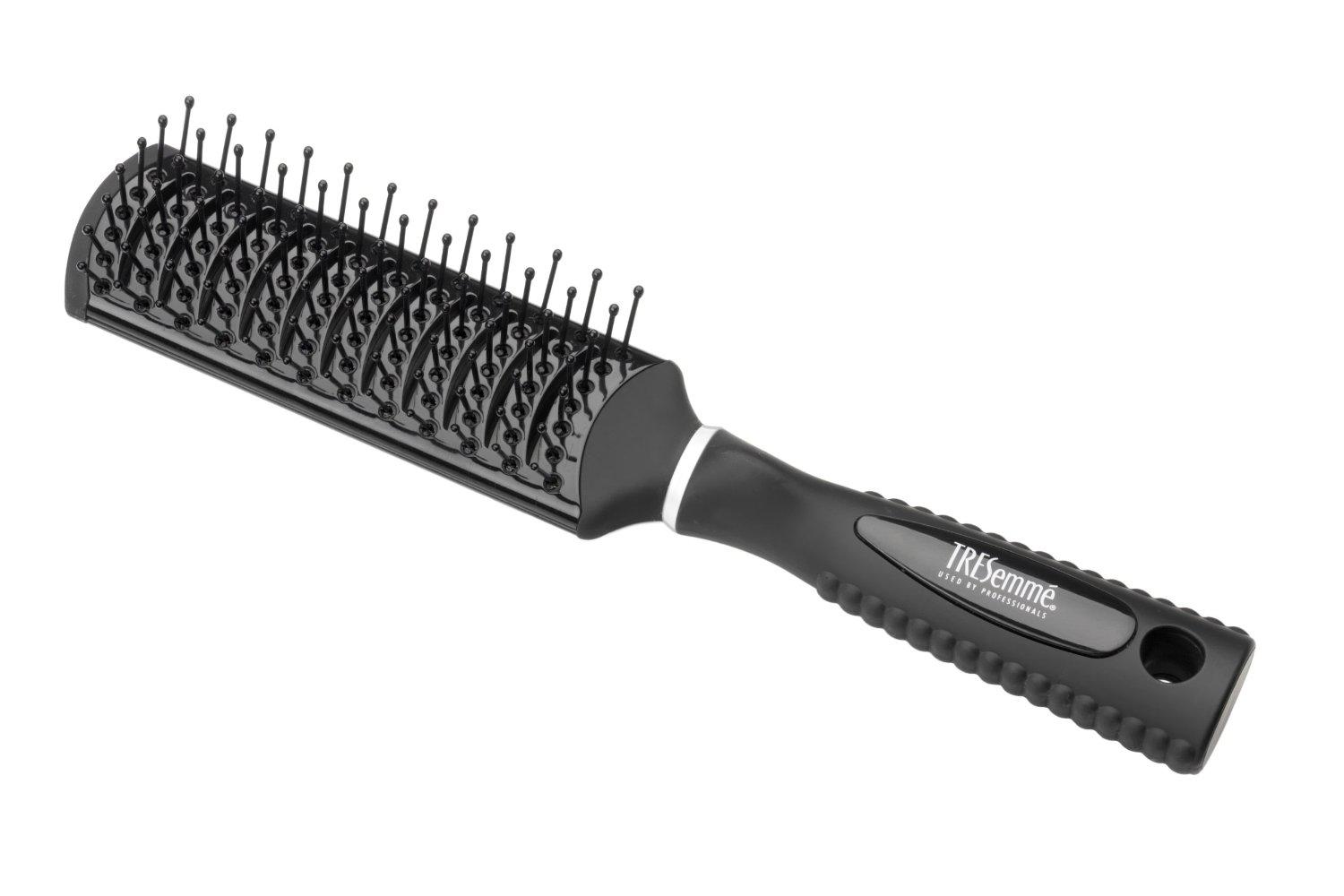 For Styling: Plastic Vent Brush
You probably haven't had one since you were a kid, but a basic plastic vent brush deserves a spot on your bathroom counter if you have fine or short hair. The plastic bristles are set wide apart so hair won't tangle while you style, plus the minimalist design keeps fine hair from getting fluffy or frizzy.
Try: Wet Brush Speed Dry Brush, $12.94 at Amazon.
Medium Hair
Medium hair needs thicker bristles to add shine and style. The right bristle thickness will also last longer, at least three years or more.
For Combing/Detangling: Tangle Teezer
If you have medium hair, the tangle teezer can do double-duty. The unusual shape and bristle placement make untangling a quick and easy job for the thickest hair, but medium hair types get an added boost of volume thanks to the brush's scalp massaging effects.
Try: Tangle Teezer Salon Elite, $11.07 at Amazon.
For Styling: Boar Round Brush
A wooden round brush with natural bristles is ideal for medium hair. The brush is thin enough to get through thicker hair without sticking or dragging, but powerful enough to do the job easily.
Try: Bed Head Wood Thermal Round Brush, $16.99 at Ulta.
Thick Hair
Thick hair is a delicate balance. You need a tough brush, but not too tough, or your hair may suffer.
For Combing/Detangling: Nylon Flat Brush
A flat brush can cover a lot of area quickly, making it ideal if you have long hair. The nylon bristles can easily tackle thick hair without bending or breaking, meaning it'll hold up longer.
Try: Aura Vented Cushion Paddle Hair Brush, $7.99 at Ulta.
For Styling: Ceramic Round Brush
If you have thick, long hair, ceramic handles are easier to hold and will make blowouts easier. Plus, the nylon bristles will easily work through your hair, reducing frizz. Look for a large-sized barrel brush to add volume at the roots.
Try: Brush Lab Ceramic Curls Thermal Round Brush with Nylon Bristles, $17.49 at Ulta.
All-Purpose Brushes
Some brushes work for all different types of hair, but make sure you're using it in the right way. Using a styling brush to detangle and vice versa could make things worse.
For Combing/Detangling: Hair Extension and Wig Brush
While originally designed to comb through hair extensions, these brushes work on everyone, especially if you have tangle-prone hair. The bristle brush doesn't have those hard plastic balls on the ends, so you can get into tighter tangles. And as an added bonus, the brush lasts longer than most plastic bristle and ball combos, which tend to break easily. But watch out tender-heads! The hard metal ends might be too much for a sensitive scalp.
Try: Remysoft One Twenty Three Loops Loop Brush, $14.43 at Amazon.
For Styling: Metal Round Brush
The metal round brush is classic for a reason. It works its way through all hair types and is ideal for heat styling. Just don't overdo it. Too much heat and tension can break weak hair.
Try: Cricket Technique Tourmaline Thermal Round Brush, $15.95 at Ulta.
Readers, what are your hairbrush preferences? Let us know in the comments below!
---