By Ashley Watson, dealnews writer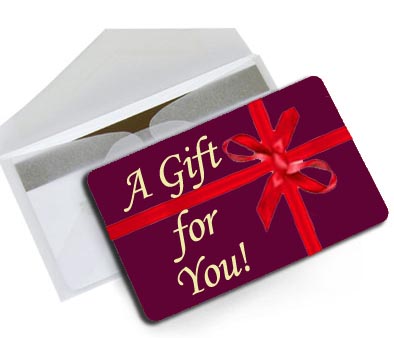 Purchasing a gift card is easier than ever, since many stores now offer e-gift cards, mobile gift cards, and even corporate and business gift cards for employees. Many retailers offer a variety of designs and options to customize gift amounts or personalize the designs.
But spending isn't always so easy. Restrictions do apply to gift cards depending on where it is purchased, which is why it is important to know your options before you buy. Here are some important points to think about:
While most stores do not have expiration dates for their gift cards, they don't often offer customized amounts, and most have a purchase limit from anywhere between $1,000 and $5,000.
Generally, to customize the amount, personalize, or design your own card, you have to pay a small, additional fee (usually around $4.00).
E-Cards are the most hassle-free and quickest way to get the card to the recipient. There's typically no fee for a personal greeting for any type of card, and no shipping cost for a standard gift card.
Usually, any type of gift card can be redeemed online, in the store, or through the catalogue when applicable.
When redeeming a card online, shipping charges and taxes may be deducted (always check the store's website for more details).
Gift cards cannot be redeemed for cash, except where prohibited by law.
Always keep your receipt when purchasing a gift card. If the card is reported lost or stolen, most stores offer to replace the remaining value with the original purchase receipt.
We also discovered some useful tips and information about specific stores.
Macy's will include a limited-time offer for a free greeting card with the purchase of any Macy's gift card (see website for details).
Buying a gift card from Target this season means you are also giving to charity. When you purchase a Target gift card of $20 or more between November 28 and December 4, Target will donate $1 per card to the The St. Jude Children's Research Hospital — up to $750,000.
To make parents' lives easier, iTunes offers a monthly allowance that parents can purchase for their kids, which includes a set amount of store credit to spend on the iTunes Store every month, allowing the kids to access the store without a credit card and the parents to set a limit on how much their children can spend. Downloadable gifts are also available from iTunes — a song, an album, a TV episode, and entire TV show, or a movie, even a custom mix of songs. All the recipient has to do is click on a link sent to them by iTunes via email, and the gift is immediately downloaded and ready to play or sync to an Apple device. No matter where you shop, gift cards offer more freedom and 100% satisfaction for both the giver and receiver.
To learn more about gift card options, please review the chart.
| Retailer | Card Options | Fees or Expiration Date | Restrictions |
| --- | --- | --- | --- |
| Amazon.com | E-mail, Facebook Wall Post, Print it yourself, or Physical Gift Card sent by mail. Personalized and Kindle Cards are also available. | N/A | Facebook and Physical Cards have limited custom designs, and the amounts cannot be customized on a Physical Card (see website for options). Kindle Cards have a $5,000 limit. |
| Best Buy | Individual, Business, and Holiday Cards. Redeemable online or at any Best Buy retail store. | N/A | Amounts cannot be customized (see website for options), and certain fixed amounts have a limited number of designs to choose from. |
| CircuitCity.com | All CircuitCity.com Gift Cards are sent via USPS, and are redeemable online or through the call center. | Circuit City will deduct a $2.00 per month service charge from the gift card's remaining balance 12 months after purchase (except where prohibited by law). | Amounts cannot be customized (see website for options), and any card amount may not exceed $1000. |
| Home Depot | All Occasion, Special Occasion, and E-Cards all come with free customized greetings. Redeemable online or in-store. | To purchase a Hallmark brand greeting, you must pay an additional $3.99, or for $1.99 you can design your own card. | Amounts cannot be customized (see website for options). While the E-card has more options for a design, including adding a video, it has more limited options for the amount on the card. |
| iTunes | Itunes Gift Cards can be purchased for amounts of $15, $25, $50, or $100, with your choice of any of the selected Apple designs. | N/A | Itunes gift cards are limited to the Itunes store, and must be redeemed in the same country it was purchased. Amounts cannot be customized (see website for options). |
| J.C. Penney | J.C. Pennry Everyday Gift Cards, E-Gift Cards, and Special Occasion Gift Cards are redeemable online, in-store, or through the catalogue. | N/A | Amounts cannot be customized (see website for options). |
| Kmart | Gift Cards, and E-Gift Cards come with free customized greeting and a variety of designs for different occasions and may be used for in-store, online, or catalogue purchases at either Sears or Kmart. | N/A | Amounts cannot be customized (see website for options). |
| Kohls | Gift Cards, E-Gift Cards, and Corporate Gift Cards come in a variety of designs for different occasions and can be used in-store or online. | N/A | Amounts cannot be customized (see website for options). |
| Lowes | Gift Cards, E-Gift Cards, and Customized Cards come with free customized greetings and can be used in-store or online. | A $4.50 service fee is charged to the purchase of a customized card, which includes design and any amount from $5 to $500. | Amounts cannot be customized (see website for options), except for customized cards. E-Gift Cards have a $100 limit. |
| Macys | Gift Cards, E-Cards, and Personalized Cards come with free customized greeting and a variety of designs for different occasions and may be used online or in-store. | Fees apply to personalized cards (see website for more details). | Amounts cannot be customized (see website for options). |
| Sears | Sears Gift Cards, E-Gift Cards, and Business Gift Cards are redeemable at Sears, Kmart and Lands' End, online, in-store, and by phone. | N/A | Amounts cannot be customized (see website for options). |
| Target | Gift Cards, E-Gift Cards, and Mobile Cards include a free note, come in a variety of designs for all occasions, and can be redeemed at Target stores and online. | N/A | Amounts cannot be customized (see website for options). Cards redeemed in-store have a higher limit. |
| Toys 'R' Us | Standard, E-Gift, and Design-your-own Gift Cards come in a variety of Kid Designs and may be redeemed online or in any Toys'R'Us or Babies'R'Us store. | No expiration date. | Standard Gift Cards include a $1.95 service fee, but E-Gift Cards are free. A fee of $4.50 is added to Gift Cards sent inside a Personalized Greeting Card. Amounts may be customized on any card. |
| Walmart | Walmart offers American Express Gift Cards, Corporate Gift Cards, Standard and E-Gift Cards, and Specialty Gift Cards, such as Itunes and Subway Cards. | No expiration date. | Walmart has many restrictions regarding the use of its logo, the number of cards that may be purchased by one party, the purchase price limit, as well as specific guidelines for each type of card (see website for more details). |
---
For more great Black Friday coverage: