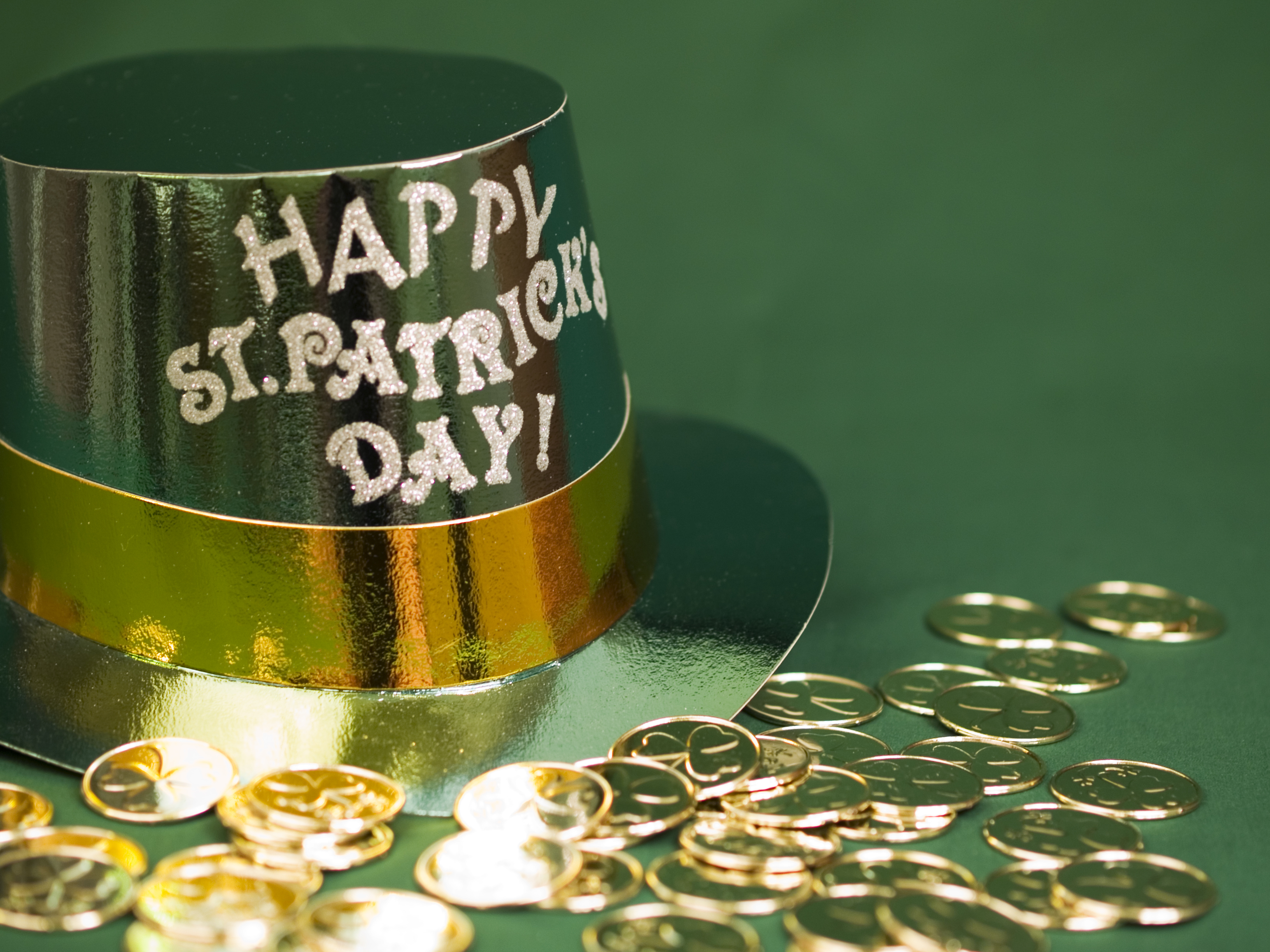 Do you have big plans for St. Patrick's Day? Maybe you're planning to throw the party of a lifetime, which may not be a bad idea since March 17 falls on a Friday this year. One thing is certain: Tons of deals are available to help you have a great time without breaking the bank.
Read on for nine ways you could save money on St. Paddy's Day.
Go Green With Your Clothing
Barhopping in a leprechaun costume isn't the only way to potentially save on St. Patrick's Day. You can head out in a green T-shirt, green pants, or even green socks, and get in on the savings at local stores and restaurants. If you really want to get in the spirit, wear green from top to bottom and finish off the look with shamrock accessories.
SEE ALSO: 8 Things to Buy in March (and 3 Things You Should Definitely Skip)
Visit Your Favorite Bar
Happy hour, anyone? Find a local pub with the best St. Paddy's Day specials in town. Just don't overdo it by hanging out and getting hammered from sunup to sundown. The idea is to save while having a great time; overindulging could leave you and your wallet with a hangover.
Shop at Retailers That Are in the Spirit
Retailers big and small often host St. Paddy's Day sales. Look for buy one, get one deals on select items, additional markdowns on clearance, and discounts on green apparel.
Grab Discounts Online
Prefer to indulge from the comfort of your own home? Whip out your laptop or smartphone and shop away. Subscribe to your favorite retailers' mailing lists in advance to receive notes about upcoming St. Paddy's Day deals. You may score stackable coupon codes for joining!
SEE ALSO: How to Find Deals on Silly and Fun Holidays
Speaking of online shopping, were you aware that Amazon has previously offered special deals on St. Patrick's Day? Jump on your preferred Amazon mailing list to get a sneak peek of what the online retail giant has planned.
Take Part in Social Media Contests
You could be a winner! Maybe you'll have to share a St. Paddy's-themed picture in a Facebook thread, or use a brand's hashtag to say something seasonal on Twitter. No matter the social media you're using, give one of these contests a shot on St. Patrick's Day — what do you have to lose?
Enter a Drawing
Drawings are another great way to land free food and apparel, discounts, and more on St. Patrick's Day. Usually, all you have to do is jot down your name, phone number, and email address, drop it in a bowl at a store or restaurant, and you're all set.
SEE ALSO: Book an Affordable St. Paddy's Trip to Dublin (Ohio)!
Eat at Restaurants With St. Paddy's Day Deals
Would you wear green on St. Paddy's Day if you could save 10% to 20% on your meal? Heck yeah! Expect to see these types of offers at local restaurants, and not just on the corned beef and cabbage plates. And don't forget about tasty desserts, which could come tinged with a speckle of green food coloring.
Send a Gift to That Special Someone
Let that loved one know you're thinking of them this St. Patrick's Day with a bouquet of flowers or some bling. The bad news is it'll cost you a few bucks. The good news? You won't spend a fortune, since many jewelers and florists offer St. Patrick's day discounts. Score!
Take Advantage of Theme Park Discounts
Looking for a day of thrills? Check with local theme parks to see if they're open and offering any special discounts for St. Patrick's Day. It's a great way to treat the entire family to a day of fun without spending a fortune; March is still considered the off-season for many parks.
Readers, what are some of the best St. Patrick's Day deals you've seen? How are you planning to score discounts on the holiday this year? Let us know in the comments below!
---