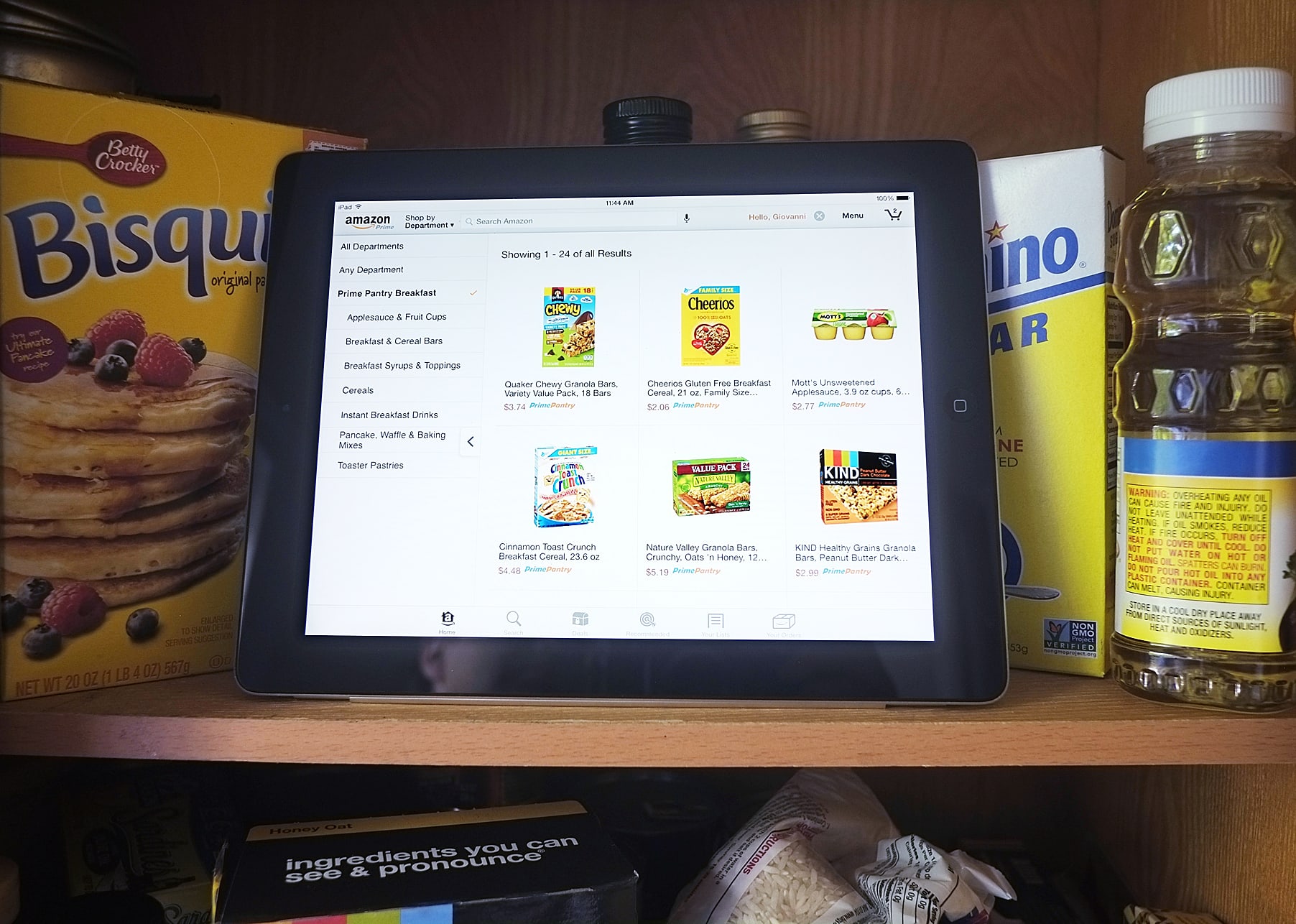 Have you heard about this grocery and household item service from Amazon? Wondering if it's right for you? Read on to see how you can save money on canned goods, paper products, and more.
What Is Amazon Prime Pantry?
Prime Pantry is a section of Amazon where Prime members shop for nonperishable foods and household items. These bulky staples are typically expensive to ship, but this service sends a filled box to your door at a flat rate of $5.99.
SEE ALSO: What Is Amazon Prime: All of the Benefits You Get With a Membership
How Does Prime Pantry Work?
Beyond having its own stock — Amazon items marked with a blue and orange "Prime Pantry" label can only be bought through Prime Pantry — Prime Pantry just doesn't work like the rest of Amazon. Instead of adding products to your shopping cart and checking out whenever you want, you fill up a virtual pantry box. Each box can hold up to 45 pounds, so you have plenty of space — but bulky items can eat through that space fast.
Every item you add to your box takes up a certain amount of space. Once one box is filled, any other items you add will start filling another. Each Prime Pantry item shows the percentage of your Pantry box it fills (just look below the price), and you'll see the total amount of your box filled every time you add an item. Amazon keeps track of what you've ordered before, so it's easy to re-order a box of your regular items, which can simplify your grocery shopping routine.
When you shop Prime Pantry, you save by packing as much as possible into a single Pantry box, and then using promotions to drop shipping fees and gain discounts.
While the concept isn't too complicated, you'll need to adjust how you think about shipping fees. (No, your Prime account does not automatically give free shipping on Pantry, as it does with other Amazon orders.) When you shop Prime Pantry, you save by packing as much as possible into a single Pantry box, and then taking advantage of promotions to drop the shipping fee and pile on other discounts.
How Can I Save With Prime Pantry?
Even with the shipping fee, Pantry can provide savings. Amazon offers a lot of deals for anyone who takes the time to bargain-hunt through the Pantry store. Here are four ways to save with Prime Pantry:
Score free shipping if you add five "qualifying" items to your Pantry box. (Though the rotating selection of qualifying items can be a hassle to sort through.) As with any promotion, if you would buy and use these qualifying items anyway — and they aren't out of line with what you'd spend elsewhere — it's worth picking them up to save on shipping.
Get a Pantry credit when choosing no-rush shipping on other Amazon orders. If you're a Prime member and don't need your order in a rush, selecting slower shipping will give you $5 off your next Prime Pantry order.
Stack coupons. Amazon makes it easy to browse coupons on Prime Pantry items, so take advantage of it.
Snag everyday discounts. While your costs will vary, Amazon offers competitive pricing on Prime Pantry items. It's worth doing a rundown of your local grocery store prices and Amazon's prices to see if you save on your regular staples.
You can certainly save with Prime Pantry, but you'll need to do a little homework to see if these deals are worth it for you.
What Are the Limitations of Prime Pantry?
Though stock selection and shipping fees are the biggest snags to Prime Pantry, the service's shipping speed isn't great, either. Despite the "Prime" in the name, Prime Pantry items don't arrive quickly. All boxes are shipped ground (to the contiguous 48 states only) and should arrive within one to four business days. This is great for anyone who plans out their shopping lists in advance, but won't work for spur-of-the-moment necessities.
SEE ALSO: What Does Amazon Prime Cost, and Can You Get It Cheaper?
How Does Prime Pantry Compare to Subscribe & Save?
If you're shopping for regular deliveries of groceries and aren't in a rush to get them, both Amazon Prime Pantry and Amazon Subscribe & Save could fit into your shopping routine. However, determining which (if either) to use will require some number crunching on your part because each service has its own stock and pricing.
SEE ALSO: How to Get Amazon Prime
Beyond cost, it's just about delivery speed: Prime Pantry boxes arrive after you order them, while Subscribe & Save orders are scheduled in advance to arrive as needed. This means Pantry is typically better for replacing a grocery store trip, and Subscribe & Save is usually better for keeping stocked with staples. If both services offer the items you need, just check the prices and coupons to find the best deal.
Is Amazon Prime Pantry Worth the Money?
It's hard to justify subscribing to Amazon Prime just for Prime Pantry, but if you're an existing subscriber, Pantry could simplify your shopping.
Our advice: Do a cost comparison on your commonly purchased items to see whether you can save. Even if you're only saving a little, the convenience of Prime Pantry may be worth skipping your next grocery store trip.
Readers, if you use Prime Pantry, how has it worked out for you? Do you think it's worth trying? What are the best ways to save with it? Let us know in the comments below!
---