Spring cleaning goes well beyond windows and closets. Get a more organized desk with our roundup of the week's best computer accessory deals. Score plenty of cable ties to secure all your wires, a 10-port charging station, and more.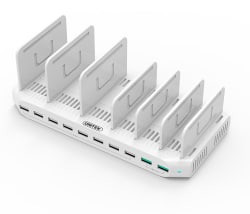 Unitek 96W 10-Port USB Charging Station for
Store: Amazon
Price:

$39.89

via code "IZD3YBXZ"
Shipping:

Free shipping


Lowest By: $80

Store your devices neatly and charge them with this Unitek 96-watt 10-port USB charging station. Designed to hold most mainstream gadgets, the detachable dividers can be moved around for device organization. Tuck away your iPhone, iPad, other smartphones and tablets with ease. Best of all, it supports fast charging from certain devices (like the Samsung Galaxy S7 and Note 5), charging them up to 80% in only 35 minutes. It features a total power output of 24 amps, 5 tall dividers, and 6 short dividers.





500 TR Industrial Multi-Purpose Cable Ties
Store: Walmart
Price:

$17.31


Shipping:

In-store pickup,

or $5.99 s&h
Lowest By: $3

With this pack of 500 TR Industrial multi-purpose cable ties in Black, you can easily secure all the loose cables in every room of your home. These nylon ties are each 12" long, UV-resistant, and can handle a tensile strength of 50 lbs. You'll save $3 with this deal, but most stores charge $30 or more. It's recommended to work with them in temperatures from 40° to 185°F.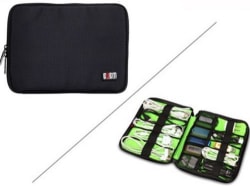 BUBM Cable and Gadget Organiser Bag
Store: eBay
Price: From $5.99 EXPIRED
Shipping: Free shipping
Lowest By: $5
Expiration: March 22

Whether you need a travel bag to keep all your gadgets and cords organized, or just want a handy place to tuck them away at home, this BUBM cable and gadget organiser bag is perfect. Choose from four sizes of this waterproof nylon bag to suit your needs. The Small for $5.99, a $5 savings, is one of our top picks.

Check out the other sizes here.

Note: This ships from mainland China and may take up to three weeks to arrive.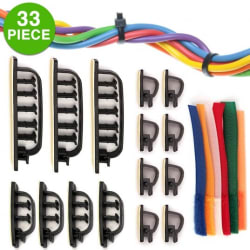 33-Piece Cable Desktop Management Set
Store: GearXS
Price:

$4.99

via code "2OFF"
Shipping:

Free shipping


Lowest By: $33

Neatly organize your cords with this 33-piece cable desktop management set. It can be used well beyond your desk, for equipment, appliances, your home theater and audio systems, and more. Secure and route your cords and cables to keep them out of your way and to keep your equipment safe, as well as your family. It includes 15 adhesive clips, 12 self-locking cable ties, and six reusable hook and loop closures.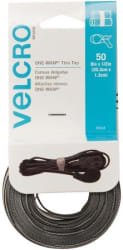 Velcro USA OneWrap Cable Tie 50-Pack
Store: Walmart
Price: $5.55 EXPIRED
Shipping: In-store pickup, or $5.99 s&h
Lowest By: $2
Expiration: March 22

If you're frequently having to rearrange your cables, or just prefer a less-permanent method, this Velcro USA OneWrap cable tie 50-pack is a solid pick. Their uses go well beyond bundling cords — use these ties to keep travel bags extra secure during travel, help tomato plants stand tall in your garden, secure outdoor decorations, and more. They measure 8" x 1/2".

Of note, Amazon has it for the same with free shipping for Prime members.