Whether you want to bring your home a futuristic feel, or you just love the convenience of using smart gadgets, you'll find a variety of picks to add to your high-tech lineup in the week's best electronics deals. Score a programmable timer switch, a Philips Hue starter kit, and more.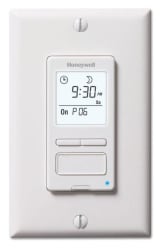 Honeywell Programmable Timer Switch
Store: Home Depot
Price: $29.95 EXPIRED
Shipping: In-store pickup, or $5.99 s&h
Lowest By: $4
Expiration: January 26

Control your lights and help to conserve electricity with this Honeywell programmable timer switch in White. Set your ideal lighting conditions with features like automatic sunrise and sunset activation. The large screen has a white backlight display with a night light mode so that it can be read easily in the dark. Plus, with the random mode, lights turn on and off at random intervals to simulate someone being at home, providing an extra layer of security when you're away. It features a flush-mount design, three operating modes, up to seven programs per week, and compatibility with up to 500-watt incandescent and halogen lights (wall plate not included).

Of note, it's also available at Amazon for $30.99 with free shipping for Prime members.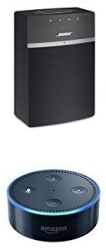 Bose SoundTouch Speaker with Amazon Echo Dot
Store: Amazon
Price:

$213.99


Shipping:

Free shipping


Lowest By: $35

DJ your next party with ease with this Bose SoundTech 10 Bluetooth Wireless Speaker bundled with the second-generation Amazon Echo Dot in Black. Just ask Alexa to play your favorites from Spotify, Pandora, and more to set the mood. The speaker features WiFi and Bluetooth. Alexa will not only play music, but also control smart home devices (via Samsung SmartThings, Wemo, Nest), and do lots of other cool stuff (order a pizza via Domino's, order car service via Uber, play Jeopardy). It features 802.11n dual-band wireless, Bluetooth, and a 3.5mm audio output.





Philips Hue E26 Color LED Kit
Store: eBay
Price: $88.99 EXPIRED
Shipping: Free shipping
Lowest By: $11
Expiration: February 14

Start integrating wireless light controls into your home setup with this refurbished 1st-generation Philips Hue Color E26 A19 LED Light Bulb starter kit from The Closeout Guys via eBay. The A19 will fit into your preexisting fixtures with a medium base, allowing you to easily switch over to a smart lighting system. Control your lights from practically anywhere via the app. Change the color, dim or brighten, set alarms and timers, and more. It comes with three hue light bulbs, a bridge, which supports up to 50 bulbs, Ethernet cable, and power adapter.

Note: A 30-day The Closeout Guys warranty applies.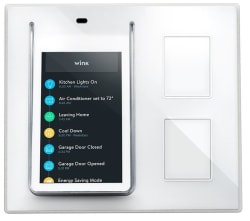 Wink Relay Smart Home Wall Controller
Store: Jet.com
Price: $86 EXPIRED
Shipping: Free shipping
Lowest By: $13
Expiration: January 26

Manage all your smart home gadgets from one place with the Wink Relay Smart Home wall controller. The system can be used to control smart locks, lights, windows, and more. Plus, it can even be used to summon an Uber and track fitness through the use of FitBit. You can also program other functionalities through IFTTT. It features an intercom system and sensors for temperature, humidity, and proximity. Tools for installation are also included.

Note: You can also receive additional discounts during checkout by waiving free returns or by choosing select payment options. Also, Amazon has it for the same price.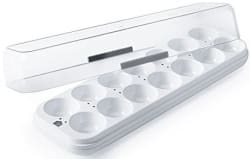 Quirky App Enabled Egg Tray
Store: Amazon
Price:

$11.99


Shipping:

Free shipping via Prime


Lowest By: $2

Keep track of your eggs and their freshness with this Quirky Egg Minder Smart egg tray. This Wink app enabled gadget can hold up to 14 eggs at a time, so that you can easily add a fresh dozen when you're down to the last two. Check from the grocery store to see if you need to bring home another carton, or enable push notifications to inform you when you're nearly out. It syncs with your smartphone to tell you how many eggs you have left, and features LED indicator lights to inform you which are the oldest.

Non-members can spend $49 or more to qualify for free shipping; otherwise, it costs an extra $8.44.