If you're like us, coffee is more a necessity than a simple morning ritual. But buying even a plain cup of joe every day at your favorite shop can really put a strain on your wallet. Fortunately, we've got five picks in our roundup of the week's best kitchen deals to help you break that habit. Craft a better brew at home with a single-serve coffee maker, a Ninja setup, and more.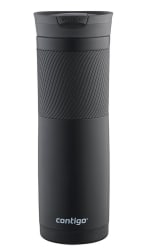 Contigo SnapSeal Byron 24-oz. Travel Mug
Store: Amazon
Price:

$9.72


Shipping:

Free shipping via Prime


Lowest By: $9

Some of our readers think this 24-oz. travel mug in Matte Black looks more like an Amazon Echo than a vessel for your morning coffee fix. (Yell "Alexa" at it all you want; no one is listening.) Still, it'll provide you with a mess-free way to transport precious caffeine, no matter where your commute takes you. Plus, it'll keep drinks hot for 7 hours or frosty for 18 hours. It features a leakproof lid and Thermalock vacuum insulation.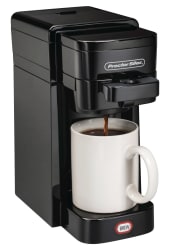 Proctor Silex Single-Serve Coffeemaker
Store: Walmart
Price:

$19.14

via Walmart pickup discount
Shipping:

In-store pickup


Lowest By: $11

Fuel your addiction one cup at a time with this single-serve coffeemaker. This affordable appliance can make your favorite java drink in a matter of minutes, and it has a compact enough design that's perfectly suited to small spaces. It has an auto shutoff and illuminated brew button to make midnight brewing even easier. It also features a 10-oz. capacity and can use any single-serve K-Cup pack or ground coffee.

To take advantage of Walmart's new pickup discount, add this Proctor Silex FlexBrew single-serve coffeemaker to your cart. Then choose "pickup" during the checkout process to see the discounted price of $19.14.




Bellemain 6-Cup Stovetop Espresso Mocha Maker
Store: Amazon
Price:

$16.50


Shipping:

Free shipping via Prime


Lowest By: $3

Feeling a fancy cup of coffee? This Bellemain maker is the ideal way to brew several little shots on the stovetop. It's designed to heat evenly and quickly, so you don't have to wait forever for that first rich cup. Don't like your espresso straight up? Add some milk for a latte, or foam for a homemade cappuccino. It makes up to six demitasse cups and features a stay-cool handle and lid knob.

Not familiar with this method of brewing? Check out this step-by-step guide on how to use and care for your mocha maker.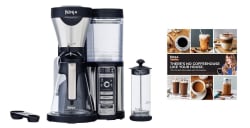 Refurb Ninja Coffee Brewer with Carafe and Recipes
Store: eBay
Price:

$74.99


Shipping:

Free shipping


Lowest By: $45

Craft all of your coffeehouse favorites at home with this Ninja Auto-IQ Coffee Bar Brewer in Black. It can easily handle your favorite regular drip coffee, as well as more complex specialty drinks. Since it can brew 1 mug, a travel cup, half a carafe, or a full carafe, you're free to choose your perfect size. The glass carafe features a 43-oz. capacity, and the brewer features a 24-hour programmable delay brew. It includes a 100-page recipe book.

A 90-day Ninja warranty applies.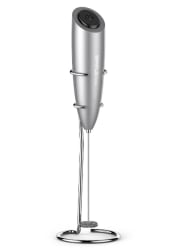 SimpleTaste Electric Milk/Coffee Frother
Store: Amazon
Price:

$5.30

via code "BLQH328L"
Shipping:

Free shipping via Prime


Lowest By: $9

Take all your drinks to the next level with this electric milk/coffee frother in Grey. It'll easily create milk foam for your home-brewed coffees, cappuccinos, and macchiatos. Alternatively, it'll make your hot (or cold) chocolate drinks feel a bit more fancy. It's a versatile little appliance, since it can also tackle flavored milks, matcha teas, mixed drinks, and food products like egg yolks and sauces. It comes with a stainless steel stand for convenient storage. Two AA batteries are required, and fortunately they're included.