The kids will soon be out of school for the summer, and that means ice cream trucks will be making the rounds every afternoon. Instead of emptying your wallet for those cartoon characters with gumballs for eyes, why not try making your own ice-cold treats? You'll find a variety of awesome picks in our roundup of the week's best kitchen deals. Wow your family with homemade ice cream, snow cones, and more.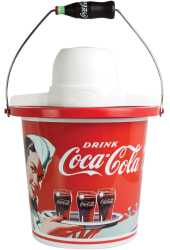 Nostalgia Coca-Cola 4-Quart Ice Cream Maker
Store: Walmart
Price:

$39.99


Shipping:

Free shipping


Lowest By: $3

With fresh produce at every farmers market, summer is the prime time to churn up homemade ice cream using locally grown fruits. And really, who doesn't love homemade ice cream when it's sweltering and humid outside? Create your favorite flavors of ice cream or gelato that'll taste way better than anything you could find in a cardboard carton in the grocery store. Trying to eat healthier? This little maker is also great for frozen yogurt. It features an aluminum ice cream chamber, churn paddle, and electric motor.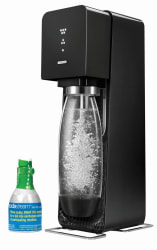 SodaStream Source Sparkling Water Maker Kit
Store: Amazon
Price:

$67.99

via coupon
Shipping:

Free shipping


Lowest By: $15

Kick your soda habit and get hooked on sparkling water with this SodaStream Source Sparkling Water Maker starter kit. When the hot weather has the kids begging for something cold and refreshing, you can use this starter kit to help create your own healthier fizzy drinks. Make your own fruit syrups or purees to add to cold sparkling water, or concoct a float by adding homemade sorbet. Either way, it'll be way better for the family than a 2-liter bottle of artificial coloring. Be sure to clip the $15 off coupon to get this price. This kit includes the maker itself, a 1-liter carbonating bottle, mini CO2 carbonator, and a rebate for a 60-liter carbonator.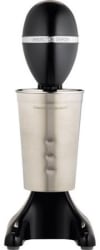 Hamilton Beach Drink Master
Store: Walmart
Price:

$23.19


Shipping:

In-store pickup,

or $5.99 s&h
Lowest By: $5

Everybody loves a freshly made shake or malt, but you don't have to head to your local ice cream shop to score one. Make your own quickly and easily with this Hamilton Beach Drink Master in Black. The mixing cup is rust-resistant for durability, and the spindle is removable for easy cleaning. Create your favorite shake flavors with ice cream, mix-ins, and more. Alternatively, think outside the box and make a tasty juice blend for a healthy treat. Or even create perfectly mixed and chilled cocktails during your next dinner party. The product features a 2-speed motor and stainless steel mixing cup.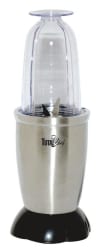 Total Chef Miracle Mixer 19-Piece Blender Set
Store: Home Depot
Price: $41.29 EXPIRED
Shipping: Free shipping
Lowest By: $6
Expiration: May 28

With this Total Chef Miracle Mixer Deluxe 19-piece blender set, you can make a variety of treats in any season. The size is perfect for creating individual frozen cocktails, smaller amounts of chilly desserts, milkshakes, and more. Hosting a party? Customize your guests' frozen margaritas or daiquiris to their exact tastes. Running an ice cream bar for the kids? Skip the tubs of "whipped dairy dessert" and create fresh whipped cream on demand. This system can chop, mix, whip, grind, grate, and blend. It also comes with a variety of lids and cups.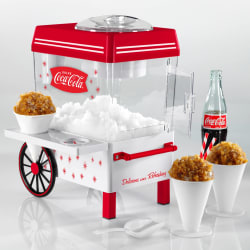 Nostalgia Coca-Cola Snow Cone Maker
Store: Walmart
Price:

$24.97


Shipping:

In-store pickup,

or $5.99 s&h
Lowest By: $8

Snow cones are a quintessential summer treat, and with this Nostalgia Electrics Coca-Cola Snow Cone Maker, you can create your own any time you want. Plus, the product has shaved ice storage, so you can make plenty of snow for icy treats for the whole family. (It holds enough crushed ice for 20 8-oz. snow cones.) Top the fresh shaved ice with your favorite soda or syrup, or make your own tasty topping for a unique treat. This BPA-free snow cone maker features stainless steel cutting blades, a built-in cone shelf, two reusable 8-oz. plastic cones, and an ice scoop.