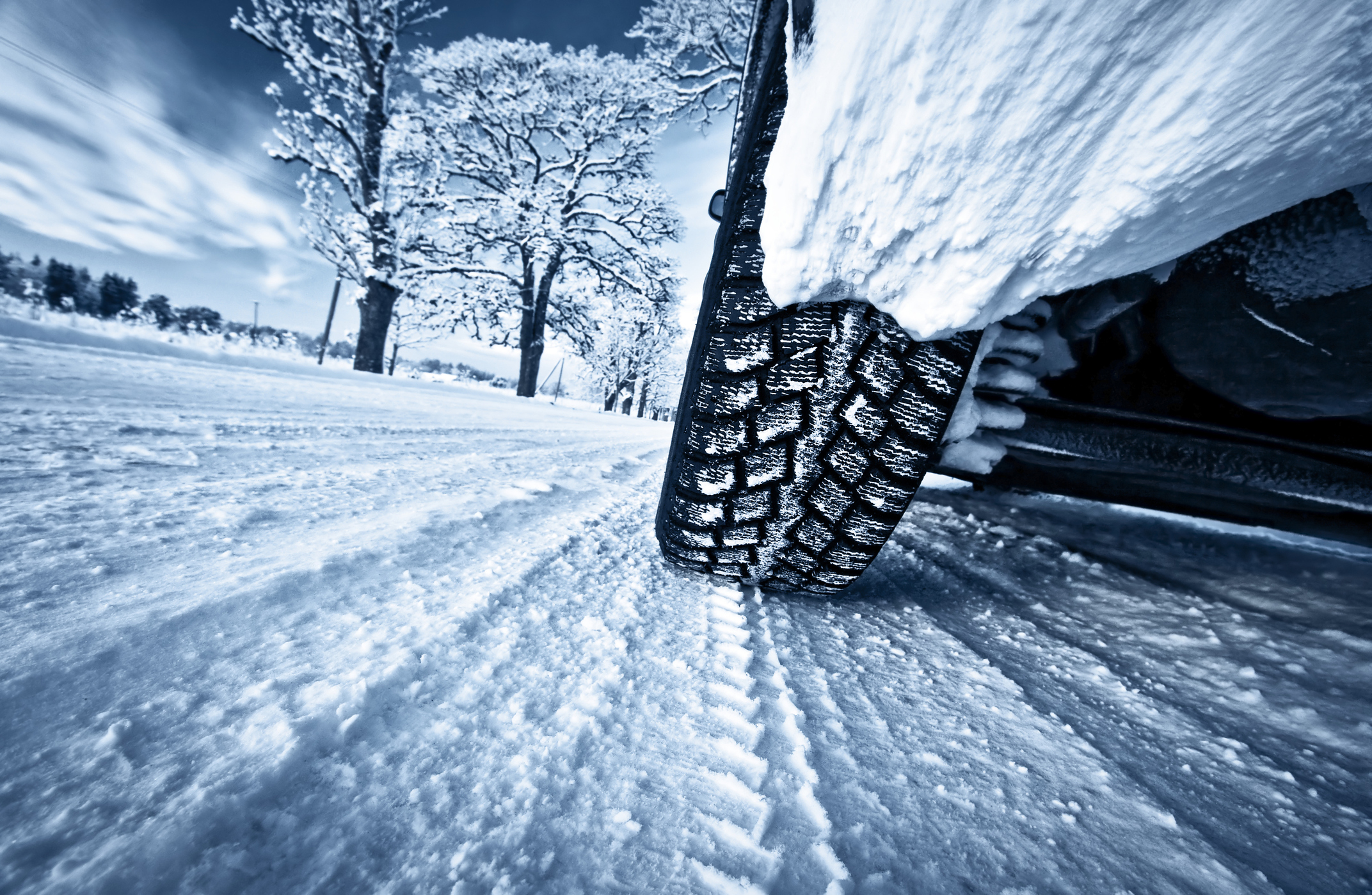 Are you ready for your family holiday vacation? You'll have a lot of company, with AAA projecting that the number of year-end holiday travelers will surpass 103 million — the most on record.
But if you're hitting the road, know that you'll face more driving dangers this time of the year than others. Freezing temperatures, snow, and ice are settling across most of the country, and elsewhere wet leaves and early sunsets can make driving less-traveled roads a little more dangerous.
To ensure the safety of you and your entourage as you embark on your holiday travel plans, it's smart to take steps to winterize your car now.
Prepare Your Car
Change Your Oil
Oil varies in viscosity, or flow property. Thick oil flows like sludge; thin oil moves like maple syrup. The "10W30" on an oil refers to the flow rate; the lower the number, the thinner the oil. In winter, low temperatures lower the flow rate of oil, so you might consider using a less viscous oil, such as 5W30. Changing your own oil can save you money, but if you're hesitant to change it yourself, take your car to an auto shop. One option is Pep Boys, which is offering a coupon for its oil change services ($17.99 for conventional, $44.99 for synthetic, or $49.99 for high mileage; expires January 8). Note that winter-optimized oils may cost extra.

Flush and Fill Your Radiator
Radiator fluid degrades over time. For the winter, the mixture should contain at least 50% radiator fluid, which should keep your coolant moving down to -34℉. An inexpensive device called a coolant tester can get the job done. Now is also a good time to inspect hoses for leaks and replace them as needed.

Fill Your Windshield Wiper Reservoir
Not all windshield wiper fluid is formulated with enough nonfreezing ingredients to keep it flowing in cold weather, so check the label to make sure your solution is made for winter conditions. Also think about getting a windshield wiper fluid heater.

Consider Winter Wiper Blades
If you deal with a lot of snow and icy road spray, you may want to upgrade to winter wiper blades, too. Winter wiper blades have a rubber coating that keeps ice from building up. The Car Talk radio show guys warn, though, that it's a bad idea to keep winter wiper blades on year-round because they are heavier and could prematurely wear out the motor on your wipers.

Buy Snow Tires
If you're destined to deal with heavy snowfall, invest in a set of snow tires. (Just don't buy them used.) All-season tires, which are also popular, are a compromise between high-mileage tires for summer and snow-gripping tread for winter. A winter tire, on the other hand, is made specifically for traveling in the snow, with more aggressive tread patterns and a softer compound that won't get hard and glassy in cold weather.

It's also important to keep an eye on your tire pressure when the weather is foul. An overinflated tire won't grip as well, and an underinflated tire dangerously compromises a car's handling. This Digital Tire Gauge ($5.99 with free in-store pickup) is an easy-to-use option.

Check Your Battery
Batteries run by a chemical process, and that process is slowed when the temperature plummets. Have your car shop check your battery to make sure it's putting out enough juice. If not, now's a good time to replace it. And if your car battery isn't a sealed battery, check the water level in each compartment while you're at it. Also examine the cables, especially where they attach to the poles of your batteries — they should be firm and free of corrosion. If not, tighten the connection and use a wire brush to remove the corrosion.



Stock Up on Winter and Emergency Supplies
A little advance planning can minimize the dangers of winter driving. Part of that also means stocking up on the right equipment to deal with breakdowns.
Lock De-Icer
A spray can of glycerine can help thaw those pesky frozen locks that occur when melting ice trickles in. You can pick up a de-icer at your local auto parts or big box store, but if it's already too cold to make the trip to a brick-and-mortar store, there are many inexpensive options on Amazon.
Blanket or Tarp
In the event of being snowed in inside your car, you'll want an emergency blanket on hand. Cotton blankets lose heat when wet, so opt for a synthetic or wool blend blanket. A plastic tarp to kneel on while changing a tire might also come in handy.
Boots and Gloves
Get a good grip on the situation with a spare pair of boots and work gloves. But again, not cotton gloves. A good work glove is this pair of Stanley Prodex High Dexterity Synthetic Leather Work Gloves ($9.99 with free shipping).
Ice Scraper
Make sure your ice scraper is long enough to reach the middle of the windshield and sturdy enough to knock snow off the roof.
Small Shovel
Every once in a while there's a situation where you'll need to shovel yourself out of a snow bank. A small utility shovel is just the ticket.
Flashlight
Pack some spare batteries for a flashlight that's bright enough in case you have to change a flat tire in the dark. Check DealNews for bargain flashlights, like the Anker LC40 LED Pocket Flashlight ($7.99 via code "ZR4XS4KO", with free shipping for Prime members), as they appear regularly.
Jumper Cables
On the coldest of mornings, even reliable car batteries can fail, and if you want to get going, you'll need a jump from someone. Finding that someone is much easier if you have your own jumper cables. Be prepared with the Oxgord 20-ft. 4-gauge Power Booster Cable ($20.95 with free shipping).
Tire Chains
In the deepest snows, tire chains — which fit around your tires, providing additional grip — are especially useful. Tire chains come in a variety of sizes to fit different vehicles and wheels. They can get pricey if you're buying for all four wheels, but Amazon has a variety of discounted tire chains that are at least 50% off.
Bag of Abrasive Materials
Sand or salt tossed under your wheels can help with traction to get unstuck. Even a little cat litter can help get you moving. If your car has rear-wheel drive, carrying this weight over the rear axle could help the car's handling, too.

A few minutes of preparation today can save you from grueling hours of frustration when the snow begins to fall. If this winter is worse than last, you'll appreciate the forethought.
---