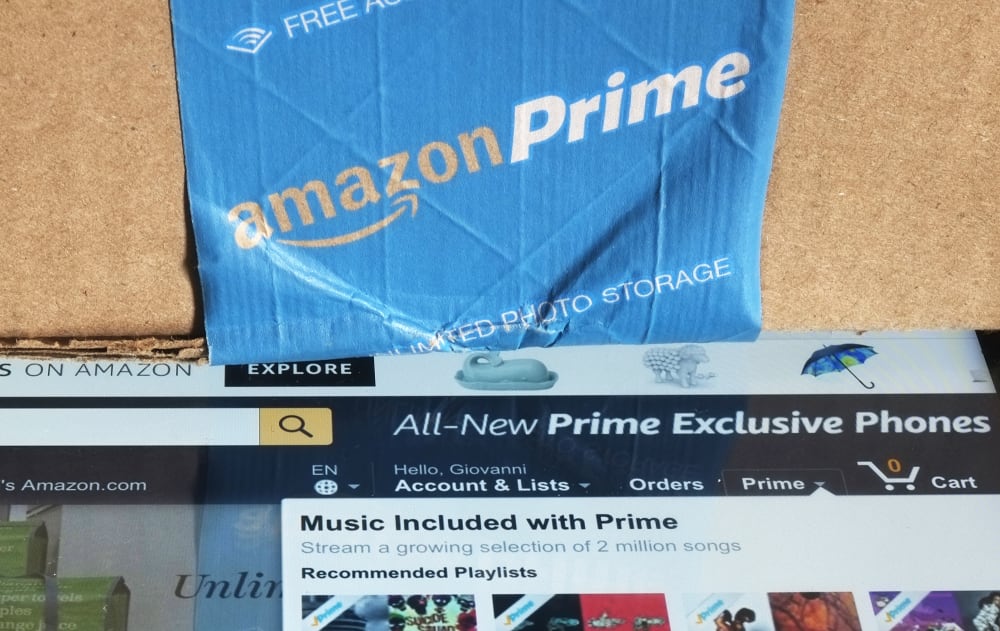 What Is Amazon Prime?
When Amazon Prime launched in 2005, the $79 yearly fee gave members two-day shipping on select items. Amazon has since expanded to video, audio, and even food delivery, and the subscription service — now $99 per year in most cases and with more than 66 million members — offers a lot more perks. Is Prime membership worth it? Below is a guide to what a Prime membership includes, so you can decide if it's right for you.
What Do You Get With Amazon Prime?
Free Shipping
The most well-known perk of an Amazon Prime membership is free two-day shipping on more than 50 million eligible items, designated by a Prime logo on the product page and at checkout. Currently, items with the Prime logo that say "FREE Same-Day" are eligible for free same-day delivery in more than 5,000 cities and towns with qualifying orders of at least $35. In most cases, if you place the order before noon, same-day delivery items will arrive before 9 pm.
SEE ALSO: What Does Amazon Prime Cost, and Can You Get It Cheaper?
Can't wait for that new record, book, or game? Release-date delivery by 7 pm is free for Amazon Prime members.
If you're not in a hurry for an item, opting for no-rush shipping can get promotional rewards applied to your account. Incentives may include free eBooks or coupons for Prime Pantry.
Prime Now
Amazon Prime members in certain ZIP codes can score free two-hour delivery of more than 25,000 items — including groceries and electronics — by using the website or mobile app. Delivery from local restaurants is even available in certain areas, with food orders delivered by Amazon within one hour. Members also get $10 off their first order via code "10PRIMENOW".
Prime Pantry
Prime members have access to Prime Pantry, so instead of ordering shampoo or cereal in bulk, you can order items one at a time, as you would when grocery shopping. Like grocery stores, Prime Pantry also has coupons and weekly deals. Certain items are available for free shipping, or you can select a Prime Pantry box with a flat shipping rate of $5.99. Box sizes vary, but each box can hold up to 45 pounds, and the amount of space taken up in the box is determined by a percentage. Items are shipped via ground and are not available for expedited two-day shipping.
AmazonFresh
AmazonFresh, available in select cities, costs an additional $14.99 per month after a 30-day free trial. Still, the grocery delivery service is accessible only to Prime members.
Fresh items arrive in insulated reusable totes, and customers can select delivery times.
What's the difference between Pantry and Fresh? Pantry delivers nonperishables, like boxed items and canned goods, whereas Fresh options encompass groceries such as fruits, vegetables, meat, dairy, frozen goods, and prepared meals. Fresh items also arrive in insulated reusable totes, and customers can select delivery times.
Delivery is not free (as it is with Prime Now) unless you spend over $40 on your order; otherwise, delivery is an additional $9.99. A new pickup option for Prime members who don't necessarily have AmazonFresh is also being tested in Seattle.
Dash Buttons
Prime members can order common household items by pressing Amazon Dash Buttons. Once you order a button for a product, such as detergent or a snack food, for $4.99, that amount is credited to your account for a subsequent order. Thus, the button ends up being free — provided you use it.
Amazon Elements
Prime members also have access to Amazon Elements, the company's private-label brand. Considering the brand launched in 2014 and is now comprised mostly of wipes and dietary supplements, it's a small perk.
Prime Early Access to Lightning Deals
Prime members get 30 minutes of early access to Amazon's Lightning Deals — flash sales on a limited amount of discounted items for a set amount of time. Before the sales, early access availability is noted on the deal listing.
Prime Reading
Amazon Prime members who enjoy reading can take advantage of various benefits. Prime Reading lets members borrow select eBooks (some with Audible Narration), comic books, magazines, and Kindle Singles, with no due date. (This is different than Kindle Unlimited, which offers unlimited access to more than 1 million books and thousands of Audible books for $9.99 per month.)
SEE ALSO: Are the Expensive Kindles Really Worth It?
In addition to one Prime Reading book per month, members can also download one of six editors' book selections one month before publication date with Kindle First.
Free Washington Post Subscription
For a limited time, Prime members can sign up for a free six-month subscription to The Washington Post national digital edition (for new subscribers only). After the trial period, the cost is $3.99 per month.
Free Audible Access
Since last year, Prime members have also received access to Audible Channels of audiobooks and original programs. These include Presidents Are People Too!, a show about the quirkier aspects of U.S. presidents, and Mortal City, hosted by former crime reporter Kathleen Horan, who interviews eccentric characters. Users can download the Audible app to listen on Android and iOS devices, Windows 10, and Fire tablets, and can browse shows by genre (for example, History, Science & Technology, and Comedy).
Prime Music
Prime Music gives members access to 2 million ad-free songs that can be played on demand via laptops, phones, Kindle Fire, and Echo. Browse by albums, artists, songs, or genres; by stations; or by Prime Playlists, from Coffee Shop Jazz to Hip-Hop Workout. Prime members also get a discounted rate of $7.99 per month or $79 per year for Amazon Music Unlimited — usually $9.99 per month after a 30-day free trial — for access to tens of millions of songs.
Prime Video
With Prime Video, members get free Amazon video streaming for thousands of movie titles, from new releases to classics. They can also stream TV shows, including Amazon original series such as Transparent, Z: The Beginning of Everything, Mozart in the Jungle, and Good Girls Revolt, and a host of other series, like Sex and the City, Downton Abbey, and Mr. Robot.
If a movie or show in your Watchlist is slated to leave Prime Video, the final date will likely be listed so you can get in some binge-watching.
Available shows and movies are added or removed, but if something in your Watchlist is slated to leave Prime Video, the final date will likely be listed so you can get in some binge-watching. With a Prime membership, you are also able to purchase paid monthly subscriptions to premium networks, like HBO, Showtime, and Starz.
Shopping With Alexa
Prime members can tell their shopping orders to Alexa if they have an Amazon Echo or other Alexa device. Plus, special Alexa deals and discounts are available for Prime members.
Twitch Prime
In 2014, Amazon acquired Twitch, a livestreaming video platform and community for gamers, who watch and discuss video games. And in September 2016, Twitch Prime was announced. Amazon Prime members get game freebies, a free Twitch channel subscription every month, discounts on box game preorders and new releases, and ad-free viewing.
Prime Photos
Prime membership includes free unlimited photo storage, plus an additional 5 GB for video and document storage — only for personal use and not for business. You can also share the photo storage with five other people in a Family Vault. Photos are easily searchable, can be uploaded through a mobile app, and can be accessed across a variety of devices.
Amazon Family
Amazon Prime members get 20% off diapers subscriptions, a free welcome box, and 15% off eligible baby items. For an additional $2.99 per month (after a one-month free trial), Prime members can snag FreeTime Unlimited, which offers access to 13,000 kid-friendly books, movies, TV shows, apps, and games on Kindle, Fire tablets, or FireTV.
Amazon Prime Store Card
Members can get an Amazon Prime Store Card and earn 5% back on Amazon purchases.
SEE ALSO: Should You Get the New Amazon Prime Credit Card?
Benefit Sharing
Prime members can create an Amazon Household account to share benefits with one other adult and up to four children, provided all of these people have the same address. Check out our guide: "How to Add Roommates and Family to Your Amazon Prime Account."
Readers, do you have an Amazon Prime membership? Why or why not? If you're a Prime member, which perks do you use the most? Let us know in the comments below!
---