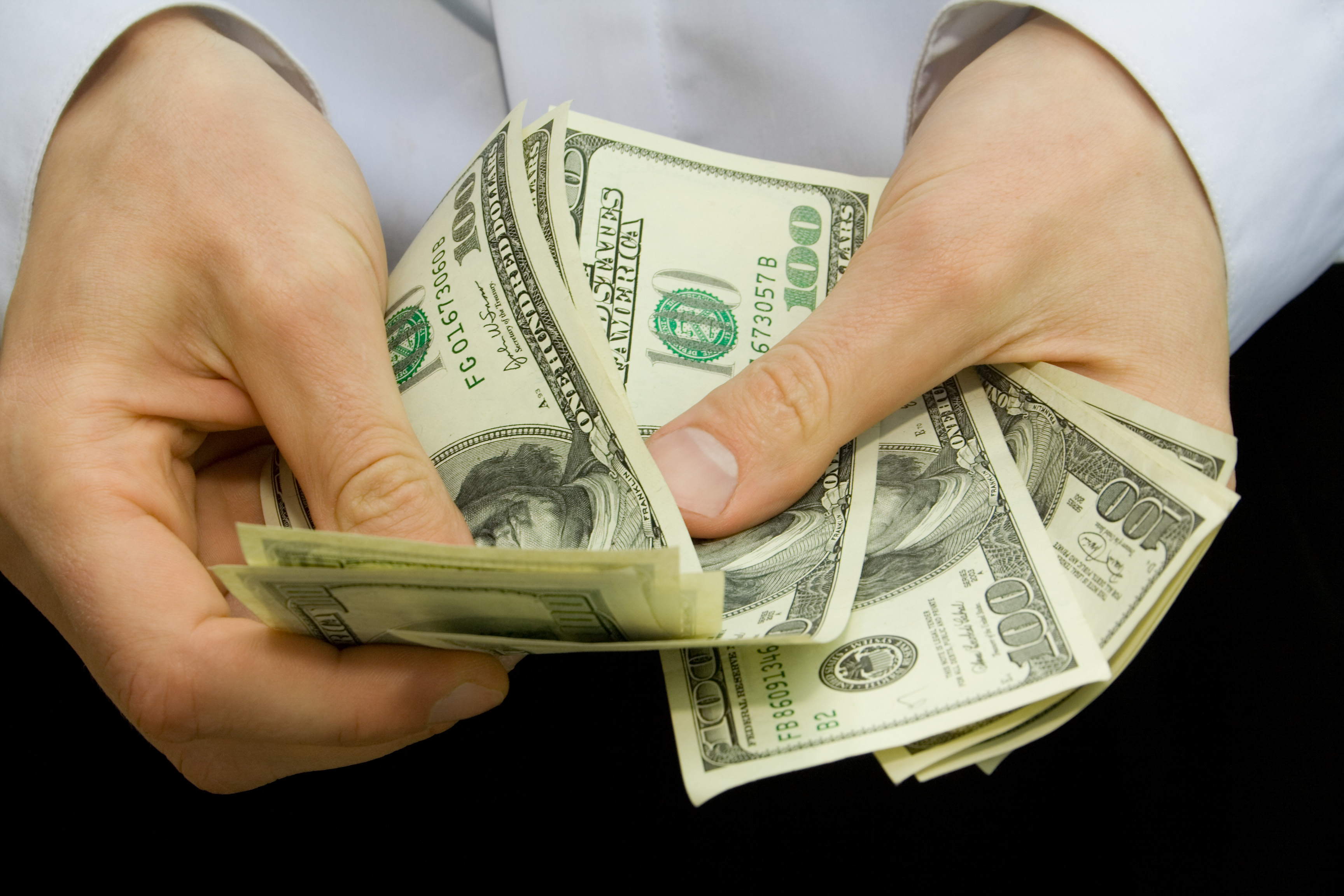 While some may be pained that we're talking about Black Friday in September, now's the time to start saving if you want to have the cash to jump on those sales. At this year's doorbuster sales, we expect shoppers to snag a 55" 4K TV for $315, an iPad Air 2 for $300 or lower, and laptops with Intel Core i5 processors for as low as $270.
Your plan to save depends on which of these top doorbusters you want to buy. And even if you don't have a cent to spare yet, we have advice on how to save up enough in time for the big day... though you're on your own when it comes to getting up bright and early to catch the best of this year's sales.
Here are 10 ways to cut your expenses over the next two months so you can afford to buy that doorbuster TV, iPad, or laptop!
Cut the Cable Cord
Considering that Americans pay about $95 a month for a cable television package with equipment — cutting your cable bill out entirely could save you $190 over the next two months (presuming you didn't immediately replace your cable subscription with a host of new streaming services). But if you're not ready to go all-in with ditching your cable plan, then cutting back, switching providers, or hunting for deals can cut your costs, too.
SEE ALSO: How to Cut the Cable Cord: 6 Steps to Stream TV and Save Money
Do you really need 500 channels? Or all of the premium channels? Take a good look at your current cable plan and consider what you watch regularly. Switching to a lower-cost package may be an easy way to save some cash without curtailing your entertainment options. If you're not entirely in love with your provider, switching can be a good cost-cutting move, too. Many providers offer excellent introductory deals that cut your bill steeply — and often even calling your provider and saying you want to switch can get you a discounted rate.
Potential Savings: $20 to $95 per month
Reevaluate Your Cell Phone Plan
As we've become increasingly mobile-savvy, our cell phone bills have skyrocketed, with the average user spending $90 to $111 a month. Cellular providers haven't made it easy for cost-conscious consumers to rein in their spending, either, with complicated billing plans that are difficult to decipher. However, it's worth at least trying to untangle, as you may be able to cut back on your spending without having to change your usage.
The first step is to take a good look at your bill. Are you paying for features you don't use? Are you consistently under your data cap? Does your provider — or another provider — offer new plans that might be better options? With many providers offering to pay any early termination fees if you switch, jumping carriers isn't as much of a hassle as it once was... and it may net you a plan that's much easier on the budget. A no-contract plan will save you an average of $30 a month (though getting a new phone with your new plan will eat up those savings), while dropping your data cap (and data use) could save you another $20 or $30.
Potential Savings: $30 to $60 a month
Cut Back on the Coffee
We know the siren song that is Starbucks' Pumpkin Spice Latte, but if you're looking to save, it's time to cut back on your coffee habit. If you stop every morning for a prework caffeine boost, that's $4.25 a day, $21.25 a week, or $85 a month — all for the smallest sized #PSL. So you have to ask yourself whether you'd rather have your daily latte fix or that new television, iPad, or laptop.
If you stop by Starbucks every weekday morning for a prework latte, that's $4.25 a day, $21.25 a week, or $85 a month.
Making coffee at home will get you your caffeine fix at a much more reasonable cost. (Our advice: Skip the Keurig and do it yourself for coffee that's both better and cheaper.) And if you can't cut it out entirely, dropping your Starbucks visits to once or twice a week will help, too.
Potential Savings: $51 to $85 a month for a daily latte drinker
Eat and Entertain In
The average cost of a dinner out in the U.S. is $36.30 per person. Though you can certainly do dinner out more frugally, meal costs can still add up. Even fast food can be pricy, with average prices per person ranging from $3.86 to $14. Turn that into dinner and a movie with an average ticket price of $8.43 per person, and a single night out for two could cost as much as $89.46.
SEE ALSO: This Bad Food Habit Could Be Costing You $2,000 a Year
With prices like this, it doesn't take much cutting back to net noticeable savings at the end of the month. Take a brown bag lunch to the office, and spend a few date nights watching Netflix. Even if you just cut back on a meal or two a week, it will net you some savings.
Potential Savings: $40 a month (cutting out a fast food meal a week) up to $290 a month (cutting out a nice dinner for two a week)
Make a Shopping List (and Stick to It)
If you're cutting down on eating out, that means you're eating in more — which can also make your grocery bills spiral. One way to help keep spending in check is by making a shopping list and skipping those impulse purchases. As a side effect, you'll likely make fewer trips to the store, waste less food (Americans throw away $165 billion in food a year), spend less time shopping, and, of course, spend less.
Potential Savings: $40 (or more) a month
Make Use of the Local Library
No bargain-hunter should discount the value of a library card, which can offer a near-unlimited supply of books, movies, and music, typically for no cost. If you're looking to save, head to your local library.
Potential Savings: $25 a month, depending on how much you watch or read
Buy Used, Refurbished, or Generic
Why spend more than you have to when you're shopping? Though you'll want to take some care buying used, thrift shops, Craigslist, and eBay can be great ways to find gently used goods at a fraction of the retail price. Refurbished items are usually guaranteed by the manufacturer to be as good as new, and come with a nice discount. And while opinions vary on generic goods, you can't deny the cost savings, especially with generic drugs.
Potential Savings: Varies
Cut Down on Banking Fees
It's all too easy to get hit by banking fees and other financial charges, and these fees add up. Median overdraft fee? $35. Average fee for using an out-of-network ATM? $4.35. Average late fee? $37.
Setting up automatic bill payments will help you avoid a $37 late fee for forgetfulness.
Simple mistakes can wind up costing a lot. Fortunately, they're all avoidable with some planning. Most banks allow you to set up online alerts for bills due, account balances, and more. Setting up automatic bill payments will also help you avoid that $37 late fee for forgetfulness. As for ATM fees, it's all about planning around them. Instead of hitting up a high-fee ATM on the spot, figure out how much cash you'll need ahead of time and get it from a fee-free ATM.
Potential Savings: Skipping a weekly ATM charge will save $17.40 a month, and potentially more depending on fees avoided.
Tame Your Commute
Driving to work every day can be a big drain, but there are lots of ways to save. Can you trade your car for public transportation? How about joining a carpool with co-workers? Even if ditching your commute isn't an option, if you take the time to compare gas prices and keep your car in good shape (keeping your tires properly inflated, for one) you can get better mileage for a lower cost.
Potential Savings: Varies
Sell Your Stuff
Our homes are full of stuff we aren't using, from old clothes to old smartphones to mystery boxes in the attic that we haven't touched in years. Why keep the clutter when you could sell it for cash — cash you could use to fund something you really want? You may be surprised by how much your old electronics are worth. Even if they aren't working, people may be interested in buying them for parts. (eBay is a particularly good market for this.) So clean out your closets, clear out the attic, and hold a garage sale or toss things on Craigslist or eBay. Depending on what you have, you could net a tidy profit.
Potential Earnings: Varies
So start saving up! This year's excellent Black Friday TVs, iPads, and laptops are just around the corner.
Readers, will you buy any Black Friday doorbusters this year? What are your favorite ways to save up for holiday sales? Let us know in the comments below!
---