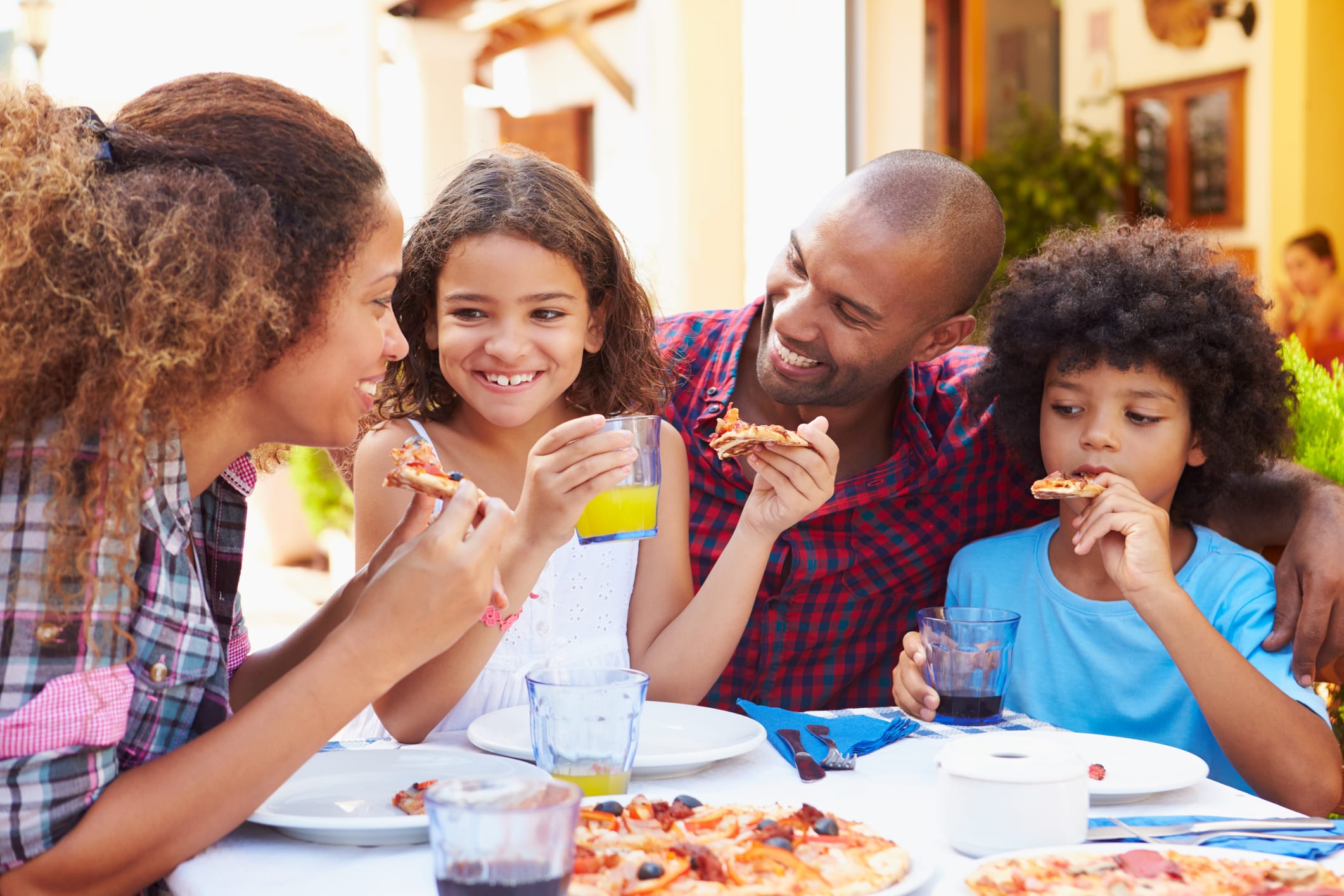 PSA time: Mother's Day is this coming weekend on May 14. If the holiday has snuck up on you, there's no reason to panic. Even if you can't afford to go all out, you can still make your mom feel like royalty with our list of brunch and dinner offers. So go buy a card, and then plan to treat your mom to tasty goodness this weekend.
All the Mother's Day Specials You Need to Know About
Applebee's: If you can't be with mom this Mother's Day, you can still treat her to dinner out. Send her a gift card so she can enjoy a meal whenever she wants. And for every $50 in gift cards you purchase, you'll receive a free $10 bonus card. (This offer is good through July 2, and bonus cards are valid through August 13.)


Baskin Robbins: Treat your mom to an ice cream cake as lovely as she is with this offer from the ice cream chain. Order a cake to celebrate Mother's Day online and save $3 when you enter the coupon code "MOTHER". Deal ends May 16.


Bonefish Grill: There will be a specials menu to celebrate Mother's Day, including items like Misoyaki Sea Bass. As a bonus, for every $50 in gift cards you purchase, you'll receive a $10 bonus card for free.


Carrabba's: The Italian chain will have a special Mother's Day menu, including family bundles you can pick up and take home. Additionally, for every $50 you purchase in gift cards, you'll receive $50 in free bonus cards. (The gift card offer is good May 12 to May 14, and is good in-store only.)


Chicken Salad Chick: Treat your mom to an early lunch at this southern chain. Mothers will receive a scoop of the Classic Carol chicken salad for free all day on Friday, May 12. Locations can be found in Alabama, Florida, Georgia, Mississippi, Louisiana, Tennessee, and Texas.


Fandango: Gift your mom with a free trip to the movies, plus a classic gift of flowers. Fandango VIP members (it's free to join) can purchase movie tickets, and receive a free bouquet from The Bouq (not including shipping). Don't wait too long — this offer ends at 7 pm ET on May 11.


Fleming's Prime Steakhouse & Wine Bar: Wine and dine mom with a special menu for Mother's Day brunch. It's three courses, and will run from 10 am until 3 pm. And if you'd like to first buy cards to pay for the brunch, you'll receive a $20 bonus card for every $100 you purchase in gift cards.


Logan's Roadhouse: Buy $50 in gift cards, and receive a $10 bonus card for free. This offer is good through June 18, so you can treat dad for Father's Day too! (Bonus cards are good through July 31.)


LongHorn Steakhouse: Buy a $50 gift card and receive a free appetizer/dessert card worth up to $10.50 for free. The free card can be redeemed during an in-restaurant visit from the time of purchase through July 23.


Marble Slab Creamery/Maggie Moo's: Celebrate Mother's Day with an 8" round or quarter-sheet ice cream cake. Save $3 when you apply the code "MOM17", but hurry because this deal ends May 12.


Outback Steakhouse: Dinner from down under includes a special menu just for mom this weekend. From May 12 to May 14, your mom can have her pick of a signature entree, two sides, and an individual-sized cheesecake. Plus, buy $50 in gift cards and score a $10 bonus card for free.


Pollo Tropical: It's not a widespread chain, but if you happen to be near one of these Caribbean restaurants, you can score lunch for four people for only $9.99. If you want to get in on this offer, text the code "MOM2017" to 52198. Note that locations are only in select parts of Florida, Georgia, and Texas.


Romano's Macaroni Grill: All locations of this Italian chain will offer a prix fixe menu on May 13 and May 14. Priced at $19.99 per person, it includes a salad, choice of one entree, and a choice of one dessert. Plus, any moms who eat at Macaroni Grill this Mother's Day weekend will receive a coupon for a free appetizer with the purchase of an adult entree. (The coupon can be used on their next visit to the restaurant before May 31.) Sending a gift card instead? Score 25% off electronic gift cards May 8 through May 14.


Ruby Tuesday: Buy $50 in gift cards for mom, and get a $15 bonus card for yourself.


Ruth's Chris: Have an upscale dinner with mom at this steakhouse, which will be offering different specials. Plus, take your mom in on May 13 or May 14 and she'll receive a $25 credit to use towards a future visit.


Shoney's: Buy mom a serving of the food bar, or treat her to her favorite entree. Either way, she'll bag a slice of strawberry pie for free when you buy her lunch.


Starbucks: Technically it's not celebrating Mother's Day, but who says you can't treat your mom to half-price frappuccinos? Pop in through May 14 between 3 and 6 pm to take advantage of Happy Hour. Maybe give their new summer drinks a try; the S'mores frappe is back, as well as a new Midnight Mint Mocha.


TCBY: Take mom for a free frozen treat on May 14. Find your nearest location here.
Readers, how will you treat your mom this Mother's Day? Let us know in the comments below!
---