It's WrestleMania season, meaning that WWE's diehard fans will need to make room for all the casual fans who only pop their heads in at this time of year.
The first WrestleMania event took place way back in '85. Back then, "Hulkamania" was the hottest thing going and Cyndi Lauper was somehow part of the show. Millions of fans have stuck with WWE (formerly the WWF) for all that time, enduring the company's peaks and valleys and revolving door of superstars. Really, once you become a wrestling fan, you never stop being one. You just take breaks!
If you're an old-school WWE fanatic, here's a nostalgia trip for ya: 10 wicked-awesome WWE collectibles that we discovered on eBay, all from the '80s and early '90s.
Note: Since these items were introduced when World Wrestling Entertainment was still known as the World Wrestling Federation, we'll be sticking to that latter moniker in our descriptions.
SEE ALSO: 10 Cool Collectibles That Every Wolverine Fan Needs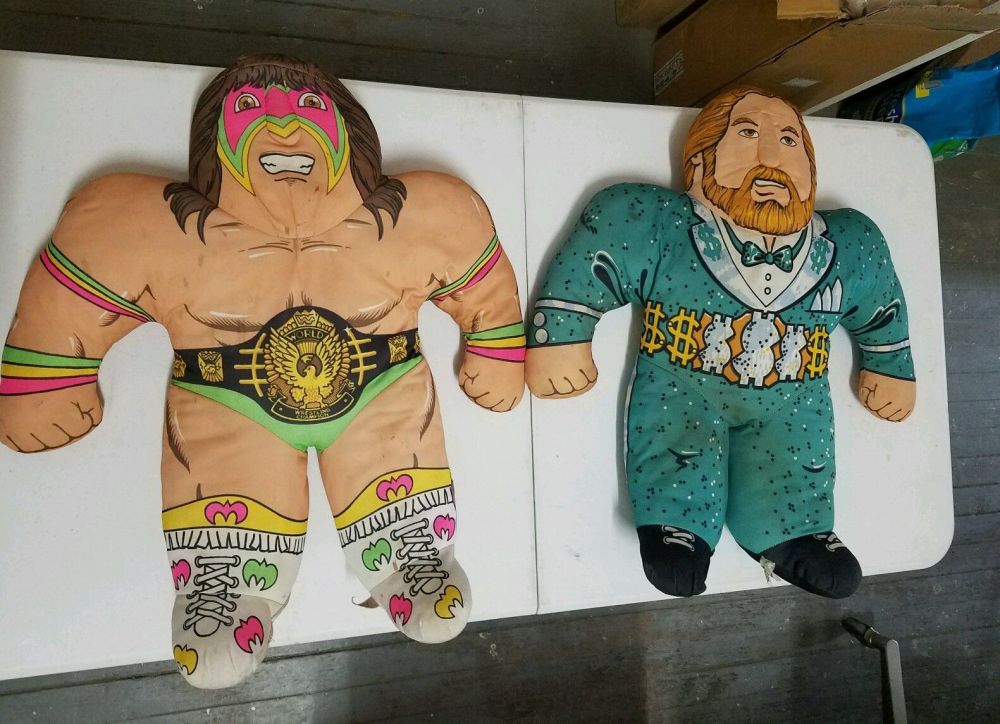 Asking Price: $80
Tonka's Wrestling Buddies turned several of the WWF's top stars into pillow pals. The dolls were soft and safe enough to wrestle with, which subtly gave kids permission to bounce off the walls and crash through every coffee table.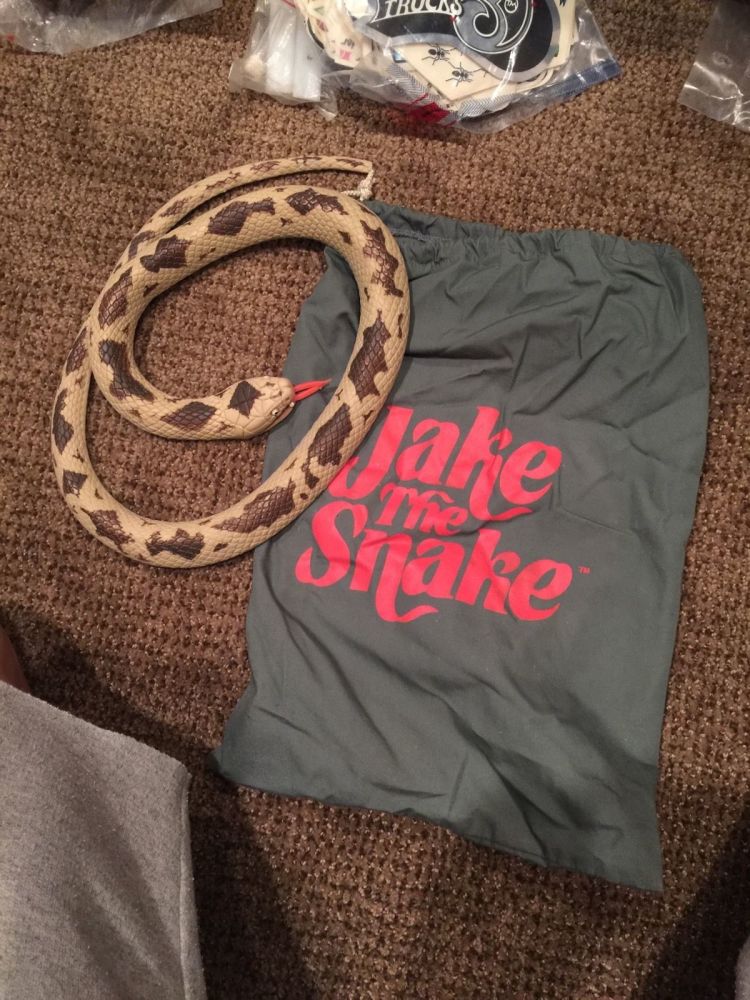 Asking Price: $22.50
Jake "The Snake" Roberts famously "introduced" his defeated opponents to Damien, an enormous (and real) python that he carried to the ring in a sack. Roberts was talented enough to have been a star with or without the gimmick, but naturally, a wrestler who doubled as a walking zoo was an especially big hit with kids.
SEE ALSO: 10 Super(Natural) Ghostbusters Collectibles
This rubber toy version of Damien came in a similar sack. It was only sold at live events or through the WWF's merchandise catalogs, adding to its collectability.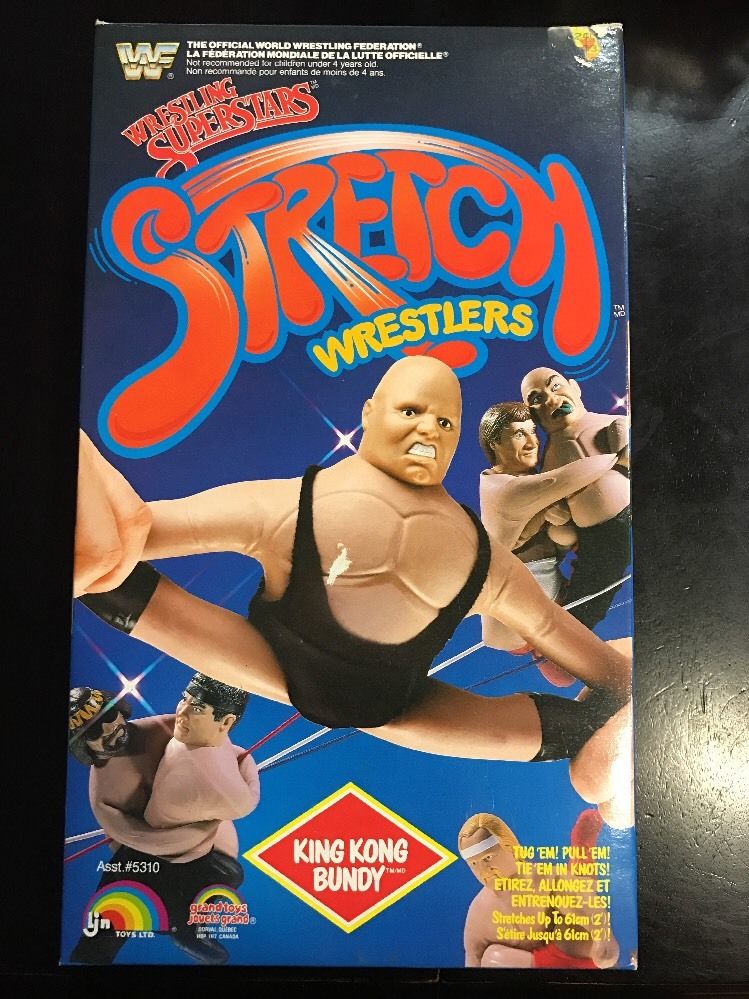 Asking Price: $310
These old WWF Stretch Wrestlers now sell for small fortunes, owing partly to their rarity, but also to the fact that very few of them are still in decent condition. (The material used to produce them just wasn't made to last decades, so only the ones that landed in the hands of particularly protective collectors still look nice.)
You'll probably best remember King Kong Bundy as the guy Hulk Hogan beat in the main event of WrestleMania 2. He was 400 pounds of pale power!
Asking Price: $149
Believe it or not, the Hulkamania Workout Set was a runaway success in its day. Kids who wanted muscles like Hulk Hogan's were given all the tools necessary to build them like, uh, 3-pound dumbbells and the official Hulkamania sweatband.
The set also came with an audiocassette, which featured Hulk Hogan yelling about jumping jacks for 40 minutes. Yeah, the '80s were weird.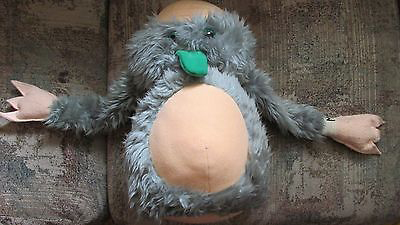 Asking Price: $710
The late, great George "The Animal" Steele spent the final years of his career as a fan favorite, beloved as much for his sweet nature as for his habit of eating turnbuckles.
Our last memories of George as an active wrestler are all about "Mine," a strange doll that Steele carried everywhere. (Mine was made to resemble George, complete with the bald dome and green tongue.)
As you might guess, the doll was introduced with the hope of persuading fans into buying high-priced replicas. Few did, apparently, as vintage Mine dolls are now crazy rare and rather ludicrously priced.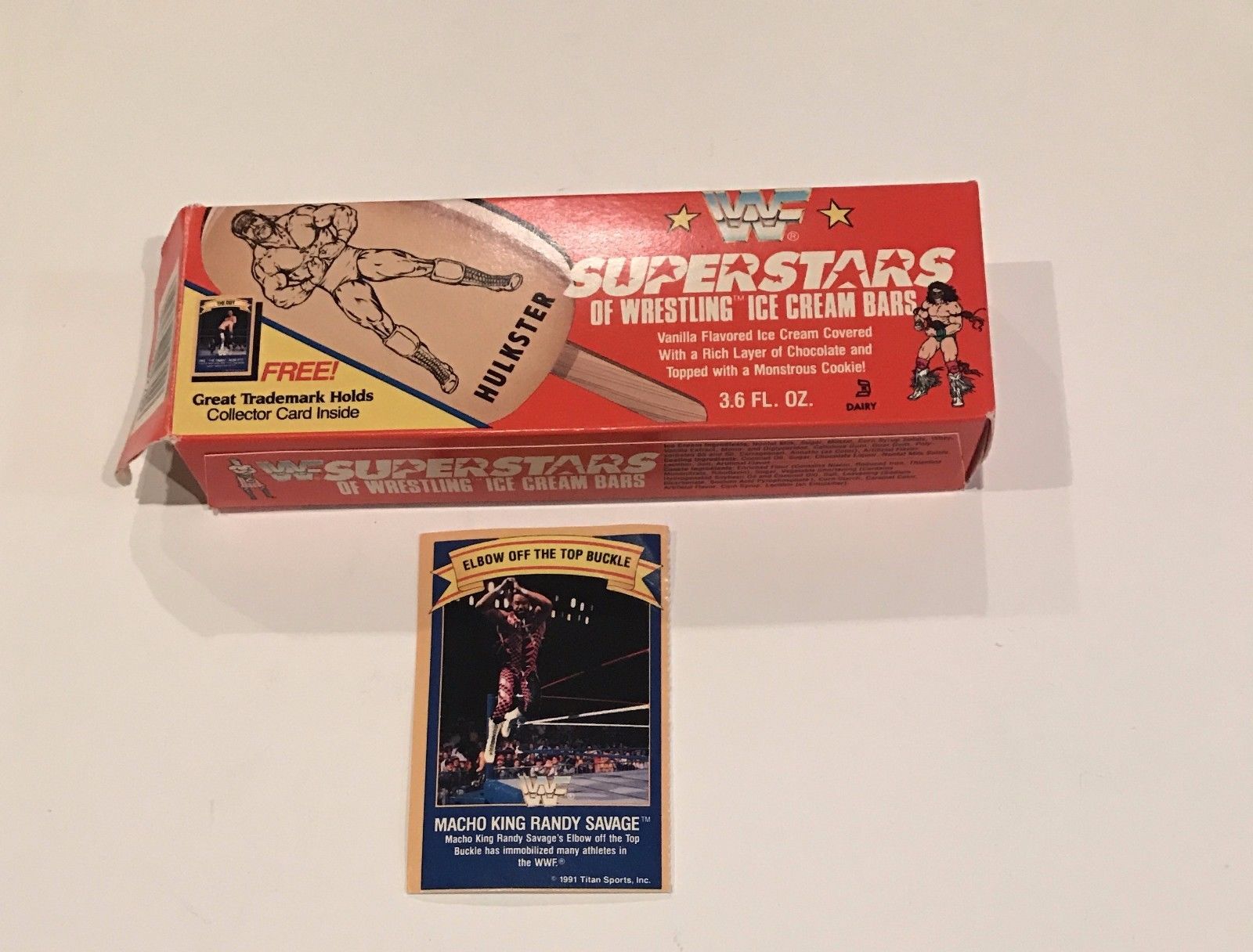 Asking Price: $299.99
WWF Superstars Ice Cream Bars were AMAZING. Take a generous clump of vanilla ice cream, and then sandwich it between a chocolate shell and a big flat cookie. They were a bit like elongated Chipwiches.
SEE ALSO: 3 Kinds of Ice Cream Makers: Which Is Best for You?
Fans are still actively clamoring for their return, but until such time, you can satisfy your nostalgia by buying one of the vintage boxes. (Though perhaps not this particular one, unless you just won the lottery?)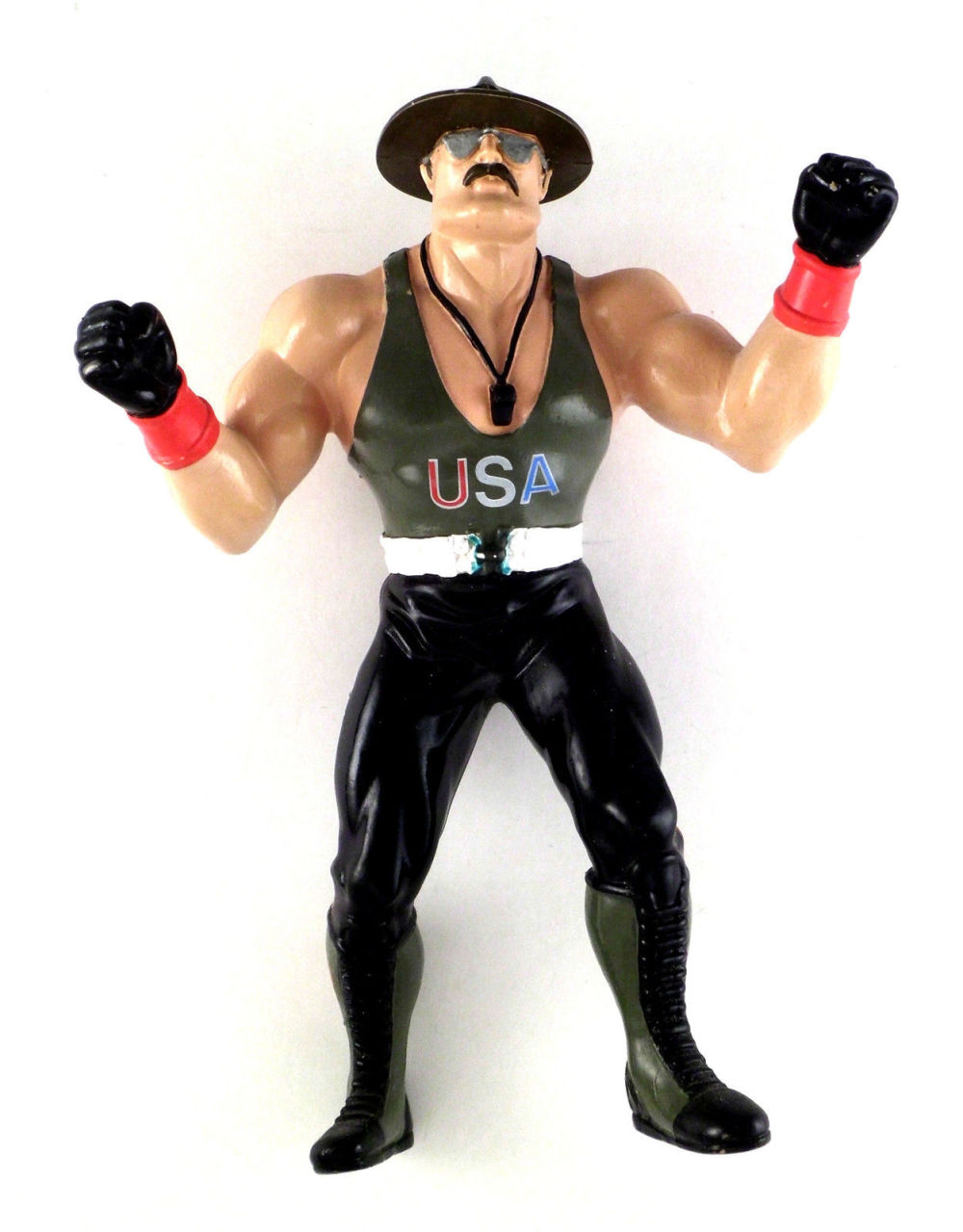 Asking Price: $185
Old-school WWF fans should remember LJN's massive line of Wrestling Superstars figures, which were large, made of rubber, and absolute must-haves for young kids who liked to treat their toys like rocks.
This Sgt. Slaughter figure looks like one of LJN's, but it was actually made by Hasbro. The figure was only available through a special mail-away promotion, and was partly meant to capitalize on Slaughter's appearances in the G.I. Joe universe.
As the story goes, the WWF's top brass were none too pleased with Slaughter for making a side deal without consulting them, leading to a rift between the parties that lasted for years.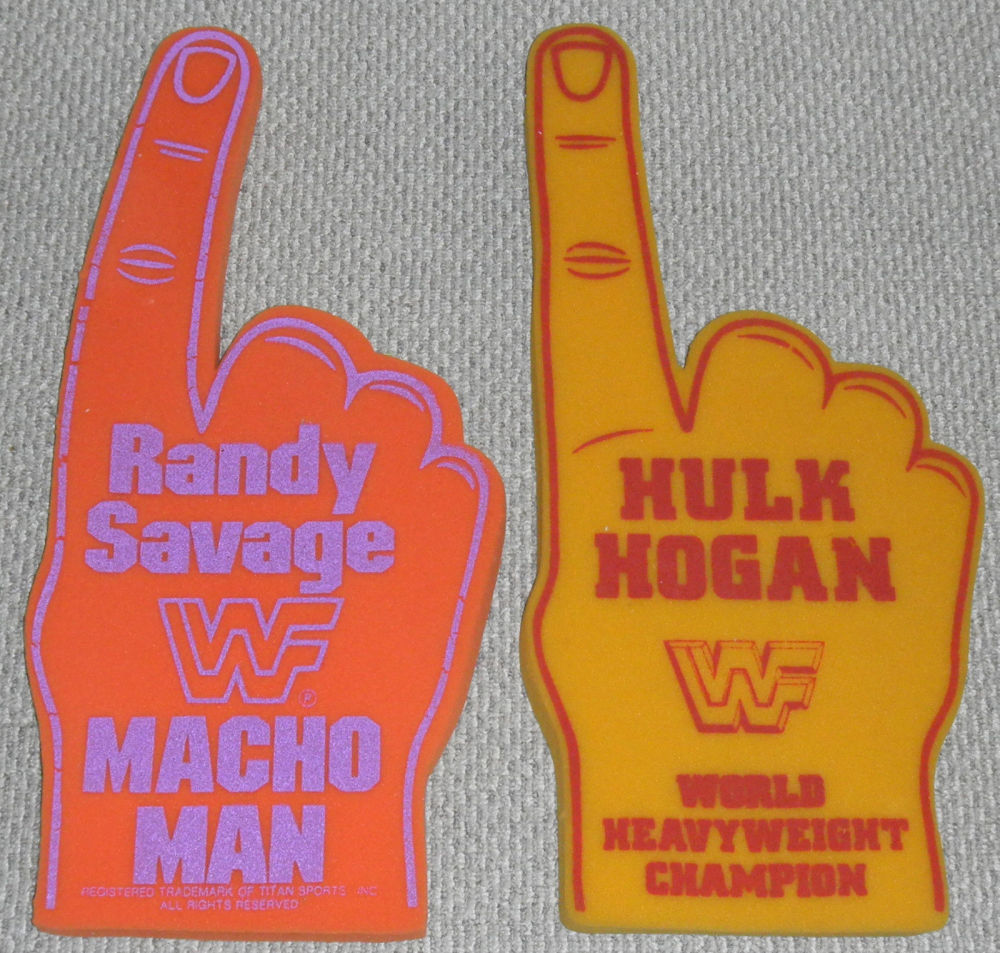 Asking Price: $199.99
Though they surely weaseled their way into a merchandise catalog or two, these "foam fingers" were mostly sold at live events. Obviously, the idea was that you could use them to cheer on your favorite wrestlers as they headed toward the ring.
Since they were essentially just oversized sponges, these foam fingers were darn near impossible to keep in respectable condition. Those who did can now demand a pretty penny for their trouble!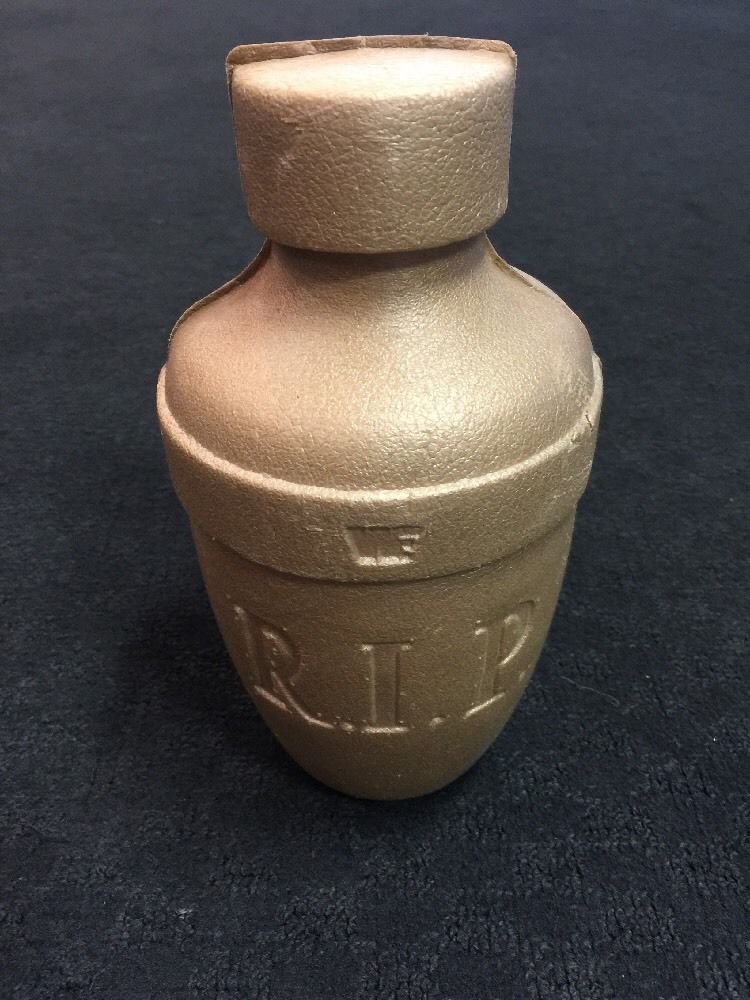 Asking Price: $200
Let's hear it for The Undertaker, who debuted in 1990 and is somehow still wrestling. In fact, he'll be part of a marquee match at this year's WrestleMania. Incredible!
SEE ALSO: Relive Your Crush on the Pink Ranger With These Power Ranger Collectibles
Way back when, The Undertaker drew power from a mysterious urn. It sounds silly, but fans gobbled it up. That urn was later immortalized with a foam replica, which is now one of the rarest (and still one of the weirdest) wrestling collectibles out there.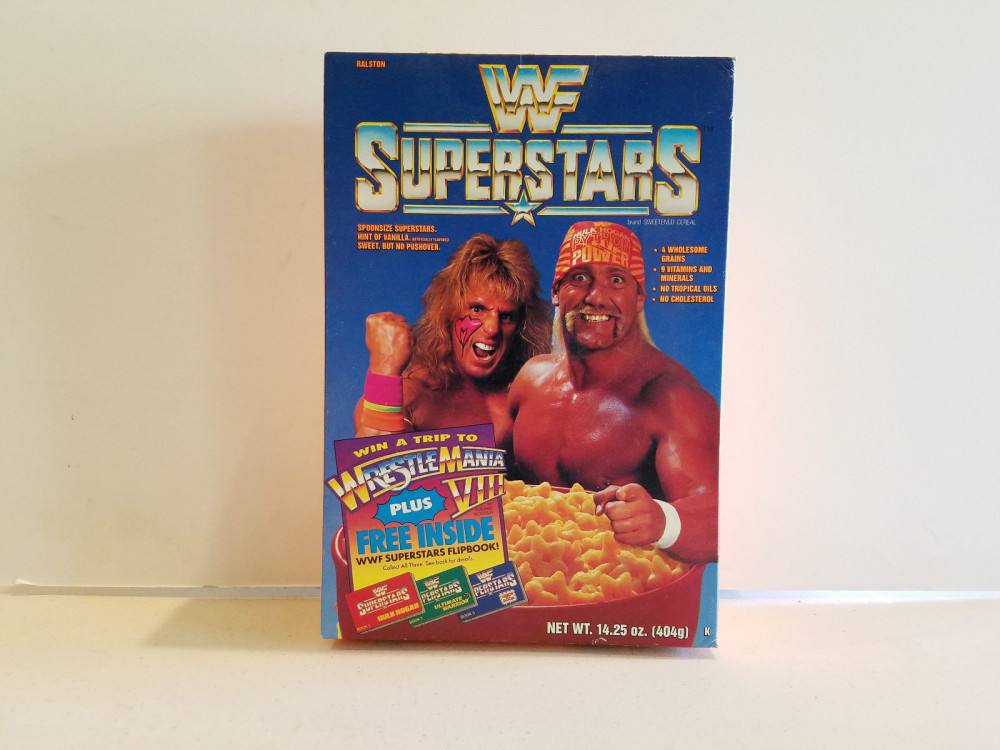 Asking Price: $12.99
Though WWF Superstars cereal was too short-lived to be considered a success, it wasn't for lack of effort. The star-shaped cereal pieces were ordinary enough, but the boxes had assorted images of popular wrestlers, and famously came with WWF flipbooks tucked inside.
Several boxes (now mercifully empty) have survived through the years, and they're seen frequently enough on eBay to avoid any absurdly high asking prices. Definitely a cool collectible for the wrestling fan who has everything!
Readers, if you grew up on pro wrestling, surely you owned some pro-wrestling junk. What were your favorite toys, posters, or other collectibles? Swap stories in the comments below!
---