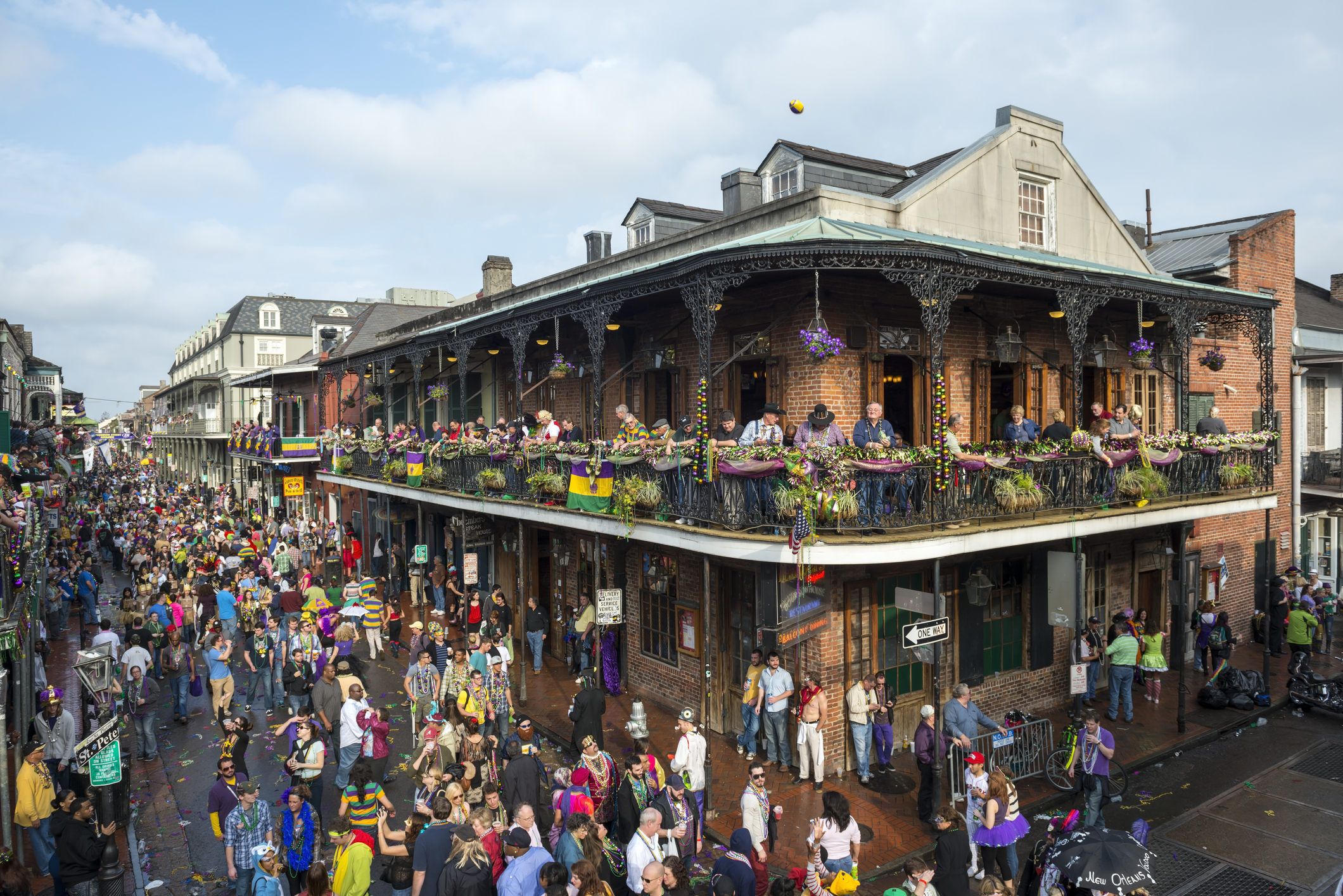 Every year, the city of New Orleans puts on "the biggest free party on earth" — Mardi Gras. The celebrations leading up to Fat Tuesday span over two weeks, with near-daily parades, live performances, block parties, and outdoor events. Carnival Krewes big and small pack in a ton of free entertainment, from smaller parades to Super Krewes sporting $7 million budgets and a small army of celebrities — and it is all technically free.
That is, it's all free if you're a local and lucky enough to live within walking distance of the parade routes. If you need to travel to the Big Easy, stay, eat, and do everything else, the "biggest free party on earth" starts to feel downright expensive. Here's an idea of what it costs to visit New Orleans during Mardi Gras — and some insider tips on how to save money if you attend.
Book Flights Early (If You Can't Go Marching in)
You aren't likely to find many rock-bottom deals on flights into NOLA during the height of the Carnival celebrations. On average, flights to New Orleans during Mardi Gras week cost $364 in 2015. That number went down to $350 in 2016, according to data from Priceline. Of course, the amount largely depends on where you're traveling from. In 2016, prices went up to $800 for some locations.
Naturally, these prices only count if you can travel earlier in the week. If you're planning to make a long weekend of it, things can get much more expensive.
SEE ALSO: More Than New Orleans: 7 OTHER Cities That Celebrate Mardi Gras
This year, according to our own Expedia research, flights departing the Friday before Fat Tuesday (February 24) and returning Ash Wednesday (March 1) run the gamut from $473 to $2,871, depending on where you're flying from. If you booked a few weeks ago, costs between New Orleans and some big U.S. cities were in these ranges:
New York: $473 to $1,466
Miami: $513 to $2,871
Los Angeles: $541 to $1,925
Dallas: $644 to $1,394
As with most traveling adventures, booking as early as possible can help get you the best deal. If airfare prices prove too steep for your budget when you go to book, you could consider these seven other U.S. cities that celebrate Mardi Gras, and potentially snag a better deal.
If you have some wiggle room in your travel itinerary, adjusting your arrival and departure dates can save you money, too. For example, let's say you're leaving from Dallas. When we did our research a few weeks back, shortening your trip to February 26 through March 1 lowered the cheapest price to $408.
When you do find a ticket price you like, jump on it! Most cheap flights we saw had four or fewer available seats.
Make Yourself at Home With Airbnb and Hostels
Finding a hotel room in the city proper can be a tricky, expensive venture. The New Orleans metro area has around 38,000 hotel rooms, while an estimated 1 million people flood into the city during Mardi Gras — some experts argue that number is higher. In 2015, hotels were 90% to 95% booked a full month before the height of Mardi Gras, according to a NOLA.com piece.
Looking into this year, booking a room from February 24 to March 1 inside the city limits cost from $289 to $979 per night a few weeks ago, according to our research on Travelocity. Many of the hotels were already sold out. A few hostels had openings for $161 per night.
In 2015, hotels were 90% to 95% booked a full month before the height of Mardi Gras.
On Airbnb, the average price for the same time period was $538, but we found rooms as low as $95 per night within the city limits. However, these rooms were not within walking distance of the parade routes.
Booking early can get you a good deal, but if you want a hotel room, your best option is to stay outside of the city limits and rely on hired transportation or a rental car to shuttle back and forth. Hotel rooms were available in the nearby suburb of Metairie for $227 per night and slightly further away in Kenner for $190. New Orleans has an abundance of cabs, and Uber and Lyft are also available.
Take the Trolley (Instead of Renting a Car)
While you can rent a car for convenience, locals recommend relying on public (or paid) transportation in town. Driving in New Orleans can be tricky, and parking enforcement is no joke. Nothing will ruin your Mardi Gras high like a big orange ticket on your rental's windshield. Plus, plenty of cheaper transportation options are available.
Starting at the airport, cab fare from there to the Central Business District costs a flat $33 for one person and an additional $14 per person for three or more people. You can grab the first cab you see from the exit doors, so there's no need to call ahead.
SEE ALSO: How Much Should You Tip? A Guide to Tipping in 10 Common Situations
In town, an active Uber or Lyft service can get you anywhere you want to go. Plenty of cab drivers are also operating. The website is somewhat sketchy, but United Cabs is a reliable bet, and the company offers an app. All cabs are legally required to be equipped with credit card readers, so you don't need to worry about cash.
If you prefer public transportation, the streetcars are the easiest way for tourists to get around, as bus routes can often be confusing (and run late). A streetcar ride costs $1.25, or you can pick up a Jazzy Pass through the Regional Transit Authority. A 3-day pass offers unlimited rides for $9.
Eating, Drinking... and Drinking Again
Feeding and entertaining yourself while you're in the city can get pricey. There's a reason tourists spent $7.05 billion dollars visiting New Orleans in 2015.
While NOLA offers a lot of famous places to eat and drink, the cost of many might not be worth it if you're trying to vacation on a budget. Swap the famous French Quarter haunts for good, cheap local eats. For example, Parkway Bakery and Tavern is a short walk from the streetcar line, and sandwiches are under $15. For sit-down spots, look on Magazine Street. Nearly every restaurant is clean, affordable, and good. In the French Quarter area, you can't go wrong with Dat Dog on Frenchmen Street. Open late, cheap, and incredibly tasty, this is the spot to hit for fast, affordable eating.
If you want to head to a bar, limit your time on Bourbon Street, where $15-a-pop mixed drinks aren't unusual.
If you want to head to a bar, limit your time on Bourbon Street, where $15-a-pop mixed drinks aren't unusual. Instead, head to other areas of the city. The Avenue Pub offers an affordable, seemingly endless beer menu. And mid-city spots like The Holy Ground and Finn McCool's are legendary for their affordable drinks.
For parades, the goal is to minimize what you buy on the parade route, as prices go up during these events. Remember, you can bring coolers, food, chairs, blankets, and alcohol (no glass bottles) to any parade. Stock up at a nearby Costco or a grocery store and save. (Pro tip: Rouses offers good, cheap prepared food and a great beverage selection. Bring it with you!)
Should You Skip Fat Tuesday?
If you really want to do Mardi Gras on the cheap, consider skipping Fat Tuesday. Everything from flights to food is at its most expensive on the big day. For example, when we did our research last month, swapping hotel rooms for a February 22 check-in and February 26 checkout brought prices down to $237 a night in the city and $158 in the suburbs.
The days leading up to Fat Tuesday have large, fantastic parades. (Check out the official schedule to see your options.) Consider the all-female-led Muses or the Endymion, which is one of the largest parades in the city. Both fall before Fat Tuesday. Odds are good you'll find plenty to do and won't feel like you missed out once you're on the plane headed home.
Readers, have you celebrated Mardi Gras in New Orleans? If so, did you find the trip worth it? What are other good ways to save on a trip to the Big Easy? Let us know in the comments below!
---