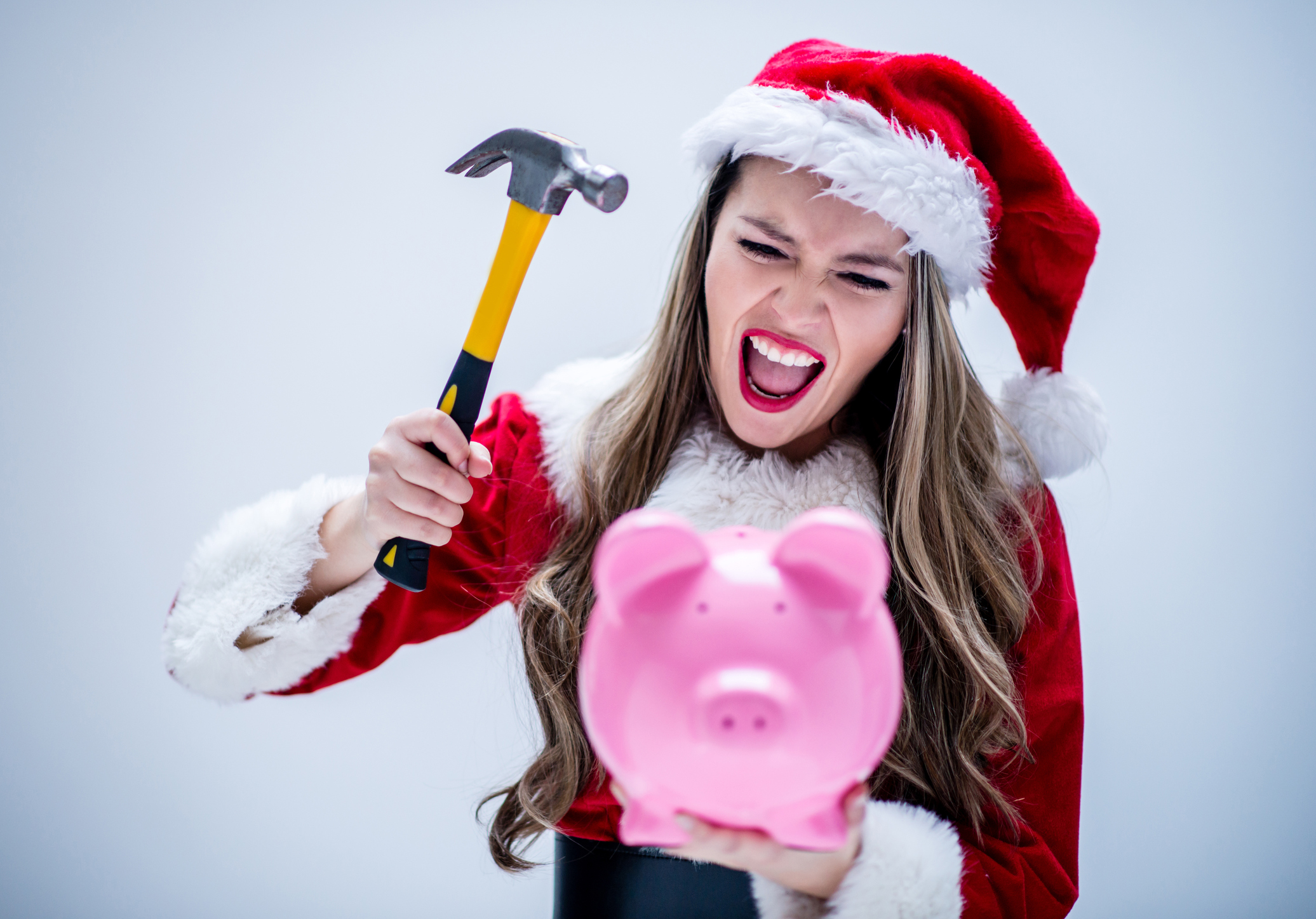 A recent holiday survey found that less than half of Americans (46%) have a specific holiday budget, or even a holiday budget range — and that makes our deal-loving hearts very, very sad. Between travel, parties, gifts, and on-the-go meals, December is one long gauntlet of spending. Not having a plan is one surefire way to end up with a financial hangover in January.
Non-gift spending is an easy and expensive way to rack up debt this season, but there's hope. Use the bad habit checklist below to make sure you know how to avoid holiday overspending.
You Might Be a Holiday Overspender If:
You try to track holiday spending in your head
Odds are you won't remember with any accuracy. This practice is especially dangerous when spending with a debit card linked to available funds in your bank account, and most catastrophic when a couple is shopping with separate debit cards linked to one bank account or racking up charges on different credit cards.
You have no holiday budget
Without a spending limit in mind and cash in your wallet, you are not even trying to improve your financial situation. With a holiday shopping budget in mind, you plan to pay all your December bills on time first, making for a smarter start to the New Year.
SEE ALSO: 'Tisn't the Season: 7 Things You Should NOT Buy Before Christmas
You don't have a specific shopping list
Are you the type that just goes out to try to find something so-and-so will love? Better to think about it beforehand and determine an amount to spend for this person. If you have no idea, then cross the person off your list right now.
You never price check
If you just search for your items in a few quick places, such as Google Shopping or DealNews, you will soon find the best and cheapest place to buy every item. If you don't, you will most likely be paying more and overspending.
You include coworkers, friends, and acquaintances on your holiday shopping list
That's just too many people, and you are probably wasting money buying insignificant gifts for people who are not close to you. (Except teachers. I think your child's favorite teachers deserve a token of holiday appreciation.)
You use credit cards for holiday shopping with no plan to pay the balance before the due date
If you have already given yourself permission to use your credit cards and carry a balance, be prepared to overspend, resulting in a large debt burden through the beginning of next year.
If you have already given yourself permission to use your credit cards and carry a balance, be prepared to overspend.
You use credit cards that are already carrying balances
If you have made the conscious decision to shop with credit cards that already carry balances, be prepared for your credit score to drop in January and your debt to grow, making your life harder in the New Year.
You eat and drink out while holiday shopping
If you buy food and drinks at restaurants and bars while out holiday shopping, you are only adding to your holiday spending tab, without even buying presents.
You shop with friends or a group
This type of overspending is scientifically proven. In a survey of 1,000 Americans from the personal budgeting software company You Need a Budget, 64% of adults said they spend more money when they shop with friends. Ditto for store parties, where you are more relaxed and likely to pay more for an item. Do the heavy shopping alone.
You buy things for yourself while holiday shopping for others
You probably think you deserve to treat yourself. But Dave Ramsey, debt-free disciple, is famous for saying the best treat you can give yourself is financial freedom from debt.
SEE ALSO: 7 Budget-Friendly Holiday Gifts for Tech Fans
You buy everything the week (or the night) before Christmas
If you wait until the last minute, you will be at the mercy of whatever the store is charging because you are out of time, causing you to most likely overspend for everything you buy.
If you checked any one of these, then you're likely headed for holiday overspending. But the good news is hopefully you haven't overspent yet, and you still have time to cut down that shopping list and make a budget for it.
Readers, do you consider yourself a holiday overspender? Why or why not? Share your thoughts in the comments below!
---