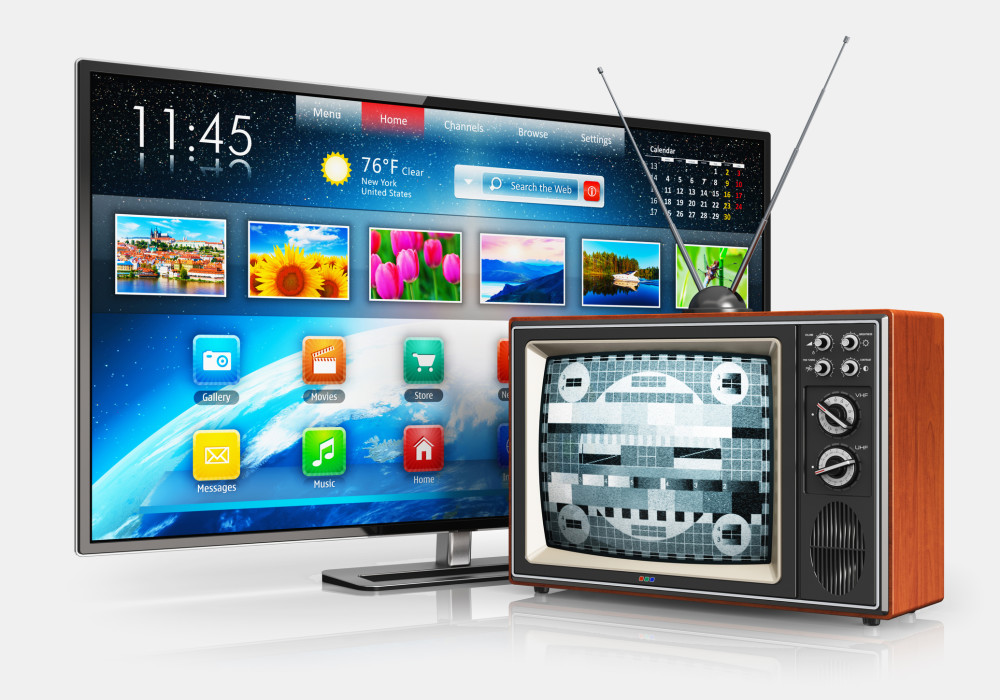 Buying a TV has come a long way since the old days. Right up until the start of the 2000s, all you needed was a modestly sized set with cathode ray tubes, a perfectly square screen, and a plug in the back for your VCR.
Shopping for a TV in 2017 is a bit more complicated than that. You need to think about more than just size. What about screen resolution? Scanning quality? What's the refresh rate? HD or HDR? How many HDMI ports? What about audio? Is it Smart compatible?
With a highly visual event like the Super Bowl coming up, you'll want to do the big game justice by looking at the big picture. So, here are some new features to keep your eyes on, plus other TV buying tips.
LCD and LED
You'll find these 3-letter acronyms tacked onto most sets these days, regardless of price. But what do they mean?
LCD
LCD stands for Liquid Crystal Display, and uses, you guessed it, properties of liquid crystals to create the image on your screen. In technical terms, an LCD TV contains two layers of glass (not one), polarized and aligned so the liquid crystals allow light to either pass through or be blocked, in order to create the picture — pretty sophisticated stuff compared to the tube TVs of yore.
LED TVs utilize edge lighting along the sides of the TV panel for better contrast, brightness levels, and picture quality than a standard LCD TV.
LED
This is where it gets a little tricky: LED TVs are the same thing as LCD TVs, with a twist. Instead of utilizing fluorescent lighting on an LCD TV, LED TVs make use of LED — Light Emitting Diodes — the majority of which utilize edge lighting along the sides of the TV panel for better contrast, brightness levels and picture quality than a standard LCD TV.
Refresh Rate
The faster a TV "refreshes" its image, the better the picture — but there may be more to this than meets the eye, since higher refresh rates may not produce a discernible difference in normal viewing conditions.
The standard refresh rate is 60 times per second, written out as 60Hz, or hertz. A standard signal counts 30 frames of picture per second, refreshing twice per second, hence 60. A 120Hz refresh rate is double that of 60Hz, refreshing 120 times per second.
SEE ALSO: DirectTV vs. Sling vs. PlayStation: Which Live Streaming Service Is Best for You?
Now, this may be irrelevant to the naked eye, since the most you may be able to detect with a lower refresh rate is some slight blurriness or "ghosting" of fast-moving imagery — like a football player running down the line. But generally, the lower the refresh rate, the fewer images there are on the screen per second. This can give the next image that appears on the screen a jumpy, jarring motion that doesn't look fluid or smooth.
TVs are also manufactured with a 240Hz refresh rate, but compare pictures side by side when shopping, preferably of the same program, to see if you can detect refresh rates. Not only do TVs with higher refresh rate technology carry higher price tags, but the difference may be nonexistent to even the sharpest eyes.
Screen Resolution
1080p
A "1080p" screen resolution has been the HD industry standard for several years now and will give you the best picture quality on an HDTV of any screen size, suiting any kind of content, from movies and sports to animated content and gaming. The "p" stands for progressive scan, where (in a 1080p TV) 1,080 vertical and horizontal lines are displayed for each frame all at once, for a clearer picture and more fluid movement.
1080i
Quick eyes will be able to tell the difference between a 1080p and a 1080i picture; in the latter, "i" stands for interlaced, where only half the lines (540) are scanned, then the other half are interlaced to complete the entire picture for each frame. Decide on a resolution depending on the content you view; if you watch a lot of quick-moving content, like sports, a progressive scan monitor will reduce picture flurrying, sharp edges, and distortion.
4K and HDR
But 1080p is now so 2012. Sets with 4K resolutions — such as the 3840x2160-pixel resolution that's four times that of 1080p HDTVs — have been the market standard for a while. You might want to consider a screen with HDR resolution, or High Dynamic Range, which is known to deliver higher color, increased contrast, and crisper image sharpness by enhancing the existing pixels on the screen for more lifelike imaging and movement.
In the way Blu-Ray can "upscale" standard-definition content to closely resemble a high-def picture, HDR can upgrade standard HD. That said, you'll want to make sure you're watching content specifically compatible with HDR, or you might not see a noticeable difference.
In the way Blu-Ray can 'upscale' standard-definition content to closely resemble a high-def picture, HDR can upgrade standard HD.
HDR isn't generally a feature you'd look for on its own. You'll want to shop for a 4K Ultra HD TV with HDR compatibility, but keep in mind that this will place you above the baseline in price — though prices on TVs with HDR are starting to drop as the format becomes more mainstream.
One of the only drawbacks to HDR is that HDR programming is still very scarce, limited mostly to streaming services like Amazon, Netflix, and the like. You'll want to consider if it's too soon to invest in a feature that may face obsolescence. If that's a concern, buying a 4K Blu-Ray player with HDR capability is a good compromise until the resolution becomes the future standard.
Screen Size
Buying a TV that's too big for your living room is like going to the movies when the only available seats are at the front of the theater — too much scope, necks craned, eyes strained. For home viewing, it could mean all that and too much pixilation, which defeats the purpose of a true HD experience in the first place.
But bigger really can be better when it comes to screen size, since one of the most frequent consumer regrets is not buying a TV big enough for their needs. An appropriately sized screen that fits the dimensions of your viewing space may even trump your TV's native resolution quality — a bigger 720p/1080p TV is better than a too-small 4K TV.
SEE ALSO: 10 Ingenious Uses for a Super Cheap Tablet
So how do you determine the right size TV? Determine your minimum and maximum viewing distance — how far you'll be sitting from the screen. For the minimum, Best Buy recommends measuring the screen and multiplying it by 1.5. For a 50" TV, that would be 75 inches, or a bit over 6 feet. For maximum, double the minimum viewing distance; for that same 50" TV, you'll want to be sitting no further than 12 to 13 feet away for maximized viewing.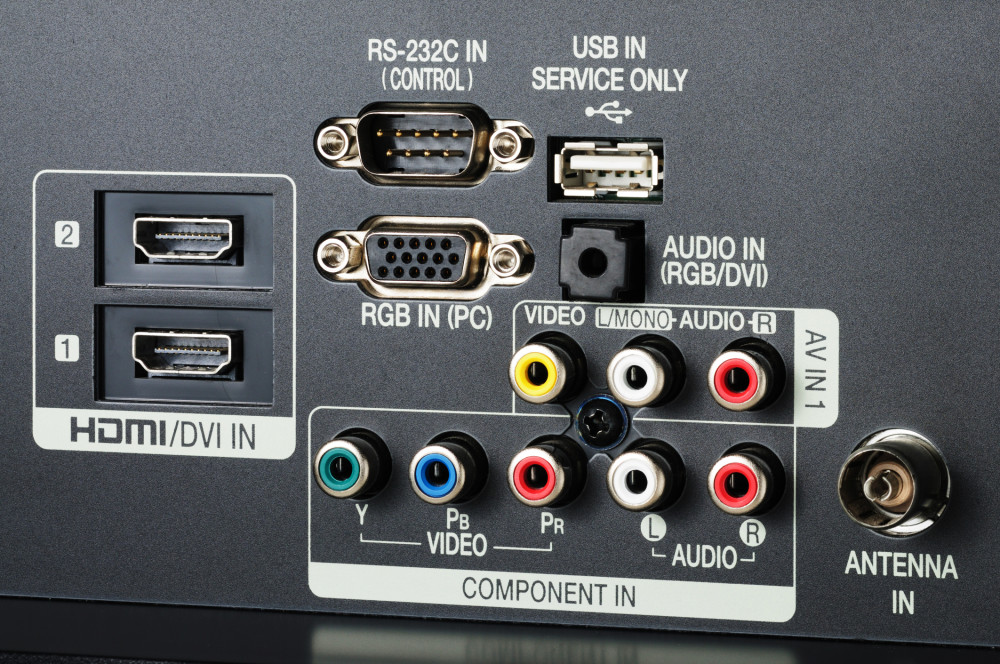 Inputs
As screen sizes and resolution increase, unit sizes are decreasing — or rather, getting thinner. For evidence of this trend, look no further than slim TVs that are less than three inches thick, with bezels less than one inch on the unit. Prioritizing a sleeker, minimal design may lead to thinking that your TV must have as few inputs as possible on the side and rear of the unit.
But if you're going to be gaming, watching cable, plugging in a Roku or other peripheral device, you'll need ample connections. These include:
HDMI: Short for High Definition Multimedia Interface. A single plug that carries audio and HD video, eliminating multiple cords and wiring.
Coaxial cables: Mostly used for cable and antennas.
USB ports: Useful for streaming devices like an Amazon Fire Stick and Chromecast. Some TVs even read flash drives directly.
A/V jacks: Also known as RCA connectors, these recognizable red, white, and yellow plugs will allow you to connect older devices, like DVD players and VCRs to your TV.
One practical suggestion is to look for at least four HDMI ports, just in case. Also, prioritize HDMI and USB if you're forward-thinking; mobile media and streaming tech not only rivals DVD and Blu-Ray quality, but might just outmode both mediums in short order.
And if you're going the 4K TV route, make certain that it has HDMI 2.0 ports to support the format.
Smart Compatibility
A Smart TV — i.e. one with an internet connection that allows you to stream content from the Web and supported apps — may not be the way to go for traditionalists who like to keep their interneting and TVing separate. But if content is king for you, a Smart TV is another way to add to the number of entertainment choices at your disposal, like Amazon Video, Hulu, Netflix, and Pandora.
Ultimately, testing out a Smart TV in the store should mean looking at the interface when the screen is on. Every TV manufacturer may arrange and display their apps and icons differently, so see which screen menu operates most seamlessly and intuitively for you.
SEE ALSO: Hulu Will Soon Offer Live TV for Less Than $40
Again, look for compatibility when necessary. Not every app will support 4K or HDR content, though some manufacturers offer frequent software updates accommodating new technology without the need to go out and buy a new TV — Android TV is one example. Keep in mind that a Smart TV operates like your mobile phone; in order to get iTunes content, you'll need an Apple TV as you would an iPhone.
Be on the lookout for Smart TVs that can actually display the internet as you would on your computer, laptop, or mobile device. More manufacturers are incorporating Web browsing into their Smart TVs, so shop for a set with its own browser to ensure Web capability without the need to hook your laptop up to your TV. Samsung and Sony Android TV are good options for built-in Web browsing capability. And while Apple TV doesn't offer anything inherent yet, you can browse the Web from your TV with this simple hack.
Readers, what TV features are most important to you? Let us know in the comments below.
---