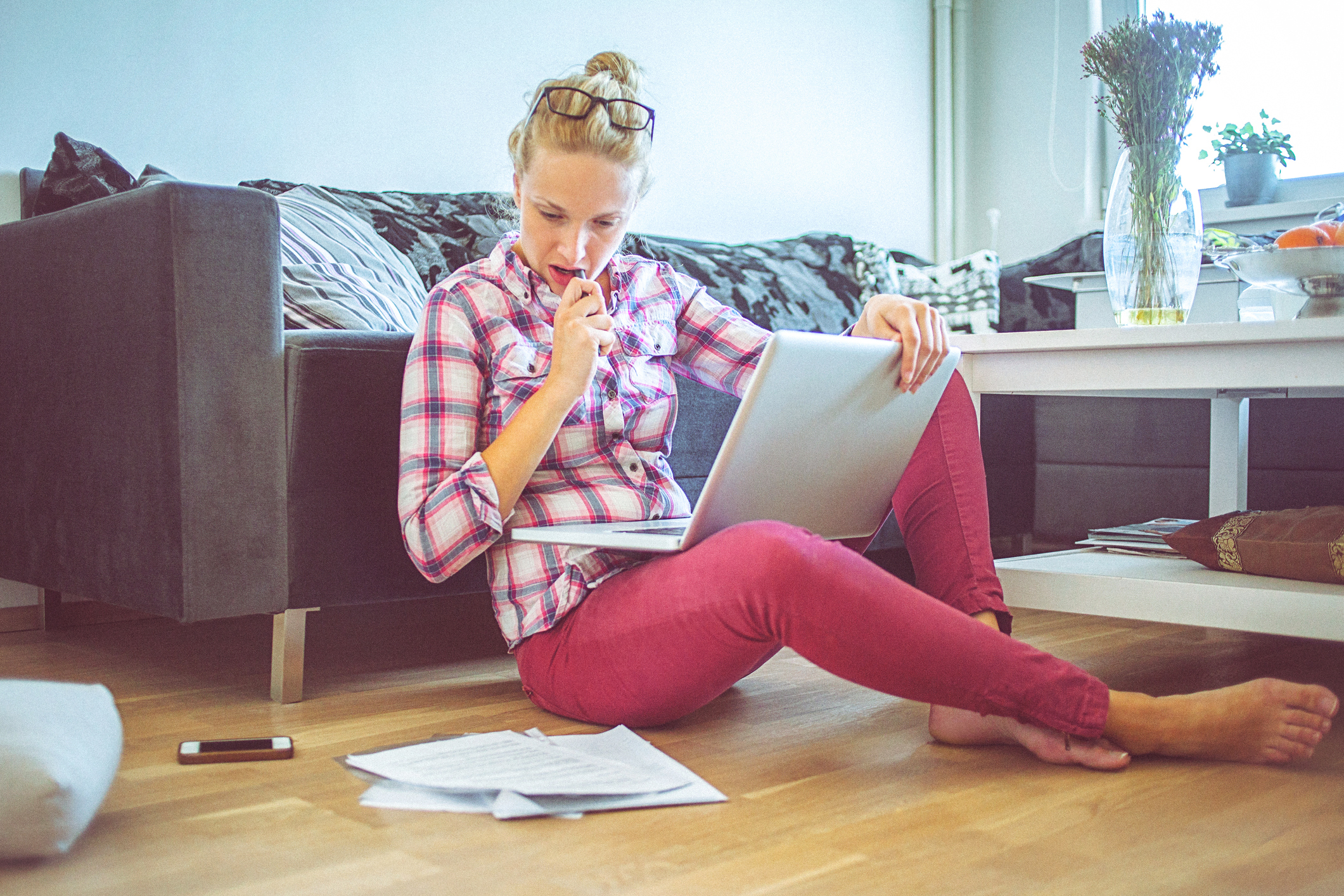 No one enjoys the headache that comes with tax time. There's paperwork to track down, deductions to figure out, and always at least one receipt you can't find. But doing your taxes doesn't have to be hard; tax software can walk you through your return. And unlike accountants, tax preparation software is at your beck and call 24 hours a day, seven days a week — even at 11 pm on April 18, for those of you waiting until the very, very last minute.
Today's tax prep programs are as convenient as tax preparation gets. But what do you need — and how much do you have to pay to get it? To help you decide, we run down the pros, cons, and costs of the best tax software out there.
What to Expect From Tax Prep Software
Every tax program follows the same basic formula. Instead of making you go through a complicated web of tax paperwork, it asks you straightforward questions and uses your answers to fill out IRS forms. On-line help can walk you through what everything means in plain English, making taxes simple even if you've never done them before.
SEE ALSO: When Should You Hire a CPA to Prepare Your Taxes?
Support from real tax experts is available — either by email, phone, chat, video chat, or even in person — to help you with any tricky questions. Some programs even offer free professional support if you get audited. When you're finished with your return, the application will review it to catch any possible mistakes and help you correct them.
All will e-file your return for no additional fee (though state e-filing may cost extra). This is the quickest way to send in your return and get your refund.
What You'll Pay
These applications have a dizzying array of versions that can cost anywhere from $0 to $114.99. Each offers a free version for simple returns that just take the standard deduction (or in tax terms, a 1040EZ or 1040A). For most people, that's the quickest and easiest way to get taxes done, but it may not make the most of your deductions.
You'll pay more to access additional IRS forms — but which forms you need will depend on your financial situation. You don't have to pay a lot for more features; the lowest-cost option, between $19.95 and $54.99, is good enough for most. No matter the program, these versions let you itemize deductions to maximize your refund. If you have investments or rental property, you'll likely need to spend a little more ($27 to $74.99), and if you have self-employment income, you'll need the priciest versions ($37 to the aforementioned $114.99).
Procrastinators, watch out: Most tax software prices go up the closer you get to Tax Day.
Bear in mind that this is just for federal returns. While these applications also handle state returns, those require an extra cost. As with federal returns, simple state returns are usually free, but more complicated state returns will cost $33 to $39.99 extra.
Procrastinators, watch out: Most prices go up the closer you get to Tax Day. For example, TurboTax Deluxe is currently discounted to $34.99, but normally costs $54.99. Even if you aren't ready to do your taxes today, you'll save by buying your tax software early.
Now let's look at the best tax software out there.
The Top 4 Tax Software Programs
Free File
Free File from the IRS may be the best choice for those who like the sound of free software, but want something a little more full-featured than freebies from most major tax apps. If your income was $64,000 or less in 2016, you can choose from a selection of Free File software options. They'll walk you through your tax paperwork (state and federal) just like any other major program. If your income is above $64,000, though, all the free IRS offers are straight-up forms to fill out.
SEE ALSO: 3 FREE Ways to File Your Taxes Online
Free File is a great, low-cost way to get your taxes done if you're in the right income range — more than 70% of taxpayers are — but for more complicated financial situations, you'll likely want to look at other options.
TurboTax
Intuit's TurboTax is the top tax program for a reason: Its clean interface and straightforward help system are the best out there. TurboTax has won more PCMag Editors' Choice awards than any of its competition. In addition to TurboTax's comprehensive built-in help, all of its pay-for versions offer live video chats with credentialed tax professionals to answer any questions you might have. They can even draw on your screen to point you to the right answer.
But the best app also has the biggest price tag. Aside from the Free Edition, TurboTax's online products start at $54.99 (though it's discounted to $34.99 if you buy early) and go up to $114.99. If you need more than the basic 1040EZ, TurboTax Deluxe (currently $34.99; $54.99 MSRP) can help you through itemized deductions. Premier (currently $54.99; $74.99 MSRP) adds support for investments and rental property, and Self-Employed (currently $89.99; $114.99 MSRP) adds support for business expenses.
TurboTax's clean interface and straightforward help system are the best out there.
While Self-Employed is the most expensive tax app on the market, it includes a year's subscription to QuickBooks Self-Employed, a $120 value. So if you're looking for a better way to track self-employment income, TurboTax Self-Employed may be a good value. State returns add an extra $36.99 ($39.99 MSRP) to the package.
TurboTax provides free audit coverage, with one-on-one guidance to help you prepare in case you're audited. And for an additional fee, TurboTax will provide a professional to represent you if you're audited. Think of it as audit insurance.
H&R Block
You probably know H&R Block from its retail locations scattered around the country, but the company also offers a suite of software for tax DIYing. The interface and help system are solid, though TurboTax is a bit more polished. Still, the software is completely useable, and you'll pay less for it.
For the basic 1040EZ, you can file for free, but itemized deductions require the Basic version (currently $19.95; $29.95 MSRP). Deluxe (currently $44.95; $54.95 MSRP) adds support for investors and homeowners, while Premium (currently $64.95; $74.95 MSRP) adds support for self-employed taxpayers. The top-tier option, Premium & Business (currently $79.95; $89.95 MSRP), is more than most users need. It adds the tax tools required when you run your own business, including corporate tax forms, and helps with generating W-2 forms for employees.
SEE ALSO: Deduct Your Dry Cleaning! The 10 Most Overlooked Tax Deductions
A state program is included for everything above Basic — and since state programs are $39.95 on their own, you may as well buy Deluxe if you need to file a state return. One hidden cost is state e-filing; it adds an extra $19.95 per return.
H&R Block's audit support is more limited than TurboTax's offering, but the former does offer free in-person audit support in case you get audited. However, professional representation is something you'll have to pay for on your own.
TaxACT
If you want an option that's light on the wallet, but with more features than Free File or the no-cost offerings from TurboTax or H&R Block, TaxACT is for you. While TaxACT also has a freebie version, more full-featured versions come at a much lower cost than the ones from the rest of the pack. TaxACT Plus ($27) includes itemized deductions and support for investments, while TaxACT Premium ($37) adds business expenses for the self-employed. State returns add an extra $33.
TaxACT also guarantees its prices won't change depending on when you file — so you'll pay the amount that's listed when you start your return, even if you file at the very last second.
Now, what do you lose by going with the budget option? TaxACT's interface is more basic than its competition's. It still gets the job done, though. The database of help topics is also a bit less comprehensive, but like TaxACT's Spartan interface, it includes everything you need — and help is available by phone or email if you have more questions. Audit support, however, is nonexistent. If you do wind up with an audit, you're entirely on your own.
Readers, how are you tackling your taxes this year? Did we forget to mention any great tax software options? Let us know in the comments below!
---