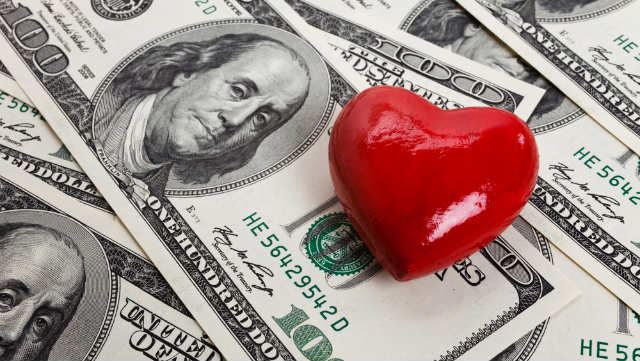 Valentine's Day has never been about saving money. Indeed, if there is any holiday that preys on pocketbooks, it is perhaps this one. Retailers and restaurateurs are aware of the mandate placed on you to wow your paramour, and they take full advantage of it. That said there are deals to be had if you plan ahead and know what to look for and when to look for it.
Cupid Comes Early
If you really want to be ahead of the game you'd start shopping… well, now! We've just seen the initial deals of the Valentine's Day shopping season. Personalization Mall was first on January 13, with up to 30% off its selection of personalizable gifts, while Cheryl's followed the following day with a sweat deal on a Valentine Cookie Greeting Card; the card is $5.99 with free shipping, but comes with a $5 Cheryl's Gift Card for a net cost of just a buck. And Szul just posted their first Valentine's Day deal: an extra 15% off jewelry already discounted up to 94%. That already beats any of their deals from last year, which topped off at an extra 10% off.
However, you won't see the bulk of Valentine's Day deals until February, with more than 70% of the deals we saw last year coming between February 1 and 14. That said, some stores' best deals come early. On January 30 last year, Amazon took an extra 30% off jewelry, a discount it wouldn't match until March.
And while in past years, Valentine's Day deals haven't been as strong as those we saw from the same stores in the subsequent spring months — April, in particular — last year we didn't see the dramatic difference in discounts to warrant such an assertion.
Bling and Blooms Dominate
As in years past, this year we can expect to see the most deals for jewelry and flowers. In 2015, those categories represented 26% and 17% off all deals, respectively. You can expect jewelry discounts to range from 60% to 93% from such retailers as those mentioned above and Blue Nile.
Flowers will be discounted by approximately 20% to 50% by such vendors as 1-800-Flowers, FTD, and ProFlowers. You're likely to do better, however, if you keep your eye out for a voucher from Groupon. Last year, they offered a $40 FTD voucher for $16, which was $4 less than the year before, so perhaps we'll see this voucher further discounted this year.
Save on Valentine's Day Dinner
Meanwhile, other traditional Valentine's Day presents like perfume and chocolate account for a very small portion of the deals we saw last year, representing 4% and 3% of all deals, respectively. If you're looking to save money, you're more likely to find savings going out to dinner — provided you're not looking to go anywhere fancy. Last year, chains like P.F. Chang's and California Pizza Kitchen offered dining deals, while if you really wanted to go casual Qdoba offered a BOGO smothered burrito deal if you kiss someone. Or if you'd rather stay in, be sure to watch out for Groupon's Valentine's voucher for Omaha Steaks, which last year yielded savings starting at $122.
Say "I Love You" with Video Games
Of course, not everyone goes the typical Valentine's Day route of flowers and dinner, and if you're a little creative, you're more likely to find a bargain for your sweetheart. Last year, Snapfish took 50% off its selection of Valentine's Day items that you can personalize with your own photos. Or if you're sweetie is the gaming type, PlayStation Store cut up to 80% off a selection of game downloads. (I'll let you figure out how to wrap those.)
We've also seen sales on used CDs (?) and computers, as well as general sales from such stores as Kohl's, 6pm, and Juicy Couture, so you can find a deal on just about any kind of gift if you look hard enough.
As you can see, with a little foresight, it is possible to celebrate Valentine's Day without breaking the bank. How will you save money this year? Let us know in the comments.
---