With the Samsung Galaxy S8 (no fire extinguisher required, thankfully) and the LG G6 both recently hitting the market, maybe you're thinking it's time for a new phone. Whether you want the latest tech or you're willing to settle for an older generation, we've got 5 picks you just have to see in our roundup of the week's best cell phone deals.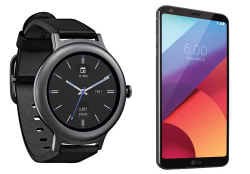 Unlocked LG G6 32GB Phone with LG Smartwatch
Store: B&H Photo Video
Price:

$649.99


Shipping:

$8.82 s&h


Lowest By: $186

CNET says if you're feeling a little apprehensive about Samsung, the LG G6 is a solid way to go instead. It gives the new handset a rating of 8.5, and praise it for its water-resistant design, expansive display, and wide-angle camera. You'll save $186 with this deal, which includes an unlocked LG G6 32GB Dual-SIM 4G LTE GSM Android smartphone bundled with the LG Watch-Style Android smartwatch. Choose from several color combinations (Black/Titanium pictured).

The phone features a 5.7" 1440x2880 IPS HDR touchscreen, dual 13-megapixel HDR cameras, 4K 2160p video capture at 30fps, and Android 7.0 (Nougat). The watch features a 1.2" 360x360 P-OLED display, 4GB storage, and Android Wear 2.0 OS.




Samsung Galaxy S8 / S8+ Deals
Store: Best Buy
Discount: Buy one Galaxy S8, get a second one for free
Shipping: At Best Buy stores
Expiration: May 3

If you have no reservations about buying Samsung's latest handset, the good news is that there are deals for almost every major carrier right now when you shop at Best Buy. Buy a Samsung Galaxy S8 for AT&T from $25/month for 30 months, and get a 2nd Galaxy S8 free. Alternatively, opt to buy a Samsung Galaxy S8+ for AT&T from $28.34/month for 30 months, and get a 2nd Galaxy S8+ free. (Note, both of the AT&T offers are for DirecTV customers only, but not the offers from other carriers.) The Galaxy S8 and S8+ phones both feature a thin-bezel design, 64GB storage, and a camera with dual-pixel technology. It earns high praise from TechRadar for its large display, great camera, and powerful design. Check out the other deals here.

Switching to Verizon? Verizon Wireless charges the same and also offers a $50 Visa Gift Card via this online rebate and promo code "SWITCH50". Additionally, Sprint charges the same and advertises a free activation fee. (It's unclear if Best Buy charges the fee.) AT&T also charges the same for its phones, with online ordering available.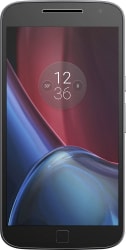 Unlocked Moto G Plus 16GB Android Phone
Store: B&H Photo Video
Price:

$159.99


Shipping:

Free shipping


Lowest By: $15

Latest tech not at the top of your priority list? You can bag an unlocked version of the 4th-generation Motorola Moto G Plus 16GB Android Smartphone in Black for $159.99 with this deal. It features a 5.5" 1920x1080 (1080p) touchscreen display, Qualcomm Snapdragon 617 1.5GHz 8-core processor, 2GB RAM, 16GB internal storage, 16-megapixel rear camera, 5-megapixel front camera, microSD card slot, 802.11n wireless, Bluetooth 4.0, and Android 6.0 (Marshmallow).

Of note, Amazon charges the same for Prime members only.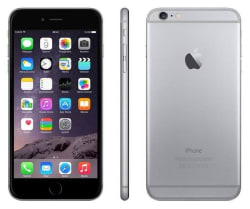 Refurb Unlocked Apple iPhone 6 Plus 128GB
Store: eBay
Price: $329.99 EXPIRED
Shipping: Free shipping
Lowest By: $30
Expiration: May 4

Upgrading to the newest iPhone often means shelling out a huge chunk of money upfront, or locking yourself in to another carrier contract for 24 to 30 months to pay it off. If you're not eyeing the iPhone 7 yet (or you just want to hang on to the audio jack without having to use a dongle), you can save $30 on this refurbished and unlocked Apple iPhone 6 Plus 128GB GSM Smartphone in Space Gray. This Editors' Choice pick is actually the cheapest unlocked iPhone 6 Plus 128GB we've seen.

Note: A 30-day warranty applies but it's unclear who backs it.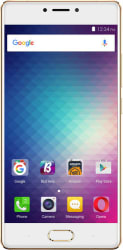 Unlocked Blu Pure XR 64GB LTE Smartphone
Store: B&H Photo Video
Price:

$179.99


Shipping:

Free shipping


Lowest By: $120

The Blu Pure XR 64GB LTE Android smartphone is a solid option that's sort of middle-of-the-road. It's not the best device you'll find, but it's certainly not the worst. PCMag gives it decent marks for its affordability, design, crisp display, and features like a fingerprint scanner and expandable storage. You'll save $120 on this unlocked version in Gold. It has a 5.5" 1920x1080 (1080p) touchscreen display, front- and rear-facing cameras, fingerprint reader, and Android 6.0 (Marshmallow).