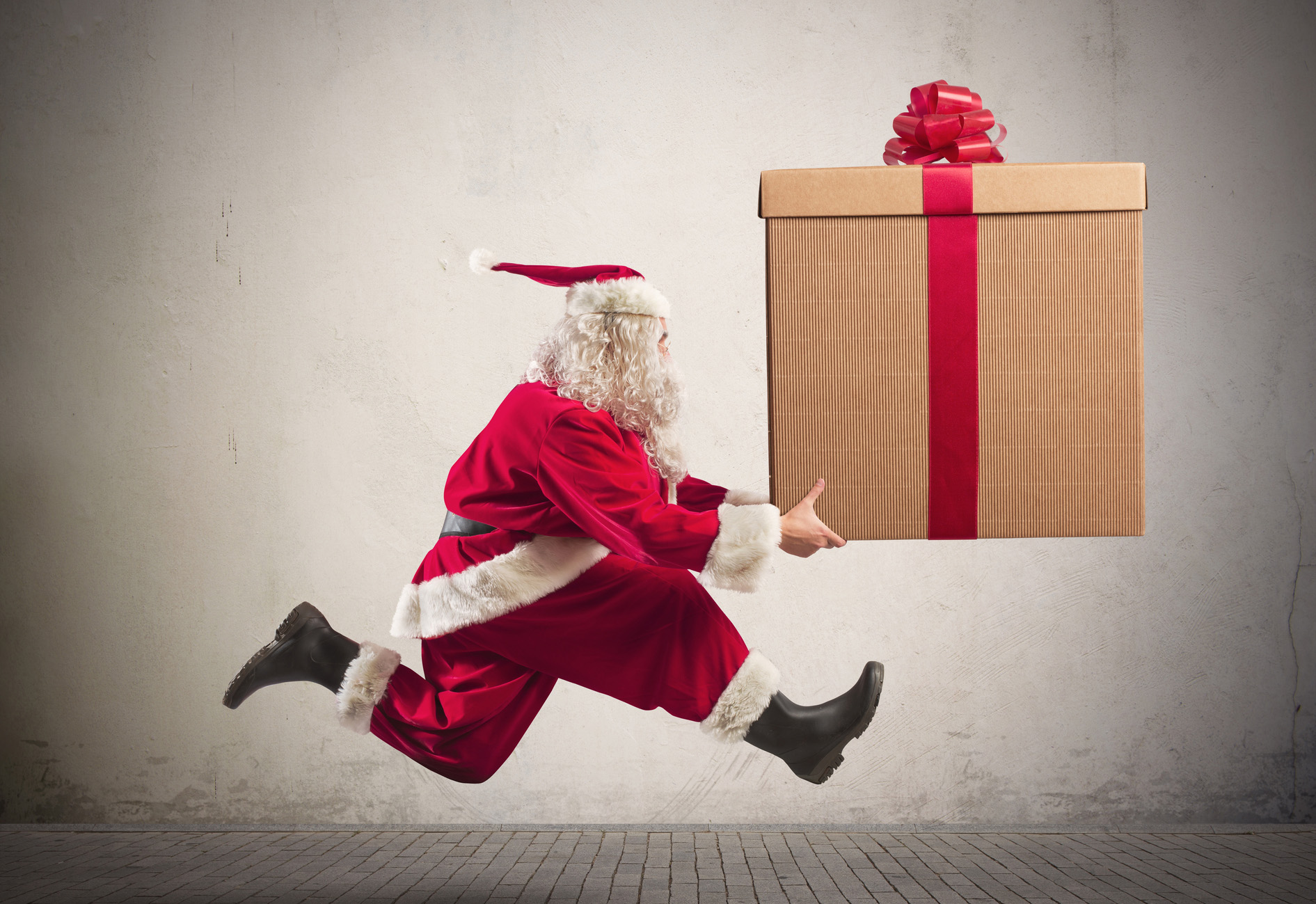 The holiday season is definitely in full swing, and if you've still got some shopping to do, then now is the time to do it. Avoid the stress of a last-minute mall stop and exorbitant shipping fees by checking out our list of cutoff dates for Christmas delivery.
We've collected deadlines for the season's the most popular retailers, and some of them will even upgrade you to 2-day or next-day shipping if you meet certain requirements.
Please note: Some retailers have yet to post details about their holiday deadlines. We'll update our list as new deadlines become available. All times listed below are ET. In most cases, stores will use "business days" when calculating arrival times.
Need some help figuring out what to buy? Check out our list of gifts that seem expensive, but are actually totally affordable. Or if you're completely lost, go for the gift card option (you can even score some seriously awesome freebies for yourself). And don't forget to see our list of the top things to look for during After Christmas sales — just in case you have to write an IOU.
Carrier Christmas Shipping Deadlines
Store
Standard Delivery
Expedited Delivery
FedEx
12/16
12/20
(express saver)
12/21
(2 day)
12/22
(overnight)

UPS
12/19
(3 day)
12/21
(2 day)
12/22
(next day)
USPS
12/15
12/20
(first-class mail)
12/21
(priority mail)
12/22
(priority mail express)
Christmas Shipping Deadlines
Store
Standard Delivery
Expedited Delivery
Abercrombie & Fitch
12/15 at 12 pm
(fragrance, body mist, and body spray)
12/18 at 12 am
12/19 at 12 pm
(gift card orders)
12/22 at 12 pm
Adorama
12/19 at 7 pm (Western US)
12/22 at 7 pm (Eastern US)
12/18 at 1 pm
12/19 at 11:30 am
(UPS 3-day)
12/21 at 4 pm
(UPS 2-day)
12/22 at 4pm
(UPS next day)
Aeropostale
12/20 at 11:59 pm
12/21 at 12 pm
(2 day)
12/22 at 8 pm
(1 day)
Allen Edmonds
12/14 at 12 pm
12/21 at 12 pm
(2 day)
12/22 at 12 pm
(next day)
Amazon
12/16 at 11:59 pm
(free shipping)
12/19 at 11:59 pm
(standard)
12/22 at 11:59 pm
American Eagle Outfitters
12/21 at 6 am
12/22 at 1 pm
(2 day)
12/23 at 1 pm
(overnight)
Athleta
12/20 at 11:59 pm
12/22 at 3 pm
Backcountry
12/16 at 7 pm
12/21 at 7 pm
(2 day)
12/22 at 4 pm
(next day)
12/23 at 2 pm
(Saturday delivery for eligible locations)
Banana Republic
12/18 at 11:59 pm
12/22 at 3 pm
Barneys
12/17 at 11:59 pm
12/19 at 11:59 pm
(2 day air)
12/20 at 11:59 pm
(next day air)
Bath & Body Works
12/16 at 11:59 pm
12/21 at 5:59 pm
12/22 at 5:59 pm
(overnight)
BCBGMAXAZRIA
12/14 at 5 pm
12/21 at 2 pm
(2 day)
12/22 at 2 pm
(next day)
Bed Bath & Beyond
12/19 at 11:59 pm
12/21 at 11:59 pm
Best Buy
12/21 at 11:30 am
12/22 at 11:30 am
Bloomingdale's
12/21 at 5 pm
12/21 at 5 pm
(premium)
12/22 at 12 pm
(express)
Brooks Brothers
12/18 at 12 am
12/20 at 12 pm
(2 day)
12/22 at 12 pm
(next day)
Cabela's
12/20 at 5 pm
12/21 at 12:30 pm
(guaranteed express)
12/22 at 12:30 pm
(overnight air express)
The Children's Place
12/16 at 11:59 pm
Coach
12/22 at 12 pm
Cole Haan
12/14 at 3 pm
12/21 at 3 pm
Columbia
12/16 at 1 am
12/20 at 1 am
(2 day)
12/21 at 1 am
(overnight)
Converse
12/21 at 5 pm
Crate & Barrel
12/19 at 3 pm
12/22 at 1 pm
Disney Store
12/18 at 11:59 pm
12/20 at 11:59 pm
(3 day express)
12/21 at 11:59 pm
(2 day express)
Duluth Trading Co.
12/19 at 12:59 am
12/21 at 12:59 am
(2 day)
12/22 at 12:59 am
(overnight)
Eddie Bauer
12/22 at 2:59 am
12/23 at 2:59 am
Express
12/18 at 11:59 pm
12/21 at 2 pm
(2 day)
12/22 at 2 pm
(next day)
Fanatics
12/16 at 2:59 am
12/19 at 2:59 am
(3 day)
12/20 at 2:59 am
(2 day)
12/21 at 2:59 am
(next day)
Figi's
12/17 at 9 pm
12/18 at 9 pm
(priority)
12/21 at 11 am
(2 day)
12/22 at 11 am
(1 day)
Finish Line
12/15 at 11:59 pm
(economy)
12/18 at 11:59 pm
(ground)
12/20 at 11:59 pm
(rush)
12/21 at 11:59 pm
(express)
GameStop
12/15 at 12 pm
(value saver)
12/19 at 12 pm
(ground)
12/20 at 12 pm
(expedited)
12/21 at 12 pm
(1 day)
Gap
12/18 at 11:59 pm
12/22 at 3 pm
Guess
12/15 at 5 pm
12/21 at 5 pm
(2 day)
12/22 at 5 pm
(1 day)
Hollister
12/18 at 12 pm
12/22 at 12 pm
Home Depot
12/21 at 12 pm
12/22 at 12 pm
Kohl's
12/19 at 11:59 pm
12/20 at 3 pm
(2 day)
12/21 at 2 pm
(1 day)
Lands' End
12/18 at 11:59 pm
(monogramming, tailoring, and gift-wrapping)
12/19 at 11:59 pm
(fresh greenery)
12/20 at 11:59 pm
(standard)
12/21 at 11:59 pm
LEGO Shop
12/11 at 12 pm
12/20 at 12 pm
L.L.Bean
12/21 at 12 pm
12/22 at 12 pm
Lowe's
12/19 at 12 pm
Macy's
12/21 at 5 pm
12/21 at 5 pm
Madewell
12/20 at 11:59 pm
12/22 at 12 pm
Mikasa
12/18 at 11:59 pm
12/20 at 11:59 pm
(expedited)
12/21 at 11:59 pm
(next day air)
ModCloth
12/13 at 2:59 am
(savvy saver)
12/17 at 2:59 am
(ground)
12/21 at 2:59 am
(express)
12/22 at 2:59 am
(asap)
Neiman Marcus
12/21 at 1 pm via code "NMRUSH"
Newegg
12/14 at 12 pm local time
12/16 at 12 pm local time
(large item delivery)
12/20 at 12 pm local time
(3 day)
12/21 at 12 pm local time
(2 day)
12/22 at 12 pm local time
(1 day)
Nordstrom
12/21 at 12 pm
12/22 at 12 pm
The North Face
12/16 at 2:59 am
(3 day)
12/20 at 2:59 am
(2 day)
12/22 at 2 pm
(overnight)
Old Navy
12/18 at 11:59 pm
12/22 at 3 pm
Origins
12/20 at 3 pm
12/21 at 3 pm
(2 day)
12/22 at 3 pm
(overnight)
PacSun
12/14 at 4:30 pm
12/16 at 4:30 pm
(express)
12/21 at 12:30 pm
(2 day)
12/22 at 12:30 pm
(overnight)
Patagonia
12/15 at 3 pm
12/21 at 3 pm
Petco
12/18 at 11:59 pm
12/20 at 11:59 pm
(2 day)
12/21 at 11:59 pm
(next day)
Pier 1 Imports
12/16 at 12:59 am
PUMA
12/17 at 11:59 pm
12/20 at 11:59 pm
(2 day)
12/22 at 2 pm
(1 day)
Ralph Lauren
12/21 at 11:59 pm
12/22 at 3 pm
REI
12/21 at 1 pm
Sierra Trading Post
12/20 at 2 am
12/21 at 9 pm
(2 day air)
12/22 at 4 pm
(overnight)
Soma
12/18 at 2 pm
12/20 at 2 pm
(express and 2 day)
12/21 at 2 pm
(next day)
Sonic Electronix
12/17 at 12 pm
12/19 at 12 pm
(3 day)
12/22 at 12 pm
(2 day)
12/23 at 12 pm
(1 day)
ThinkGeek
12/16 at 12 pm
12/19 at 12 pm
(expedited)
12/21 at 12 pm
(express)
Toys"R"Us
12/19 at 11:59 pm
12/21 at 3 pm
(expedited)
12/21 at 11:59 pm
(express)

Under Armour
12/21 at 1 pm
Vera Bradley
12/15 at 11:59 pm
(economy)
12/18 at 11:59 pm
(standard)
12/21 at 2 pm
(expedited)
12/22 at 2 pm
(express)
Victoria's Secret
12/15 at 5 pm
12/20 at 5 pm
(3 day)
12/21 at 5 pm
(2 day)
12/22 at 5 pm
(next day)
12/23 at 5 pm
(Saturday delivery)
Walmart
12/20 (standard)
12/22 (rush)
West Elm
12/16 at 11:59 pm
12/20 at 10 pm
(rush)
12/22 at 9 pm
(next day)
Williams-Sonoma
12/20 at 5 pm
12/22 at 9 pm
Yankee Candle
12/13 at 1 pm
(economy)
12/15 at 1 pm
(standard)
12/20 at 1 pm
(3 day)
12/21 at 1 pm
(2 day)
12/22 at 1 pm
(next day)
Zales
12/19 at 11:59 pm
12/21 at 11:59 pm
(2 day air)
12/22 at 4 pm
(next day air)
12/23 at 4 pm
(Saturday delivery where available)
Still need help for the holidays? Sign up for the DealNews Select Newsletter for gift ideas that won't break your budget. (Plus, save on everything big and small throughout the year too!)