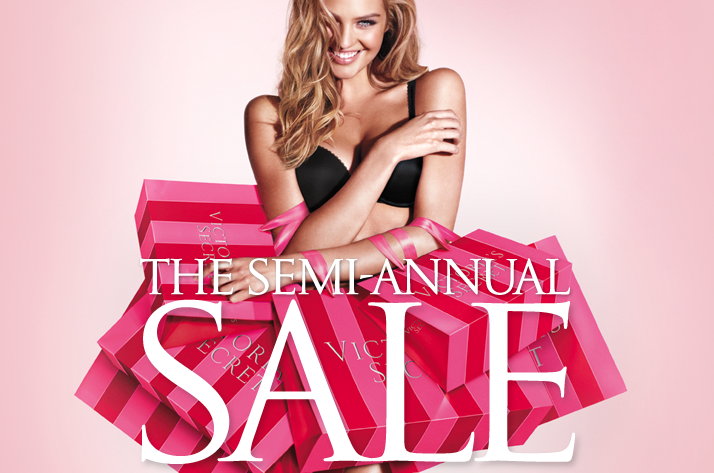 The Victoria's Secret Semi-Annual Sale is here!
Bras start at $10, but we've rounded up our top picks under $25 here. You can also view the full sale here. (We're particularly excited about the $10 bras!)
When Is the Victoria's Secret Semi-Annual Sale?
Victoria's Secret, the most popular lingerie retailer in the country, is well-known for its Semi-Annual Sales, in which the store offers clearance-level prices on a variety of bras, panties, and clothing.
Women in need of budget-friendly wares flock to these sales en masse, so it's important to be aware of when the sales will start, and how to make the most of the savings.
And luckily, we're fast approaching 2016's winter semi-annual sale!
When Are the 2016 Semi-Annual Sales?
As the name would suggest, Victoria's Secret's famed Semi-Annual Sale is held twice each year. Typically the store will offer the sale in June and December. We already saw this year's June installment, and 2015's winter sale started on December 28. As a result, we expect this season's semi-annual sale to start any day now!
SEE ALSO: Victoria's Secret Is Ditching Swimwear: Here's How to Stock Up on Discounted Suits
The sales typically last three to four weeks. If you plan to shop in-store, consider shopping at the beginning of the sale, before your local store is picked over by customers. This is especially important if you fall into a commonly-worn size category, as these can be the first items to sell out.
What Discounts Will Victoria's Secret Offer?
The store will usually take up to 70% off a variety of items. While you might want to shop early in order to take advantage of a more diverse selection of stock (as noted above), if you're patient, the store will release additional discounts as the sale progresses.
For example, in the past, Victoria's Secret has deepened its overall discounts after about two weeks, while it has also offered additional coupons at up to three weeks. Look for shipping coupons that offer free delivery with a minimum purchase, or a code that takes an extra discount like 20% off already-reduced prices.
What Should You Buy?
Bras will drop to around $30 a piece, but be on the lookout for deals that offer lower per-unit prices when you buy multiples. For example, last year we saw a deal that offered two cotton Perfect Lingerie bras for $49.50. Panties deals will also be popular — last year we saw a deal for five pairs for $15.
SEE ALSO: Your Favorite Shopping App Might Be Fake
And if you're a big fan of the brand's swimwear, then now is absolutely the time to buy; Victoria's Secret announced that this will be the last year it sells swimsuits, so fans of the gear should look carefully for options in the December semi-annual sale. One of the biggest draws to VS swimwear is that the tops come in cup sizes, rather than the ubiquitous (and often insufficient) small, medium, and large.
How to Save at Victoria's Secret Throughout the Year
Check out our full store guide here, and see what the latest Victoria's Secret coupon codes are here.
---
Related DealNews Features: