As Memorial Day approaches, many shoppers will consider buying a grill. After all, the holiday is the unofficial start to outdoor entertaining season! But as we've noted, many times over, now is not the best time to buy a grill.
But when is a good time to buy a grill, you may ask. How long will you have to wait?
Patience Will Yield the Best Prices
In general, our research has shown that discounts are the steepest in August and September. This follows the overall thrust of seasonal cycles in general; as the season draws to a close, stores will put associated items on sale, reaching clearance-level pricing the longer you wait.
To illustrate this trend, we took a look at two specific grill types — a Kenmore 4-burner gas grill, and a Char-Broil 2-burner gas grill — over the course of the 2014 summer season, to see how this pricing cycle plays out.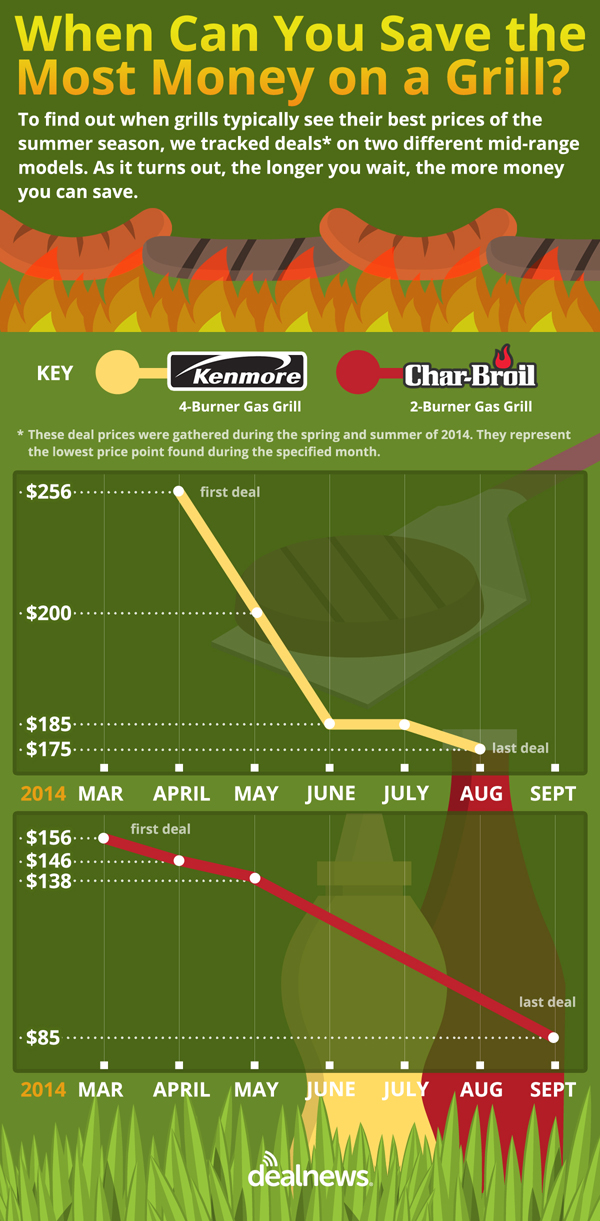 In both cases, the lowest price came at the end of the summer season. For the Kenmore, this occurred in August, which was a 32% decrease from its initial deal price. The Char-Broil grill made it to September, logging 46% in savings compared to March.
If you're the sort of person who likes to buy Christmas decorations on December 26, then your best bet will be to wait until August or September.
But as you can also see in this chart, prices will continue to drop throughout the season; therefore, if you don't want to wait until the end of the season, and you'd rather buy a grill while there's still time to enjoy it this year, then June or July offer fairly good discounts.
However, if you're the sort of person who likes to buy Christmas decorations on December 26, then waiting until August and September — particularly around Labor Day weekend sales — will yield the best savings. Look for sales that take up to 50% off grills and up to 75% off accessories at stores like Sears and Home Depot, and consider setting up an email alert or signing up for the home goods newsletter to get sales delivered to your inbox.
Readers, are any of you on the hunt for a grill this year? Will you wait to buy, or will you purchase one at the beginning of the season? Share your thoughts in the comments below!
---