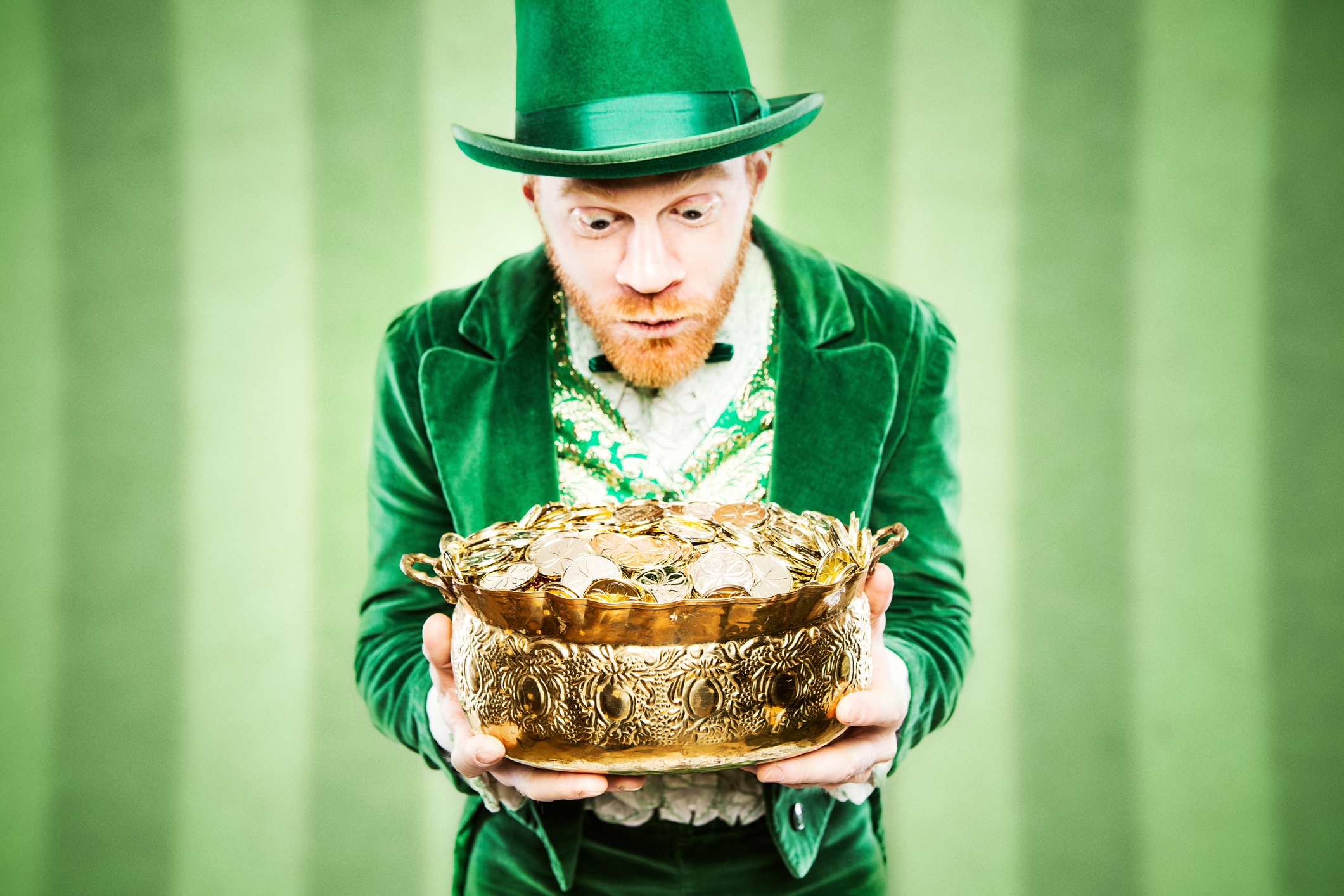 We're now firmly in the late winter/early spring shopping lull that can drag down stores and shoppers alike. With President's Day behind us and Memorial Day still months away, stores are desperate to bring in shoppers — and they'll offer discounts for just about any holiday to make that happen, from St. Patrick's Day to Pi Day. Plus, any seasonal winter merchandise is now likely to languish on shelves until next year, which means you can take advantage of clearance prices.
SEE ALSO: The Best (and Worst) Things to Buy Every Month of the Year
8 Things to Buy This Month
Chocolate
Did you not get the sweets you hoped for on Valentine's Day? Luckily, you can peruse high-end chocolate shops for any lingering V-day treats. As always after a holiday, themed sweets go on sale at any store with overstock. This month, look for treats that haven't been gobbled up and you'll find discounts of up to 50% off on already-discounted clearance items at places like Ghirardelli. That could bring a $60 gift bag down to a final price of $15! Godiva meanwhile offers free shipping on various days throughout the month, which saves up to $8 on orders. Also check the gift section of department stores for other decadent ways to treat yourself on a budget.
Frozen Foods
Did you know that March is National Frozen Food Month? And this isn't one of those made-up events — participating brands include Green Giant, Dole, Eggo, Jimmy Dean, Pepperidge Farms, Best Yet, Bob Evans, Safeway, and Tyson. So keep an eye out for discounts from these brands and grocery stores. Look for 10% off frozen items, though you might have to buy several to qualify for the discount.
St. Patrick's Day Deals and Freebies
Check out deals from Marie Calender, Einstein Bros., Friendly's, Sonic, and more this St. Paddy's Day, whether it's a dollar off your purchase, BOGO breakfast entrees, or even half off select items. IHOP and Stewart's Shops even gave discounts to anyone wearing green last year.
Something you might not think of on St. Patrick's Day: Flowers! Following Valentine's Day and with Mother's Day still two months off, florists are probably a little desperate to make sales. We saw 15 to 25% off from Teleflora and 1-800-Flowers with coupon codes last year.
Gift Cards
Eager to get customers spending during the slowdown between President's Day and Memorial Day, stores open up the flow of gift cards in March: we saw 7 to 14 times more Editors' Choice deals than in February and April. For example, a Lowe's $100 gift card went for $75 in March last year, but shot up to $90 the following month. We saw similar discounts on store credit for Target, Starbucks, Staples, and Applebees, and Black Friday-caliber discounts on iTunes gift cards.
SEE ALSO: How to Save on ANYTHING With Gift Cards
Most of the best deals came from eBay, where you should check out the vendors GiftCardMall, PayPal, and Best Buy.
Ski & Snowboarding Equipment
March is the beginning of discount season on winter sporting gear. We routinely see high-end skis drop 20% heading into March. They might fall another 10% before hitting rock bottom in the summer, but you'll want to buy now when choices are still plentiful, and while you can even take advantage of late-season ski trip in certain areas. (Ski resort stays will also be heavily discounted this month!) Look to outdoor retailers like EVO and Paragon Sports.
Cold-Weather Clothing
Inventory, sizes, and color options will be very limited; but if you see a coat, sweater, or heavy wool pant that you like at a low price, grab it. Deals will disappear by April, when stores focus on moving their spring lines. For now, you can get outerwear and activewear from The North Face, Under Armour, Lands' End, and Patagonia at stores for as much as 75% off.
High-End Fashion
To battle the mid-winter lull and prepare for the more informal spring season, high-end clothing retailers bring the deals in March. Charles Tyrwhitt and Nordstrom both made our top stores of the month (see below), with men's shirts dropping to $30 from $100, and shoes at $179 off. These looks will easily take you from the office to a nice night out.
Luggage
Holiday travel has been over for months, but summer vacations aren't here yet, meaning luggage stores are empty around this time of year. Get discounted suitcases before the summer travel season starts and prices shoot back up. We see a quarter fewer luggage deals in April than in March, and less than half as many Editors' Choice offers. Act now while you can score backpacks from $7 and duffel bags from $9.
3 Things to Wait on
Lingerie
You may think that immediately after the most romantic day of the year, you'd see huge discounts on lingerie. But, although we do indeed see some price cuts, it's not really the best time to buy unmentionables. Instead, wait for June and July; that's when Victoria's Secret unveils its famed Semi-Annual Sale. Last year around the same time, we also saw excellent markdowns from a plethora of other retailers like Frederick's of Hollywood, Maidenform, Aerie, Soma, and Bare Necessities.
SEE ALSO: How to Save Money at Victoria's Secret
Spring Apparel
It's common knowledge that the best time to buy current-season apparel is well after said season has begun. That's why cold-weather apparel is still such a hot buy right now. But how long until you can don the fashionable and cheap short sleeves, shorts, and flirty dresses that have started to filter into stores? A good rule of thumb is to wait two to three months into a season so you can score the best discounts on weather-appropriate apparel.
Android and Windows Phones
Common wisdom in the tech industry says to buy a new Windows or Android phone after new models are introduced at the Mobile World Congress, an important annual industry event in February. But our research shows the event doesn't affect phone deals that much. Many brands have their own release schedules — for example, Samsung is expected to release its next Galaxy flagship model in late March. So don't count on grabbing a new phone this month.
Top 5 Stores for March
Charlotte Russe: An exception to our rule about not buying spring clothing this month, Charlotte Russe had three times more deals in March than in February, especially on shoes and warm-weather apparel. Look for dresses from $8 ($26 off) and shoes from $13 ($23 off.)
Charles Tyrwhitt: This seller of fine menswear released a flood of price lows last March, which slowed to a trickle in April. Look for dress shirts for $30 (down from $100), casual shirts for $25 (down from $50), dress shoes for $139 (down from $179), and more.
Nordstrom: Another high-end store discounting its winter apparel, Nordstrom will drop Burberry, The North Face, Under Armour, Cole Haan, and more by as much as 65% before the inventory is gone next month.
Lands' End: For more rugged apparel, check out the sale and clearance sections of this retailer. You'll likely get 60% off automatically, with an additional 40% off via a coupon code on certain days. Stock up on pants and jackets, as the store will be focused on spring and swimwear deals by April.
The Disney Store: With Halloween and Christmas long gone and summer still far off, the Disney Store will draw in customers this month with deep cuts on costumes, swimwear, and toys. Look for daily coupons worth an additional 25% off.
Ready to put this information to use? Set up an email alert now to hear about all the latest deals in March.
---
Related DealNews Features: