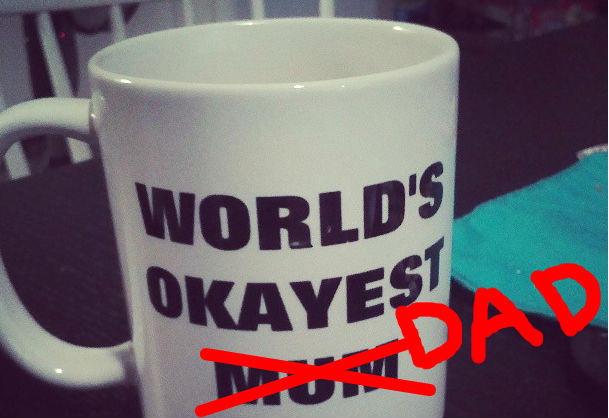 Father's Day is just around the corner, and while we all seem to go out of our way for Mother's Day, be honest, we always kinda "phone it in" for dear old dad, eh? It's no coincidence, then, that this Father's Day feature is basically our 12 Mother's Day Gift to Avoid feature just re-worded slightly to make the jokes about dads.
But since we're aware of this, you could view this humorous list as biting satire, also. Or something. Without father ado, here are 14 gifts to avoid this Father's Day:
A copy of The Shining, There Will Be Blood, or Chinatown.

A Pep Boys gift card. "What, you think I don't know how to change my own oil?!"

A couple quarts of motor oil. "What, you think I have time to change my own oil?!"

Discount / expired meat. (Though, that's only a bad gift if someone gets sick, right?)

A puppy. He's finally managed to get you out of the house and you want to re-burden him with another thing he has to look out for and keep from doing stupid things?

Flowers. Nothing says, "I've been tuning out the past 30+ years of your complaints about hay fever" like flowers do.

High-end lip gloss (the cheap stuff is fine).

Technology of any kind, unless you'd like every future conversation to be about — and only be about — how terrible that thing you got him is and how it never works right. (Though, some of you may welcome an easy and reliable topic of conversation which is better than awkward silence.)

30-day free trial to Ashley Madison.

Cash. It's the most impersonal gift anyone can give. (Plus, it'll just remind him to mention to you how much your college education cost and how you're not living up to his investment.)

A copy of Oedipus Rex.

A gravestone. Especially if you're pre-filled in a hopeful "end date."

A copy of A Dad Always Pays His Debts: The Autobiography of Tywin Lannister.

Tickets to Maury for an impromptu paternity test.
If you're now thinking, "Great, you just shot down every idea I had," then seriously, you come up with terrible gift ideas. So, what is the perfect Father's Day gift, then? Leaving dad alone for a few minutes, so he can take a nap without being woken up by you shouting kids, fer cryin' out loud! We thought that was obvious.
But, seriously, what are you getting your dad this year? Put your ideas in the comments, below! (Because, honestly, we need you to give us some ideas — so far we got our dad a t-shirt that says "grillin' machine" and a One Direction tape. Don't judge, you don't know our dad!)
---
Related DealNews Features: