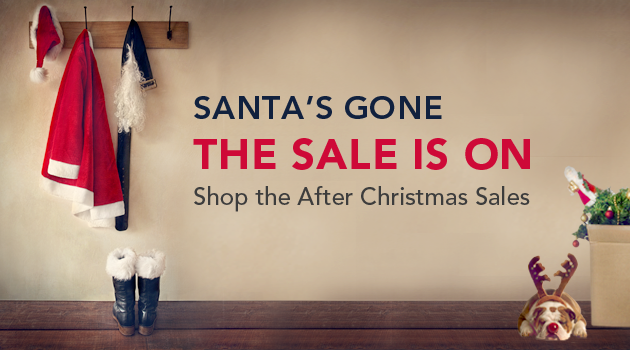 Shoppers are racing to finish their holiday gift buying (and maybe grab something for themselves), and there are plenty of great deals available right now. But come December 26, we're in a whole new ballgame, as retailers will be eager to get rid of any huge holiday inventories they still have, with no major shopping weekends until Presidents' Day.
That means there will be much better discounts on things like apparel, electronics, and fitness gear... if you can wait a bit. If you're not shopping for holiday gifts and just looking to score the best prices, check out our list of what you shouldn't buy before Christmas.
Clothing
Apparel deals dominate After Christmas sales. Last year, some of our most popular sales during that time included discounts from Nordstrom, Target, Banana Republic, Columbia, and Victoria's Secret.
SEE ALSO: What to Expect From 2015 After Christmas Sales
Winter coats, hats, and gloves, which are sometimes excluded from Black Friday sales, will see deeper discounts at this point in the season. Sales went as high as 70% off select items (at Amazon), with most discounts around 40% or 50%, plus additional discounts on clearance items.
Cameras
Did you blow all your holiday shopping money on laptops, phones, and tablets? While these will see some discounts after Christmas, there's another tech category that's really impressing us with deals: cameras. Our own Marcy Bonebright points out that 40% of after-Christmas camera deals have been Editors' Choice in the last three years. And remember, there's still plenty of things your phone can't do that a camera can.
About 40% of the camera deals found in After Christmas sales will be of Editors' Choice quality.
If you really want to maximize the value of your camera purchase, consider a refurb. The best deals we see are factory-refurbished units from Canon, Nikon, and more. These items, restored to almost-new condition and backed by manufacturer warranties, are even preferred by some experts.
Audio Gear
Bonebright adds that just like cameras, headphone and home theater deals will be on fire after Christmas, with 41% checking in as Editors' Choice. However, true audiophiles will have to continue paying top dollar: We don't typically see high-end gear at Editors' Choice prices this late in the year. Expect bargains on entry-level to mid-tier gear from brands like Pioneer, Sony, Polk, Klipsch, and Beats.
Sports and Fitness Equipment
Retailers love to take advantage of those New Years' resolutions to get in shape by offering deals on sports and fitness equipment. While we don't necessarily see more deals or all-time lows after Christmas, we definitely saw better sitewide discounts from a range of stores.
Last year, stores like Dick's Sporting Goods, Target, Sears, and NordicTrack had after-Christmas discounts of 25% to 50% on select sporting and fitness goods, sometimes on top of clearance discounts. Groupon even had sales of up to 90% off fitness deals.
This is also traditionally a good time to get deals on gym memberships.
Video Games
This will be a great time to stock up on your favorite video game titles, especially for older systems. Like audio equipment and cameras, over 40% of video game deals are expected to be Editors' Choice during the upcoming after Christmas sales. Last year, we saw Xbox One games starting at $8.
Christmas Decorations
We know you want to enjoy your motorcycle-riding Santa now, but the best time of year to buy Christmas decorations from a savings perspective is the day after Christmas. On December 26, prices on holiday decor will drop 40% to 75% at stores like Lowe's, Home Depot, Target, and Pottery Barn. Last year, inflatable lawn ornaments were the best bet, with select items marked all the way down to $15. So if you need any more festive things for decking the halls, consider stocking up for next year.
What do you think, reader? What are you waiting to buy until after the holidays? Let us know in the comments below.
---