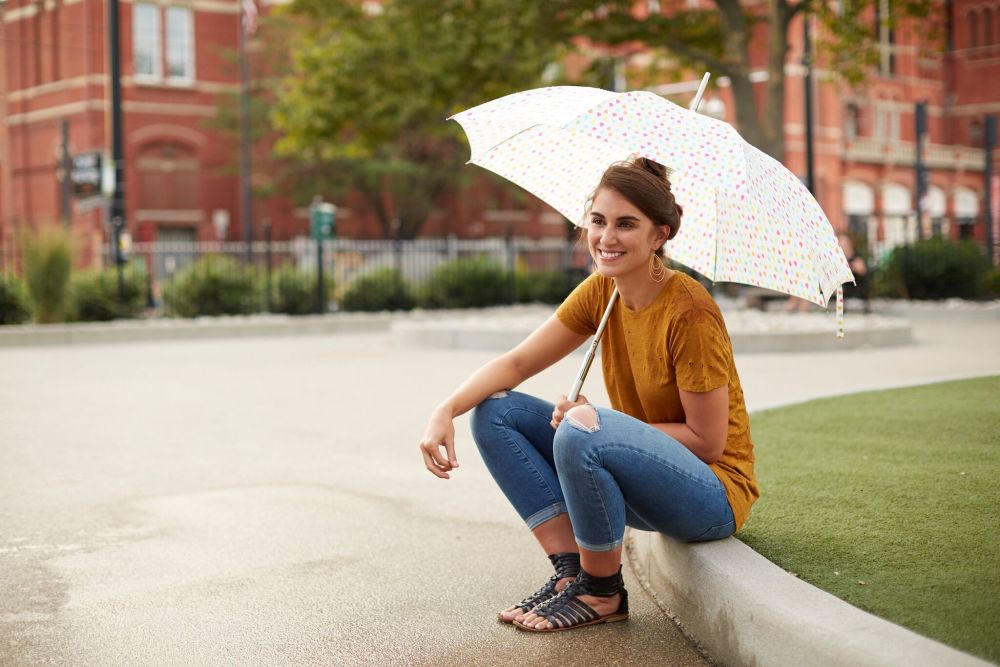 Getting caught in the rain with a flimsy umbrella is almost as bad as getting caught with no umbrella at all. You can pick one up for $5 or less, so it's no wonder most people see these accessories as basically disposable. But when that shoddy, cheapo umbrella turns inside-out after a whisper of wind, or develops a tear from opening too quickly, you're out of luck.
If you're in the market for an umbrella that won't let you down in a downpour, we've got your back. Umbrellas boasting windproof builds and lifetime warranties, and even some that double as self-defense tools, are all available if you know where to look. We scanned the reviews to answer the question: What is the best umbrella for your money?
7 Umbrellas With a Lifetime Warranty
Totes Umbrellas
The name might sound like an enthusiastic reply from a teenager, but this brand has a number of designs that protect from all types of inclement weather. User reviews praise the Bubble Umbrella for its great protection and well-made design. The NeverWet line purports to let the rain roll right off. The Titan collection can reportedly withstand winds up to 70 miles per hour. And if you want to use your brolly in the sun as well as the rain, the SunGuard collection has UPF 50+ protection "with cooling power."
If your Totes fails, you'll have to remove a couple of pieces and pay $5 to redeem your warranty.
Where to buy it: On the Totes website, models go for as little as $10. Amazon has the Signature Bubble model from around $22.
SEE ALSO: Blame It on the Rain: Your Complete Guide to Hunter Boots
GustBuster
GustBuster umbrellas claim to be "unflippable, unflappable" and "unleakable." Reviews on Amazon seem to indicate these are all accurate claims. Some call it the best umbrella they've ever owned, others say it's the best umbrella for wind and sideways rain. These rainy day accessories purport to be certified by the College of Aeronautics to handle winds over 55 miles per hour.
Purchasing one of these bumbershoots? Be sure to register it within 30 days. If something happens, you can redeem the limited lifetime warranty by returning it to the company (and paying $10 for the shipping costs). GustBuster will replace it or repair it (at their discretion) within 5 to 7 weeks.
Where to buy it: There are a variety of sites where you can purchase these umbrellas, with prices starting around $30.
Davek
It's fairly easy to find someone who will recommend these accessories — most reviews tend to rate every model four or five stars. Seriously stylish and built to last, this is one rainy weather necessity that seems worth the investment.
If you're worried about losing it, Davek offers a voucher that can be redeemed for a replacement model at 50% of the original cost. If something else happens to your Davek (the company cites a cat using it as a scratching post as an example), the Unconditional Lifetime Guarantee will cover it. If it becomes unusable for any reason, they'll repair or replace it for free. (Although you do have to pay $9.95 for shipping.)
Where to buy it: On the Davek site, models start at $49.
ShedRain Umbrellas
ShedRain is a company that's been around since 1947, but that doesn't mean it's not utilizing the latest umbrella tech. You'll find a ton of models on the site, offering things like auto open and close, eco-friendly designs, reflective numbers, slim designs, and more. Frames are made with fiberglass, so they're lightweight, as well as resilient and non-corrosive.
ShedRain umbrellas are backed by a Full Lifetime Warranty and can be repaired or replaced free of charge. It covers failures due to defects in materials or workmanship, and is limited to the value of the merchandise.
Where to buy it: On the ShedRain site, models go for as little as $15.
Unbreakable Umbrella
This umbrella requires a bigger investment, but you're getting much more than a product to keep your head dry on a rainy day — you're also getting a weapon for self defense! User reviews on the site tell stories of successfully fending off muggers in Bangkok, while others simply say it's the best umbrella they've used. It'll reportedly hit just as hard as a steel pipe, but weighs under two pounds. Its canopy is made with waterproof fabric like a regular umbrella, but its frame can reportedly chop a watermelon in two. (No really, check out the videos.)
But don't try those stunts at home. The warranty is limited, and doesn't cover damage due to abuse or accident, and also doesn't cover fabric.
Where to buy it: On the Unbreakable Umbrella site, with prices starting from $129.95.
SEE ALSO: Keep Out the Cold: How to Pick the Perfect Parka
Hammacher Schlemmer's Wind-Defying Packable Umbrella
Although it can't withstand the same gusts as the brands above, this model from Hammacher Schlemmer is one that's on the more affordable end of the spectrum. One user review notes that it's very durable in the wind, as well as being very large once it's opened. And since the store boasts a Lifetime Guarantee, returns should be easy if you need to do so.
The site states that any product purchased directly from Hammacher Schlemmer can be returned for exchange, credit, or refund if it ever disappoints you for any reason.
Where to buy it: On the Hammacher Schlemmer site, with prices starting from $29.95.
Eddie Bauer Auto Open/Close Umbrella
Made with polyester and a steel frame, there's no word on what speed of wind this Eddie Bauer model is resistant to, but it does have a vented canopy just for that purpose. It also has an awesome auto open and close feature, and user reviews give it 4.4 out of 5 stars. It's praised for great construction and durability.
There are no time frames given, but Eddie Bauer's return policy states that items can be returned for a full refund if shoppers are dissatisfied.
Where to buy it: On the Eddie Bauer site for $30
One Solid Option With a 2-Year Warranty
Senz Umbrellas
These unique-looking accessories can withstand winds up to 62 miles per hour, but are still lightweight. This is a company that often comes highly recommended from users of the BuyItForLife subreddit. They're available in solid colors, but also eye-catching designs so you're less likely to lose one in an umbrella bin. Compare models to find the perfect one to fit your needs.
The company only offers a two-year warranty, but if your new favorite rainy day accessory shows a defect and is unusable, they'll replace it with a new one.
Where to buy it: On the Senz site, with prices starting around $26.
Readers, do any of these umbrella options appeal to you? Did we leave off your favorite? Let us know in the comments below!
---