Considering the common weight of coins these days, the musical fantasy of encountering "Pennies from Heaven" would cost "Dollars from Wallet" as your umbrella gets pummeled. And sadly, it doesn't even take that much to do you in. Just one well-timed gust of wind can turn your rain gear into a tattered flag of surrender.
But don't give up just yet. Some umbrella makers have taken the daring step of offering lifetime guarantees, which might sound foolish until you take a closer look at what they're making and how it's working. Sure, they're usually not cheap, but think about the trouble attached to those pharmacy store specials. You get to go out and buy seconds, thirds, and fourths. The environment gets to swallow extra landfill fodder. Mr. Cheapo Umbrella gets to scoop up all those Dollars from Wallet.
Here we take a look at four umbrellas made to withstand the wind, the rain, flying coins, or whatever Mother Nature chooses to dish out.
ShedRain Umbrellas
Speaking of musical confusion, try not humming Peter Gabriel's "Red Rain" when you carry these umbrellas around in a storm. But as for the more important matter of weather protection, ShedRain umbrellas deliver thanks in part to a push-button mechanism that unleashes your weather weapon faster than Kylo Ren can whip out his lightsaber. And not even he can battle the wind the way the ShedRain can. The company is also committed to fair labor practices and fair consumer prices. May the (gale) force be with you.
Where to buy it: eBags has a large selection of ShedRain umbrellas in the $20-to-$49 price range.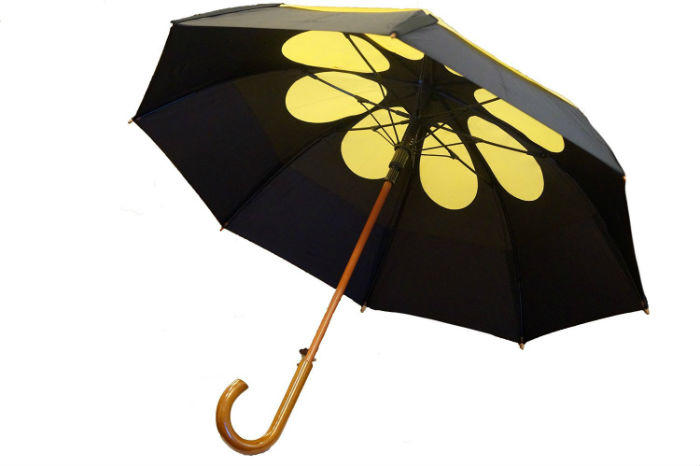 GustBuster Classic 48-Inch Automatic Golf Umbrella
Get ready to groan again, music fans: Who you gonna call? GustBusters! This imported, 100% nylon umbrella comes in a dozen colors: Who says you can't be fashionable as you dodge puddles and fend off headwinds? Adding to the classy look is a hardwood J-handle, but there's also a space-age credential: The GustBuster claims to be wind-tested by the College of Aeronautics to 55 miles per hour. Sounds like the Windy City could use an airdrop of these babies.
Where to buy it: Amazon has them on sale from $39.95 with free shipping.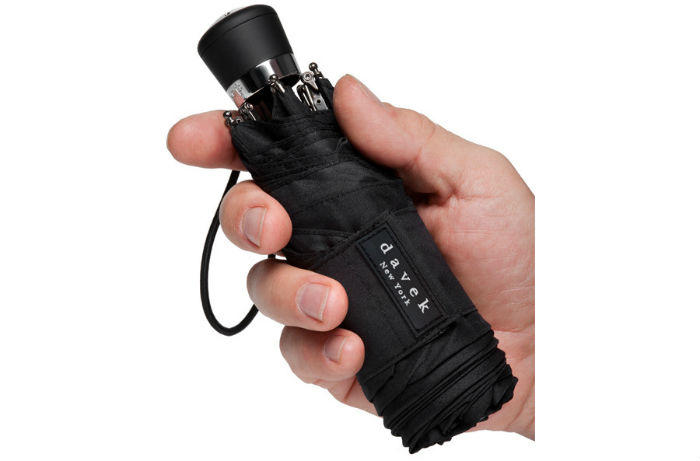 Davek Mini Umbrella
We can't think of any lame musical references for this one, so you're on your own. But you'll feel plenty protected despite this umbrella's astonishingly small size: less than 7 inches when closed. Though it fits in the palm of your hand, it will soon stay close to your heart, as it provides 38 inches of rain protection when opened. It utilizes a durable fiberglass-reinforced frame system, and has no-nonsense 190 thread-count microweave fabric — the most tightly woven available. Choose from 10 colors, such as turquoise, cocoa, and classic black.
Where to buy it: The Davek website has them on sale for $49, excluding shipping.
Totes Umbrellas
While some consumers think of Totes as the brand your corny Uncle Clem swears by, it has the handle on quality and price when it comes to umbrellas. Do note that the company charges a $5 shipping fee for a returned umbrella, and you'll have to wait two to six weeks for the replacement; you could face plenty o' storms in that span. And while $5 puts a dent in the warranty benefit, the joy of not having to purchase a zillion umbrellas in the next decade more than pays for itself.
Where to buy it: Amazon Fashion offers a snazzy assortment of Totes Clear Bubble Umbrellas, ranging in price from $23 to $36.
So where do we go from here? You may want to seriously consider adding not one but two windproof umbrellas to your arsenal. You can fit a ShedRain or Davek beautifully in your commuter carrying case, and leave a GustBuster right by your front door. It's big and roomy enough for two people to … well, as Neil Sedaka would sing, "Oooooh, I hear laughter in the rain …".
Readers, what features do you look for in an umbrella? Is there a certain umbrella you swear by? Let us know in the comments below!
---