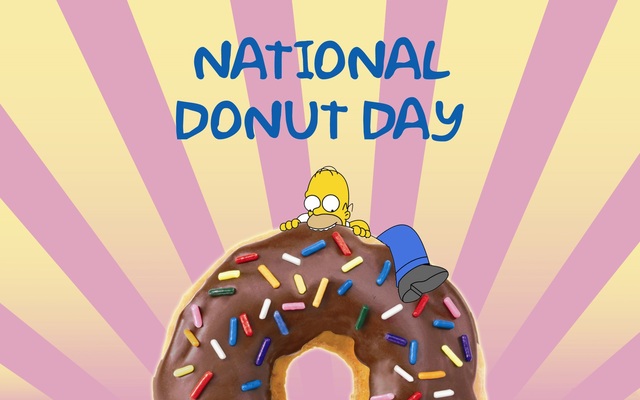 Today is one of our favorites of the year, because it's National Donut Day! This annual celebration is marked by bakeries giving away the toroidial sweets for free, and we've got the lowdown on where you can grab one (or two, or three) this year.
Free Donuts (With Purchase?)
As you might expect, Donut Day is a huge deal for the country's three main donut chains: Dunkin' Donuts, Krispy Kreme, and Tim Hortons. Dunkin' will offer customers a "free donut of their choice (while supplies last) with the purchase of any beverage." However, the offer does not apply to croissant donuts or cheesecake squares; but shouldn't Donut Day be about the classics anyway?
Krispy Kreme continues its tradition of giving away one donut per guest, completely free, no purchase necessary. However, the offer is not valid in Connecticut. (What gives, Connecticut?)
Meanwhile, Tim Hortons' official Donut Day promotion entails a free donut with any purchase via this printable coupon. There's also an ongoing coupon that offers a tantalizing nutella-filled donut for free with the purchase of a hot drink. (Scroll to the bottom of the page to find the "print coupon" button.)
SEE ALSO: 10 Fast Food 'Secret Menu' Items You Have to Try
Entenmann's is giving a chance for 100 people to win a free year's supply of Entenmann's donuts. Also, the company will donate $1 to the Salvation Army (more on them below), up to $30,000, for every entrant. Also, participating Winn-Dixie supermarkets will give out free donut holes (one per guest).
DealNews Pro Tip: Find every location near you giving away free donuts, and run from one to the next during your lunch break. You might burn off the calories of half a donut!
Wait, Donut Day is a Real Thing?
That's right, National Donut Day dates back to 1938, when it was started by the Salvation Army to recognize their volunteers who had served donuts to soldiers overseas in World War I, and to raise money for the needy. So maybe you can keep your favorite charity in mind when thinking about what to do with the money you saved on donuts that day.
Donut or Doughnut?
Tomato, To-mah-to. The abbreviated "donut" spelling has actually been around since the 1800s. Doughnut is the original term dating back at least a century earlier, but the shorter version is now five times more prevalent in Google searches, possibly due to the popularity of Dunkin' Donuts. So if you're a spelling originalist, the tide might be turning against you. (Even the Salvation Army has seemingly transitioned the name of the holiday to the new spelling!)
So how will you celebrate National Donut Day this year? Regular or filled? Will you opt for freebies, or will you venture to even make your own? Let us know in the comments section below.
---