Spring cleaning season is only a few weeks away, and whether you need an outdoor rig to clear your gutters or an indoor step-stool for little jobs, we've got you covered with an all-ladder roundup. Score a multi-purpose ladder for nearly any job around the house, a standard 6-ft. fiberglass model, and more in our roundup of the week's best tool deals.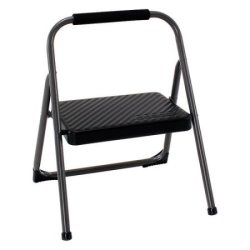 Cosco 1-Step Metal Folding Step Stool
Store: Walmart
Price:

$6.97


Shipping:

In-store pickup,

or $5.99 s&h
Lowest By: $3

Tackle light jobs around the house with this Cosco 1-step Metal folding step stool. Convenient and portable, this step stool is easy to tuck into any closet, or carry from room to room. Change light bulbs, dust ceiling fans, and reach high cabinets with ease. It features skid-resistant front leg tips and back glides, and ribbed, slip-resistant step treads.




GoPlus 12.5-Ft. Folding Scaffold Ladder
Store: Newegg
Price: $60.95 EXPIRED
Shipping: Free shipping
Lowest By: $19
Expiration: March 10

If you only have room for one ladder, this GoPlus 12.5-Foot EN131 folding scaffold ladder is a solid pick. Use this essential tool as a telescoping ladder, a twin or stairway stepladder, and even as two scaffold bases. Made with aluminum, it's lightweight, but durable. It purports to be rustproof and is suitable for commercial and personal use. This 12-step ladder features a 330-lb. load capacity and auto-locking design.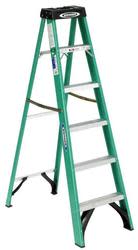 Werner 6-Foot Fiberglass Step Ladder
Store: Home Depot
Price:

$49.96


Shipping:

In-store pickup,

or $10 s&h
Lowest By: $20

Keep tools organized and within easy reach with this Werner 6-foot step ladder. Made with non-conductive fiberglass, it's suitable and safe to use in electrical jobs. Slip-resistant steps keep you steady on your feet, and EDGE bracing prevents rail damage, making this ladder perfect for all those DIY jobs you've been putting off. This 5-step ladder features a Holster Top with lock-in accessory system (which secures tools from falling), pinch-proof spreaders, and 225-lb. load capacity.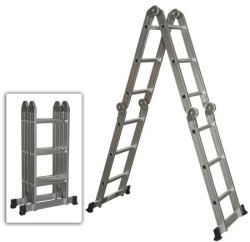 Best Choice 11-Foot Folding Step Ladder
Store: Walmart
Price: $64.99 EXPIRED
Shipping: Free shipping
Lowest By: $110
Expiration: March 13

Store this Best Choice Products 11-Foot Aluminum step ladder easily in more compact spaces thanks to its folding design. This rustproof model can be used in 7 different ways, and is lightweight with safety locks and rubber protective pads on the feet. Clean gutters, touch up paint jobs, and more with this ladder. It features anodized aluminum and four articulation points.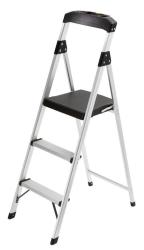 Gorilla Ladders 3-Step Aluminum Step Stool
Store: Home Depot
Price:

$27.98


Shipping:

In-store pickup,

or $10 s&h
Lowest By: $7

Perfect for less-intense DIY jobs around the house, this Gorilla Ladders 3-step Aluminum step stool ladder is reportedly easy to transport, set up, and store. The platform step offers a stable point to reach higher areas, and the utility tray keeps necessary items handy. It's an ideal size for tools, paint, and more to help you complete those around-the-house jobs without having to climb up and down the ladder dozens of times. It weighs less than 8 lbs. and features a 225-lb. It has Type II duty rating, and a slim profile.