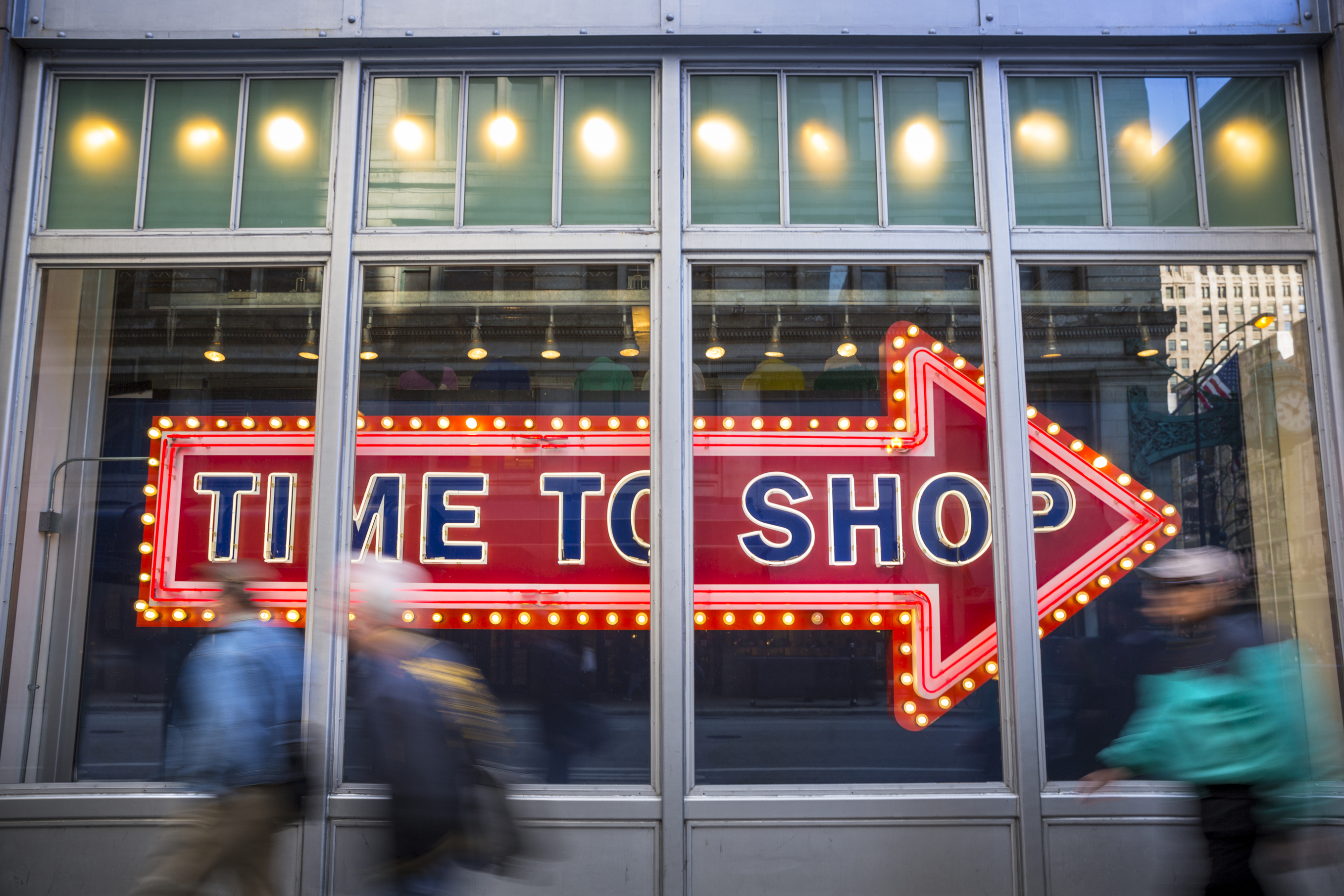 Black Friday is finally here! And while we're staunch advocates for shopping online, there are some deals that will be in-store only. And if you're hunting for one such doorbuster, it's essential to know when stores will open.
It's especially important to know if your store actually opened on Thanksgiving Day instead. The big box stores like Target, Walmart, and Best Buy opened their doors on Turkey Day, but many smaller retailers are instead saving their sales for today.
SEE ALSO: Skip the Line: The Best Black Friday Deals Available ONLINE
But don't fret, because we've compiled this comprehensive list of opening times for each of the major retailers. A few stores have yet to announce their hours, so we've included what they offered last year as a "rumored" schedule for this year.
Please be aware that in some cases, times may vary by retail location. Note that when a shop opened on Thanksgiving and remained open straight through until closing on Black Friday, no closing time is noted for Thanksgiving. Additionally, some stores that remain open overnight into Black Friday are vague about when they will close that day, so we were only able to note that they will be open on Black Friday.
Don't see the store you want? Let us know what you're looking for in the comments below.
Thanksgiving & Black Friday Store Hours 2016
Store
Thanksgiving Day Store Hours
Black Friday Store Hours
Confirmed
AAFES
Closed
4 am
Confirmed
Ace Hardware
Open
Open
Confirmed
Apple
Closed
8 am to 10 pm
(some locations vary)
Confirmed
Babies "R" Us
5 pm to 11 pm on Friday
Closes at 11 pm
Confirmed
Barnes & Noble
Closed
8 am to 10 pm
(some locations vary)
Confirmed
Bass Pro Shops
8 am to 6 pm
5 am
Confirmed
Bealls
6 pm to midnight
5 am
Confirmed
Bed Bath & Beyond
Closed
6 am
Confirmed
Belk
4 pm to 1 am
6 am
Confirmed
Best Buy
5 pm to 1 am
8 am to 10 pm
(some locations may vary)
Confirmed
Big Lots
7 am to 12 am (midnight)
6 am
Confirmed
BJ's Wholesale Club
Closed
7 am to 10 pm
(some locations may vary)
Confirmed
Bon-Ton
5 pm
Open
Confirmed
Boscov's
6 pm to 1 am
6 am to 10 pm
Confirmed
Burlington Coat Factory
Closed
7 am to 11 pm
Confirmed
Cabela's
Closed
5 am
Confirmed
Carson's
5 pm
Closes at 3 pm
Confirmed
Costco
Closed
9 am to 8:30 pm
Confirmed
Crate and Barrel
Closed
9 am to 9 pm
(some locations may vary)
Rumored
CVS
Open
Open
Confirmed
Dick's Sporting Goods
6 pm to 2 am
5 am to 10 pm
Confirmed
Dillard's
Closed
8 am to 9 pm
(some locations may vary)
Rumored
Dollar General
7 am to 10 pm
Open
Confirmed
DSW
Closed
Open
Rumored
Family Dollar
8 am to 9 pm
8 am to 9 pm
Confirmed
Finish Line
12:01 am
Open
Rumored
Five Below
6 pm to 1 am
7 am to 9 pm
Confirmed
Fry's Electronics
5 pm to 11 pm
8 am to 10 pm
Rumored
GameStop
Closed
5 am
Confirmed
Gander Mountain
8 am to 12 pm (midnight)
5 am to 10 pm
Confirmed
Guitar Center
Closed
6 am
Confirmed
H&M
Closed
12 am to 12 am
(varies greatly by location)
Confirmed
Half Price Books
Closed
9 am
Confirmed
Harbor Freight Tools
Closed
7 am to 9 pm
Confirmed
Herberger's
5 pm
Open
Confirmed
hhgregg
Closed
7 am
Confirmed
Hobby Lobby
Closed
8 am to 9 pm
Rumored
Home Depot
Closed
5 am
Rumored
HomeGoods
Closed
7 am to 10 pm
(some locations may vary)
Rumored
JCPenney
3 pm
Open until 5 pm
Confirmed
JoAnn Fabrics
Closed
6 am
Confirmed
Kmart
7 pm
(some locations may vary)
Open
Confirmed
Kohl's
6 pm
Open
Confirmed
Lowe's
Closed
6 am
Confirmed
Macy's
5 pm to 2 am Friday
6 am to 10 pm
(some locations will remain open ovenight)
Confirmed
Marshalls
Closed
7 am to 10 pm
(some locations may vary)
Rumored
Meijer
6 am>
6 am
Confirmed
Menards
Closed
6 am to 12 pm (midnight)
Confirmed
Michael's
6 pm to midnight
7 am to 10 pm
Confirmed
Mills Fleet Farm
Closed
6 am
Confirmed
Modell's
6 pm
(some locations may vary)
Open
Confirmed
Musician's Friend
5 am to 9 pm
5 am to 9 pm
Rumored
Nordstrom
Closed
8 am to 10 pm
(some locations may vary)
Confirmed
Northern Tool
Closed
6 am
Confirmed
Office Depot and Office Max
Closed
6 am
Confirmed
Old Navy
4 pm
Open
Confirmed
Patagonia
Closed
10 am to 7 pm
(some locations may vary)
Confirmed
Pep Boys
Closed
7 am
Rumored
Petco
Closed
Open
Confirmed
PetSmart
Closed
7 am
(some locations may vary)
Confirmed
RadioShack
8 am to 1 pm
open
Rumored
REI
Closed
Closed
Confirmed
Rite Aid
Open
(some locations may vary)
7 am
Confirmed
Sam's Club
Closed
7 am
Confirmed
Sam Ash
Closed
8 am to 10 pm
Confirmed
Sears
6 pm
(some locations may not open)
5 am
(some locations may vary)
Confirmed
Sierra Trading Post
Closed
6 am
Rumored
Sportsman's Warehouse
Closed
6 am
Confirmed
Stage Stores
Noon to 1 am
6 am to 10 pm
Confirmed
Staples
Closed
6 am
Confirmed
Target
6 pm
Open
Confirmed
T.J.Maxx
Closed
7 am to 10 pm
(some locations may vary)
Rumored
Toys "R" Us
5 pm to 11 pm on Black Friday
Closes at 11 pm

Confirmed
Tractor Supply
Closed
6 am to 9 pm
Confirmed
True Value
Closed
Open
Rumored
Ulta
6 pm
12 am (midnight) to 10 pm
Confirmed
Victoria's Secret
6 pm

6 am to 10 pm
(some locations may vary)
Confirmed
Walgreens
8 am to 10 pm
7 am to midnight
Confirmed
Walmart
6 pm
Open
Confirmed
Excited for Black Friday? Well then you're in luck! We're actually already seeing deals from the top stores. Our team is diligently rounding up the best offers for the following categories, to help guide you:
---