As with much of technology in the last decade, media streaming devices were a rare luxury when they were first introduced just a few years ago, but are now an affordable commodity if not a necessity. And that means interesting things for Black Friday streaming deals this year.
With Amazon and Apple in a streaming box arms race, and the Google Chromecast bringing streaming capabilities to even the most budget-strapped consumers, streamers have become a much more competitive and somewhat less predictable field this year.
If you're wondering what you can expect to pay for a Black Friday Roku, Apple TV, or Fire TV this year, check out our predictions below!
Then, consider signing up for the DealNews Select newsletter to keep track of the latest deals in your inbox, or download our app to have them at your fingertips.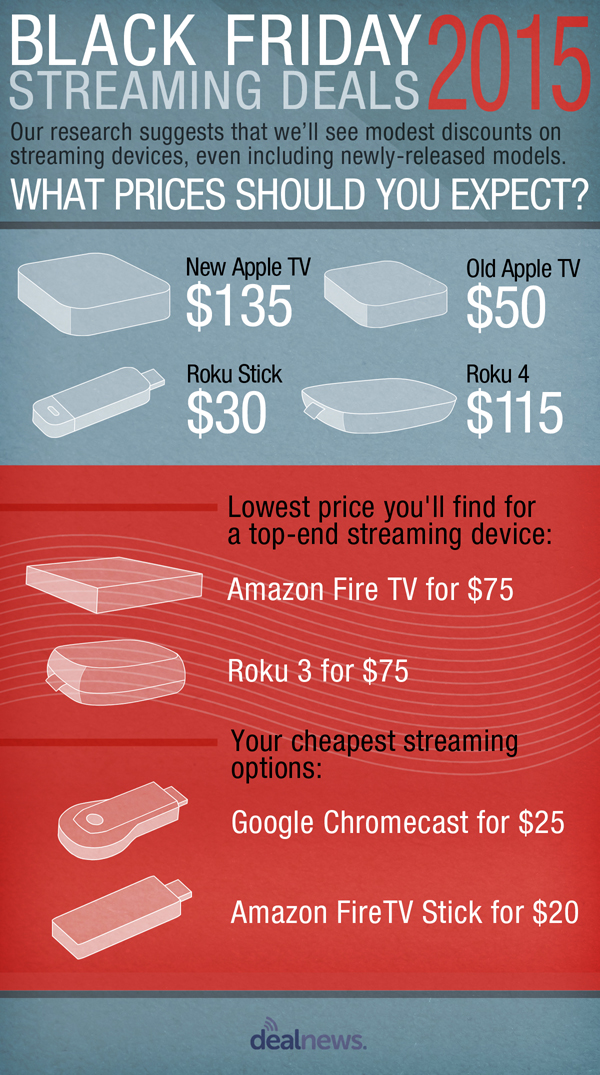 Apple TV
When Apple TV was last updated in 2013, it saw a 20% discount in its first Black Friday, dropping from $99 to $79. But as we noted, the streaming market is much more popular than it was two years ago.
Apple released a new model last month, and even at its higher price point of $149, the latest generation will be more in demand than its predecessor was at debut. Thus, retailers might be less inclined to discount this hot item.
SEE ALSO: 7 Reasons Why the New Apple TV is More Expensive
Expect to see discounts of just $10 to $15, which would drop the 32GB version to about $135, and the 64GB version to $185. Also keep an eye out for bundles that may include a retailer gift card. Meanwhile, the old Apple TV, which now retails for $69, has been discounted to as low as $50 before; we expect to see it hit that low again for Black Friday.
Amazon Fire TV
Not to be outdone, Amazon unveiled an update to its Fire TV about a week after Apple introduced the latest Apple TV. And as we noted in our comparison, these sets are pretty evenly matched (practically identical in some respects). If you're already deep in either ecosystem (i.e., if your media library is already made up of either iTunes or Amazon Video), you'll just want to stick with that brand. If not, your decision will come down to details like processing speed and gaming features.
SEE ALSO: Apple TV vs. Fire TV: Which Streaming Media Player Is Better?
When it comes to price, the Amazon Fire TV does have the advantage. It's cost remained the same at $99 since its first generation last year. During its first Black Friday last year, it dropped to $75, and we expect to see the new generation at that price point again this year.
Amazon Fire TV Stick
The Amazon Fire Stick debuted last year too. Though priced at $39.99, it was offered initially for preorder at $19 and discounted to $16 on Black Friday. The updated version is set to debut at $49.99, but that extra cost will get you voice control abilities, which was previously only available in the full size Amazon Fire TV. Expect to find the stick for $20, which would be the same percent off as last year.
Roku 4
Since these predictions were first published, Roku has introduced a brand new Roku 4 for $129.99. It's difficult to compare this model's debut to years past; when the Roku 3 had its first Black Friday in 2013, it was competing against a year-old, equally-priced Apple TV, a relatively new (and untested) Chromecast, and no Fire TV. That year, we saw zero deals on the Roku 3 during the whole month of November; however, we did see the $99 box drop to $75 after Christmas.
This year, with all the competition in the streamers market, it's possible that the Roku 4 won't skip Black Friday entirely. However, if there are deals, we expect them to be modest. Expect discounts of $10 to $15, dropping the price to about $115 to $120. Also look for bundles that include gift cards.
Roku 3 and Roku Stick
Even now after the release of the Roku 4, the Roku 3 is still available for $99, and remains a top reviewed high-end streamer. We haven't seen many deals on it this year, but with its competitors getting all the attention, Roku might be pushed to offer some very aggressive deals on this now previous-generation device.
With its competitors getting all the attention, Roku might be pushed to offer some very aggressive deals during the Black Friday season.
We've seen the Roku 3 for as low as $68 this year, but $75 might be a safer bet for Black Friday. As for the Roku Stick, expect to see the $50 dongle for $30.
Google Chromecast
As this article was heading to press, Google unveiled a surprise update to its Chromecast. (Thanks a bunch, Google!) This is the Chromecast's first update since its original release in July 2013. On Black Friday of that year, we found the $35 dongle for a low price of $25. The updated Chromecast still costs $35, so we're expecting to once again see it for $25 on its first Black Friday out.
Where to Find the Deals
While deals on media streaming devices can pop up anywhere during the Black Friday season, there are a few stores that are more likely than others to feature top-notch deals. Amazon was the clear leader last year, offering almost half of the deals on streamers we saw during Black Friday 2014. Both Best Buy and Staples also had a few Editors' Choice deals, so it would be worth keeping an eye on them as well.
Hoping to buy a media streaming device this Black Friday? Consider signing up for an email alert now, so you'll know whenever we post a deal. Or check out all our features for more buying advice.
---
The Complete Black Friday Predictions