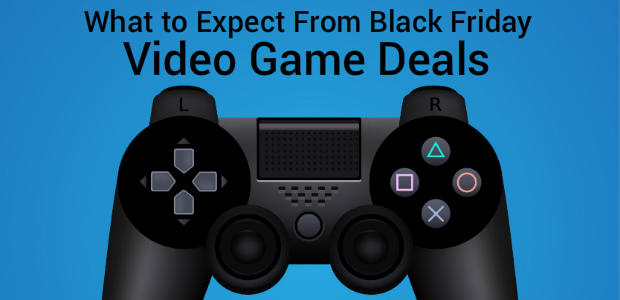 Update: The big day is almost here, and we're already seeing Black Friday video game deals!
Click here to see our roundup of Black Friday video game deals you can buy now, or read our roundup of the top video game ads to see what's still to come.
Statistically speaking, at least one person on your gift list this holiday season is probably a gamer. Whether you want AAA game titles or bleeding-edge Virtual Reality hardware, we've got the predictions to keep you — and your budget — happy. And as surprises come (like Target's immediate discount of the PS4 Pro), we're updating accordingly.
This year for our Black Friday predictions, we've created a "cheat sheet" with the top tips you need to know when shopping this season. For savvy consumers who want more information, scroll down for our in-depth analysis.
So what can you expect from Black Friday gaming deals? Read on below! Then, consider signing up for the DealNews Select newsletter to keep track of the latest deals in your inbox, or download our app to have them at your fingertips.
The Cheat Sheet: Black Friday Gaming Predictions
Prices to Expect
Blockbuster video game titles — aka, "AAA video games" — from $25, depending on release date


Xbox One S 500GB Bundles for $300 + gift card, 2TB for $400


NEW PlayStation Pro for $360, PlayStation 4 Slim for $299 + gift card


PlayStation VR for $500, Samsung Gear VR for $50


Xbox One, PS3, and Wii U Bundles from $200


Nintendo 3DS XL Bundles from $150
6 Quick Tips You Need to Know
NEW The PS4 Pro will be the latest must-have console, so expect high demand and low stock.


The 2TB Xbox One S has already seen several Editors' Choice bundle deals, although the price hasn't really dipped.


With a new generation of hardware flooding the market, old-model Xbox One, PS3, and Wii U consoles will be clearance-priced.


If you're buying a console, do it during Black Friday Week. By the weekend, all the best deals are gone.


When all else fails, buy your games at Amazon. Not only do Prime members get access to special prices, but the site price matches so often, it has the most deals by default.


The handheld platform is not what it used to be. Consider a tablet before investing in one of these relics.
Want more details on how, what, where, and when to buy video game deals this Black Friday? Then check out our full analysis below.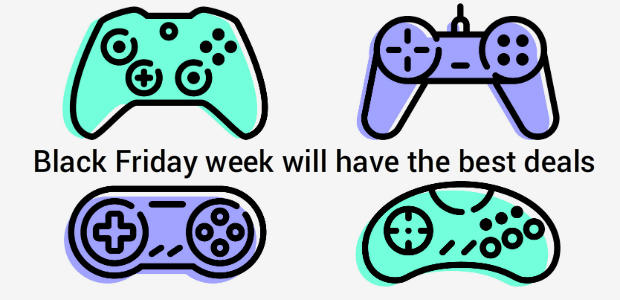 When to Shop
Next-Gen Consoles Are Coming: Should You Wait?
So far, 2016 has seen the death of the Xbox 360 and the official release of the Oculus Rift. We're in the midst of a massive generation shift across every single platform, with new hardware launching from Microsoft, Sony, and Nintendo this year and next. Virtual reality is the future of gaming, and tomorrow's console specs are going to reflect that — and so will their prices.
NEW Expect Modest PS4 Pro Price Drops, But Low Stock
First out of the next-generation console gates is Sony's PS4 Pro. This console, with its significant spec bump over the PS4, isn't the "PS4.5" harbinger of the PS5 we once thought it to be. This 4K-ready beast is Sony's new console, with the PS4 Slim playing a similar role to Microsoft's Xbox One S.
Its November 10 release came with a happy surprise: an immediate 10% price cut at Target. We're expecting this new $360 price tag to stick around for now, but shoppers should probably jump on this deal sooner rather than later. Popularity and heavy crowds are likely to lead to PS4 Pro stock shortages come Black Friday.
No New Nintendo or Xbox Consoles This Year
If Sony faithfuls are disappointed by a dearth of Black Friday discounts on next-gen hardware, they can count themselves lucky next to Microsoft and Nintendo fans. Both the Nintendo NX and Project Scorpio consoles are still in their codename phases, and neither is expected to be released until 2017.
Stick to Black Friday Week
So assuming you're not buying bleeding-edge tech, when should you shop for gaming-related deals during Black Friday?
In general, you're going to find offers on games, consoles, and accessories sprinkled throughout Black Friday week — with the largest concentration of video game deals in particular on Thanksgiving. Last year, about 56% of Black Friday week deals listed across all these categories were hot enough to be marked Editors' Choice; 67% of the video game titles listed on Thanksgiving alone earned that distinction!
The majority of top video game deals will fall on Thanksgiving, but Black Friday week on the whole is stellar. After Black Friday, deals take a nosedive.
A word of caution, however: The overall number of gaming deals available tends to drop off sharply after Black Friday, especially if you're shopping for a console. Last year, we didn't see a single PS4 or handheld deal during Cyber Week.
What to Buy
Next-Gen Budget Boxes Will Come With Free Gift Cards
Make no mistake: The Xbox One S and PS4 Slim are already previous-gen consoles. That said, these rigs both boast sleek new cases and bargain basement prices — and the Xbox One S even sports a few upgrades!
We're expecting these consoles to follow a Black Friday bundle pricing pattern that's similar to last year's old-gen models. Gift cards and store credit were the name of the game in 2015, so you can expect to earn anywhere from $50 to $100 on your purchase, but you'll have to shell out at least $300 on the 500GB bundles.
Older Consoles Across the Board Will Falls to $200 or Less
The time of the PS3, Xbox One, and Wii U has passed, but that doesn't mean the deals have. Xbox One prices have already fallen precipitously — we listed a 1TB bundle in June for just $220. With the announcement of the next-gen PS4 Pro, the old PS4's price can't be far behind. The 8GB Wii U consoles have already fallen to $173 as of July.
All of the oldest video game consoles will drop to $200 or less this Black Friday, while newer "budget" models like the Xbox One S and PS4 Slim are likely to come bundled with $50 to $100 gift cards.
That's why we're (rather conservatively) predicting an across-the-board Black Friday price of $200 for previous-gen consoles. We're betting retailers like GameStop and Best Buy are going to want to clear these models out.
What About VR?
Unfortunately, deals on the industry-changing technology are beyond scarce at the moment. We've seen exactly three PlayStation VR deals to date. The popular system came down to $500 during its preorder phase, but who knows if it'll crawl back down from the $550 list price after the October 13 release. We haven't seen a single HTC Vive or Oculus Rift deal (nor do we expect to this year).
But Oculus-powered Gear VR deals have been plentiful. These headsets, which work with select Samsung phones, have fallen to as low as $60 in recent weeks — and $50 wouldn't be out of the question on Black Friday.
Blockbuster Titles at Indie Game Prices
Black Friday is the perfect time to bulk up your collection with this year's latest hits. While the console bundles mentioned above are the best way to pay next to nothing for new releases, many AAA video games (ie, hotly-anticipated, big-budget games that tend to become major hits) will see their list prices halved or better for the shopping holiday. Already this year, we've seen Far Cry Primal and Uncharted 4: A Thief's End hit $25, while Quantum Break and Mirror's Edge Catalyst both fell to $30.
Big-budget video game titles will see their list prices cut in half during Black Friday — and that even includes well-reviewed games.
It's worth noting that Q3 and Q4 titles, which are released closer to Black Friday, are more likely to be listed at $45 to $50. Pay attention to reviews, though! A game that's critically DOA could see major price drops — the recently released No Man's Sky saw an almost immediate drop to $48 on PS4 after its lukewarm reception. These flop games could see prices in the $40 range on Black Friday.
Handheld Systems Aren't Worth It
Although we're predicting that game bundles for Nintendo's 3DS XL will fall to $150 on Black Friday, you may want to seriously reconsider the purchase. A good tablet can handle a wide assortment of games, and the handheld market has gotten considerably smaller in recent years. Sony has all but killed the PS Vita, after all; the best price we've seen for this system all year was $85 for a refurb.
Not convinced? Even Nintendo, maker of the mighty DS, has thrown its lot in with mobile gaming. At Apple's most recent event, the legendary Shigeru Miyamoto (yep, the creator of Mario) came onstage to announce Nintendo's intention to release games on iOS.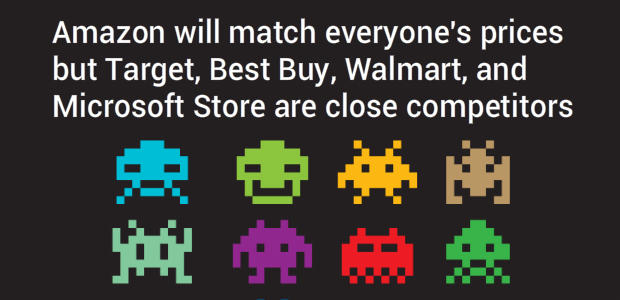 Where to Shop
Amazon Has Everyone Else's Best Price
If you're looking to save time on Black Friday (and who isn't?), then you could theoretically get all your game shopping done at Amazon, and still rest assured most of your purchases were a great value. The megaretailer's price-matching tendencies put it ahead of the curve overall last year.
That said, Target, Best Buy, Walmart, and Microsoft Store were all close contenders on video game titles during Black Friday Week. As for PC games, Newegg and CDKeys had the edge throughout the shopping season. Stores like Kohl's, Newegg, Dell Home, and Target all offered excellent console deals, while Walmart, GameStop, Newegg, and Best Buy had the best deals on accessories.
What are you hoping to see with video game deals this year? Let us know in the comments, check out all our Black Friday predictions below, and don't forget to bookmark our Black Friday homepage for all the latest ads, deals, and analysis.
---
The Complete Black Friday Predictions
---
Excited for Black Friday deals? Consider subscribing to the DealNews Select Newsletter to get a daily recap of all our best deals; you never know when a Black Friday price will be released! You can also download our app, or check out all our features for more buying advice.