Update: Black Friday deals have started to leak!
Click here to see our roundup of the best Black Friday laptop deals we've seen so far, or read on for more info about what's still to come.
2015 was a busy year for the laptop industry. Not only did we see the launch of Microsoft's highly-anticipated Windows 10 operating system, but Apple also released OS X El Capitan. In the processor world, Intel finally announced its new Skylake CPUs, which came with better battery efficiency, improved graphics, and other across-the-board speed improvements.
As we approach Black Friday 2015, you may be wondering: How much can I expect to pay for a laptop this November? Fortunately, there will be price points for every budget, with deep discounts on most laptop models. Last Black Friday we saw laptop deals of epic proportions and we expect deals to be just as good, if not better, this year.
So without further ado, check out our Black Friday laptop predictions below. Then, consider signing up for the DealNews Select newsletter to keep track of the latest deals in your inbox, or download our app to have them at your fingertips.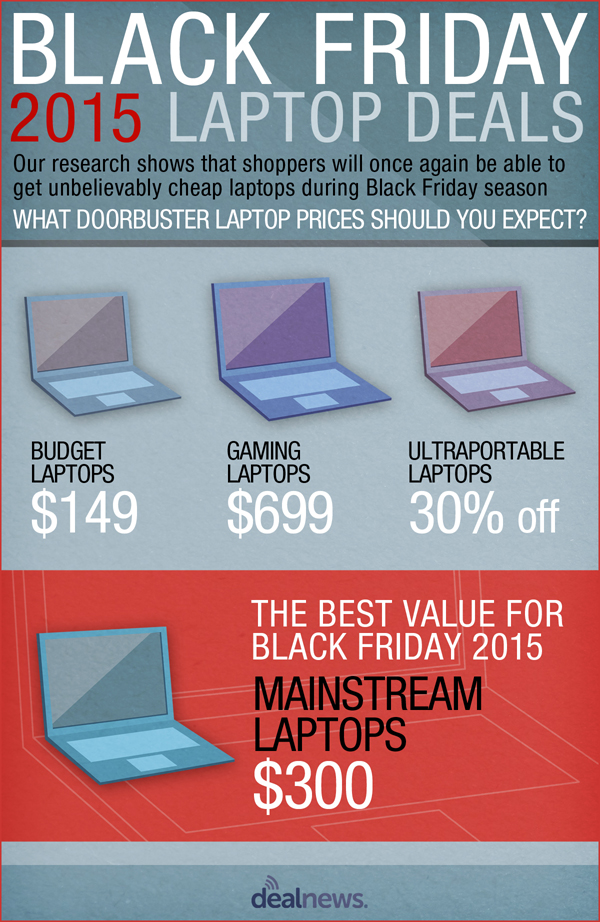 Budget Laptops to Hit $149
We predict that deals on bargain bin laptops will be cheaper than ever this year, with prices as low as $149. This price will get you a machine fitted with a 15" display, an Intel dual-core processor, and 4GB of RAM. We wouldn't recommend these machines for the average user, but rather for someone who has casual computing needs and doesn't plan on pushing their laptop to the max.
SEE ALSO: Laptop Buying Guide: What to Know Before You Make a Purchase
Alternatively, if you're looking for an extreme budget laptop, you'll be happy to know that we predict that some bargain bin notebooks will drop as low as $99. Last year, both Staples and Best Buy offered an 11" Asus laptop fitted with an Intel Atom quad-core CPU, 2GB of RAM, and a 32GB flash drive for $99. Again, we wouldn't recommend this machine for your daily computing needs, but it's still an excellent bargain if all you need is a machine that can let you check email and surf the Web.
Mainstream Laptops Will Offer the Most Value
It's no secret that the laptop industry is still hurting. Sales are down, and this has made retailers more aggressive with their laptop pricing. As a result, we believe one of the best tech purchases you can make this Black Friday will be a 15" mainstream laptop.
SEE ALSO: 10 Tips to Make Your Laptop Run Faster
We predict these systems will drop to an astonishingly low price of just $300. That will buy you a 15" laptop with a minimum of 4GB of RAM, a 500GB hard drive, and an Intel Core i5 Broadwell processor (one of the best CPUs you can currently buy). In other words, for $300 you'll be able to purchase a laptop that should easily last you more than two years. (With the proper maintenance, of course).
The Magic Number for Gaming Laptops Will Be $699
Gaming laptops generally don't see many deals on Black Friday. (For tracking purposes, we looked at prices for gaming systems with a 15" 1080p screen, at least 8GB of RAM, a quad-core Core i7 Haswell CPU, and a dedicated video card.) However, if you're hoping to purchase a gaming rig this Black Friday, the magic price to look for is $699. To date, these systems have averaged $727 in 2015, so $699 is a modest, but respectable price drop.
Should you find a gaming notebook for anything lower than $699, consider yourself lucky and don't hesitate to buy that deal because it won't last long.
Ultraportables Are the Wild Card
Of all the laptop types in our Black Friday predictions, ultraportables turned out to be the most difficult category to monitor. That's because prices for these systems can be erratic. Even last November, predicting the right deal was near impossible. Nevertheless, we're going to go out on a limb and say you'll be able to save up to 30% on deals for a 13" ultraportable laptop with a Core i5 CPU.
Ultraportables are the most difficult category to predict because prices for these systems can be erratic, but that doesn't mean you won't find deals.
So if the ultraportable you're tracking is currently at $800, you can expect to see price cuts for that system of up to 30%, possibly dropping it to as low as $560. To repeat, deal prices on this category can be finicky, but at the very least you will be able to find some savings on these highly-coveted laptops.
Excited for Black Friday laptop deals? Consider signing up for an email alert now, so you'll know whenever we post a deal. Or check out all our features for more buying advice.
---
The Complete Black Friday Predictions