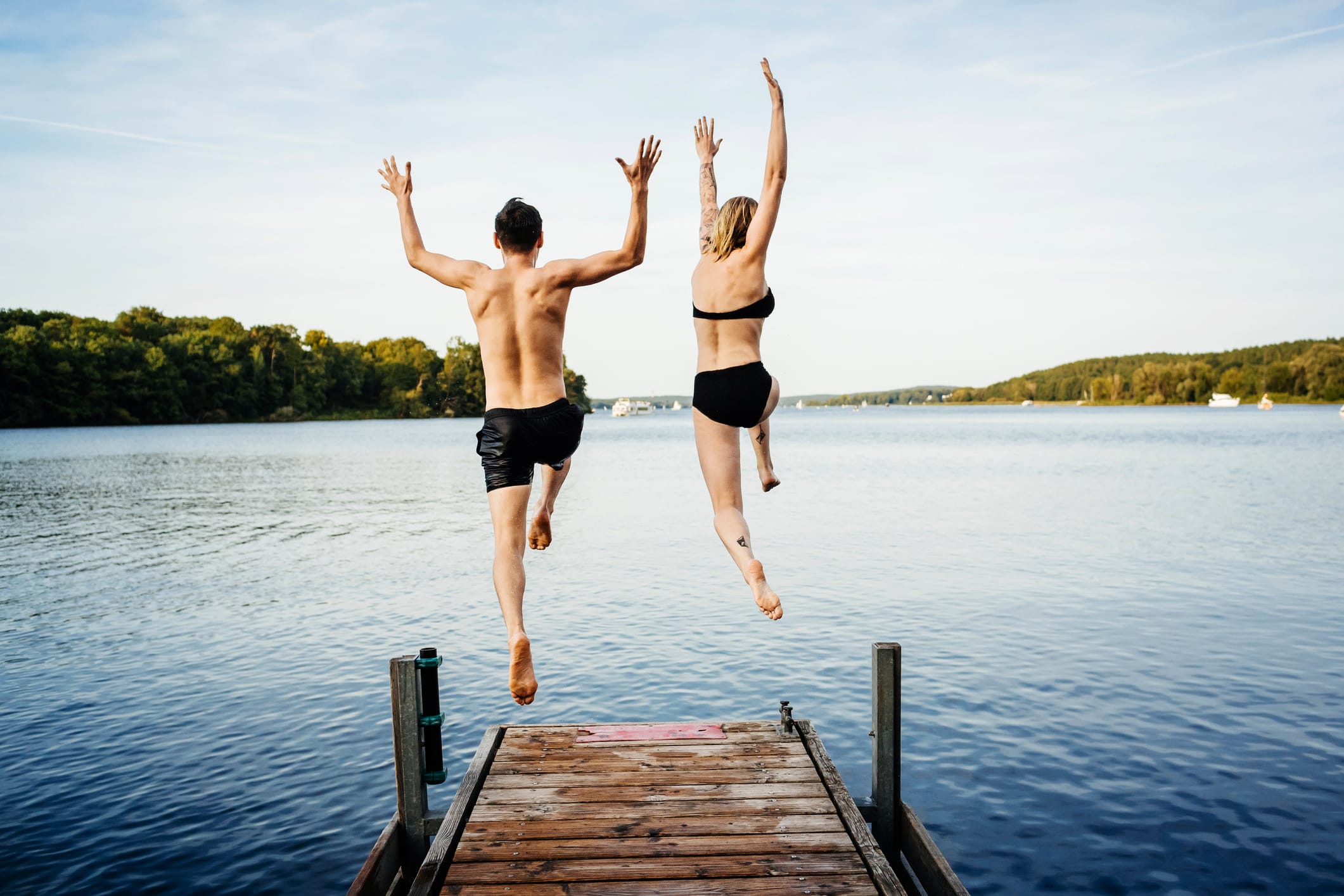 June marks the official start of summer, which for most people means spending more time outdoors. Add in graduation ceremonies and Father's Day, and June can quickly turn into an expensive month. To ensure you don't blow through your summer budget in the first few weeks, we've created a buying guide of items you should and shouldn't purchase this month.
Check out the tips below, then sign up for the DealNews Select Newsletter to get the best deals delivered to your inbox every day.
The 9 Best Things to Shop in June
Lingerie
June has traditionally been a great month for lingerie sales, but few stores can rival the Victoria's Secret Semi-Annual Sale, which typically lasts three to four weeks. As we note in our analysis, discounts get better toward the latter half of the sale — rising from a maximum of 50% at the beginning of the month to up to 70% off plus stackable coupons during the last week. Also, the threshold for free shipping drops from $100 to $50 over the course of the sale.
As a result, we encourage shoppers to wait a few days and take advantage of the more aggressive discounts that come later in the month. In terms of purchases, we recommend looking at deals that offer low per-unit prices when you buy multiples, such as three bras for the price of two, or five pairs of panties for $27. All told, you'll save as much as $30 per item on dresses and loungewear, plus $6 off with free shipping.
SEE ALSO: When is the Victoria's Secret Semi-Annual Sale?
Although the Victoria's Secret Semi-Annual Sale is the most prominent lingerie sale this month, it is by no means the only one. Last year, Macy's, Kohl's, American Eagle, and Frederick's of Hollywood all had competitive deals — including bundles of bras and panties.
Free Donuts for Donut Day
June 2 is National Donut Day, and no matter which chain you side with — Krispy Kreme, Tim Hortons, or Dunkin' Donuts — your chances of scoring a treat on this free donut day are very high. Last year, all three chains offered a free donut — some required a purchase, but Krispy Kreme didn't! (And don't forget Cumberland Farms, which usually offers a free donut with the purchase of a beverage.)
You can expect to see similar donut sales again this year. The offer will be valid for one day only, and quantities may be limited. But if you're lucky enough to live near all three chains, you could get your donut fix for the whole week in one day.
Outdoor Gear
June sees a 72% bump in Editors' Choice deals on outdoor goods. Which is great news! Normally, seasonal goods don't go on sale until the end of the season, and prices on camping, fishing, and hiking supplies will definitely drop when cold weather moves in. But this is a rare opportunity when you can pick up these items in time to use them for summer.
June sees a 72% bump in Editors' Choice deals on outdoor goods. This is a rare opportunity when you can pick up these items in time to use them for summer.
We've seen especially good deals on Ozark brand camping items from Walmart, and Daiwa fishing gear at Dick's and Cabela's. You can find tents for $50 (low by $30), sleeping bags for $10 (low by $9), and fishing reels for two for $30 (low by $20). Also check REI Outlet for similar deals.
Food and Crafts for Dad
Contrary to popular belief, we don't see particularly good tool deals leading up to Father's Day. We do, however, see some nice coupons at restaurants, so you can treat dear ol' dad. Last year, Olive Garden cut 20% off to-go orders, Outback Steakhouse took 15% off your entire check, and Hooters offered 10 free wings with the purchase of 10 wings and a drink.
For something a little more lasting, look for free or cheap workshops to make Father's Day gifts. Home Depot offered a Build a Father's Day Trophy Smartphone Holder workshop for free for children ages five to 12, and Michael's had a card-making workshop for $2, which included supplies (and is still cheaper than most store-bought cards).
Free Fishing Permits
This month, several states will allow free fishing on public bodies of water without requiring a fishing license, in celebration of National Fishing and Boating Week. Normally, those licenses cost anywhere from $25 to hundreds of dollars depending on where you live and what type of fishing you'll be doing. (Many states have 1-day licenses that typically cost around $10 as well.)
SEE ALSO: 6 Things to Look for in a Camping and Hiking Backpack
Before you head out, check our fishing gear deals, which more than double in June from the month before. This is probably due to the warm weather rather than National Fishing and Boating Week in particular, but it'll still allow you to pick up tackle boxes and reels from $18, saving you at least $7.
$1 Family Movies
Parents are already starting to go bonkers with kids out of school this month, and there's still two months to go. Your local cinema is here to help, offering $1 movie tickets on second-run family titles (translation: all the films are rated G or PG, and they first came out at least a few months earlier). Regal and Cinemark both have such programs, which may have begun already in your area. Every location has a different schedule, so check yours to see what's playing and when.
Fresh Produce
Even through last month, your local farmers markets were probably looking a little anemic. (Plenty of root vegetables, and not much else!) But finally, all the bounty of the summer growing season is going to start rolling in. You'll likely see the effect at big supermarkets, too, where pints of blueberries and strawberries will drop in price by over 50% from their midwinter highs.
Much of the country can expect berries, cucumbers, leafy greens, summer squash and zucchini, tomatoes, corn, and peaches to start popping up in June.
What you'll get on sale this month really depends on where you are. But much of the country can expect berries, cucumbers, leafy greens, summer squash and zucchini, tomatoes, corn, and peaches to start popping up in June. In conventional super markets, these items will be cheaper than they were over the winter. In farmers markets, it's tough to compare, as they simply wouldn't be in stock over the winter. Organic, local produce is usually expensive, but in terms of value, it offers amazing quality for what you're getting.
Gardening Supplies
Speaking of growing things, maybe you've got flowers or vegetables at home. Now that the spring planting season is over, stores are eager to unload excess gardening tools and supplies. June provides lots of price lows on sprinklers, mulch, hose nozzles, and more. These items are pretty affordable to begin with, but saving a few bucks on each will add up.
Gym Memberships
With more people opting to exercise outside, parents staying home with kids, and folks going away for vacations, summer is a very slow time for gyms. That means they'll be eager to make a deal when you sign up. Strengthen your negotiating position by being informed about their competitors, and walk away if necessary. If you can't get a discounted rate, at least try to get a month or two free, with no money down, and/or free classes and training sessions.
SEE ALSO: How to Save on Gym Memberships, Studios, and Equipment in 2017
Items to Avoid for Now
Grills
Nothing evokes thoughts of summer like a backyard BBQ. But as tempted as you may be to purchase a new grill this month, our research shows that the best time to buy a grill is in August or September. That's when you'll find discounts that take up to 50% off your favorite name-brand grills. If you can, make do with your current grill and upgrade at the end of the season.
Amazon Echo or Google Home (If You're an Apple Fan)
Rumor has it that Apple will unveil an Echo-like Bluetooth speaker, enabled with Siri, at its Worldwide Developers Conference this month. For those in the Apple ecosystem, this would be a much better option than trying to work with a non-compatible voice-activated personal assistant.
SEE ALSO: All the iPhone 8 Rumors You Need to Know
Laptops
Back-to-School sales start at the end of this month, but don't really pick up until later. Even in July, they'll be twice as many Editors' Choice laptop deals.
(Almost) Any TV
If there's one thing you should avoid buying in June, it's a new TV. The summer months are traditionally bad for TV deals, in the sense that you don't see many offers and prices are higher than usual.
However, if you must buy a new set, we recommend sticking with 55" TVs. Prices for sets of this size have plateaued at around $550 for name brand, and $400 for off-brand.
Ready to put this information to use? Set up an email alert or download the DealNews app to stay informed of all the latest deals.
---